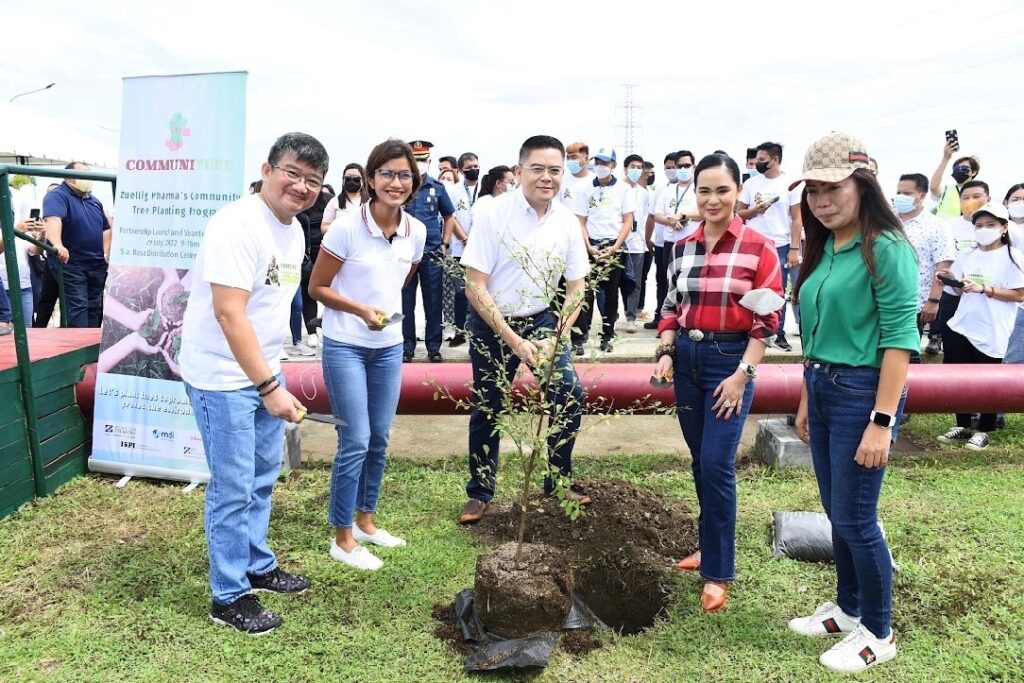 With its commitment to building a sustainable and healthier future for Asia, Zuellig Pharma, Asia's leading healthcare services provider, recently marked its 100th year of making healthcare more accessible in the Philippines with a business approach of looking beyond the immediate needs to consider the long-term future of Filipinos.
To achieve sustainability, Zuellig Pharma strives to champion four key areas: improve health outcomes, nurture talent, set the highest standards of integrity, and respect the environment. As part of this vision, the company recently launched its community tree-planting program – CommuniTree, at the company's National Distribution Center in Sta. Rosa, Laguna.
"Zuellig Pharma has always been at the forefront of championing health and environmental sustainability via its strategic programs and local initiatives both here in the Philippines and in the region. Sustainability is embedded in our operations, and we believe that advocating for environmental stewardship and doing responsible business must go hand in hand," said Raymund Azurin, Zuellig Pharma Asia Pacific SVP for Corporate Affairs. "The launch of CommuniTree, our community tree-planting program, is a firm testament to this thrust, and we laud and enjoin all our partners and stakeholders to help us promote this cause", he adds.
The CommuniTree program is in partnership with the City Government of Sta. Rosa, Laguna and Johnson and Johnson Philippines. The launch was graced by Mayor Arlene Arcillas of Sta. Rosa, Laguna and City Environment Officer Amor Salandanan. The aim of the program is to foster Zuellig Pharma's commitment to communities and its areas of operations by planting endemic tree species nationwide. The company intends to further conduct education and grassroots campaigns to promote environmental stewardship as bedrock for a healthy citizenry and replicate the program in its various facilities all over the Philippines.
"We are grateful to the City Government of Sta. Rosa, Laguna as we work together in achieving sustainability for our community – from residents to our very own employees. Through this inter-company partnership, we hope to encourage the advancement of sustainable development and the achievement of the UN SDGs in our (health) industry. We are now working on identifying more areas, aiming to plant 100 endemic tree species for every run," said Chito Maniago, Zuellig Pharma Philippines' Head for Government Affairs, Communications and Sustainability.
Zuellig Pharma employees volunteered for the tree-planting program as part of the company's 100th year local celebration. Leaders and colleagues from J&J Philippines likewise joined the program launch.
"Many of our sustainability initiatives, like the use of renewable energy with solar panels in Zuellig Pharma's facilities, our continuing shift towards green vehicles for transport of our products and services, our water conservation efforts, as well as our Diversity, Equity and Inclusion programs, signal a shift to an entirely different way of managing our business," said Jen Garcia, Zuellig Pharma VP for Distribution BU. "Some companies do it for compliance or for their image, while others are driven by social pressure. None of these motivations are inherently wrong. In fact, as long as results are delivered, these initiatives add to the common good. But at Zuellig Pharma, and among our partners, we go beyond compliance, image or yielding to social pressures. Sustainability for us is an advocacy — a leadership philosophy and company value that drives every decision we make every day at work."
Zuellig Pharma Distribution Centers at Canlubang and Sta. Rosa are equipped with solar panels, which produce 120,000KW of renewable energy every month — the equivalent to 100 tons of carbon dioxide emission from fossil fuels. The centers are also built with Intelligent Lighting System, which is one of the most advanced lighting and energy management systems in the market today.
In addition, Zuellig Pharma will implement a program to use more environment-friendly packaging and invest in cardboard-shredding machines for the processing of used corrugated boxes into fillers. An estimated 80 percent or 6,170kg of used cartons can be recycled as fillers. The company also plans to use zero-emission electric motorcycles for more eco-friendly logistics transportation in the future. The company is fully committed to nation building as it works closely with various key stakeholders including the Philippine Government and the Department of Health, LGU partners nationwide, clients, customers and suppliers, and most especially patients, ensuring lives of millions of Filipinos are impacted every day.