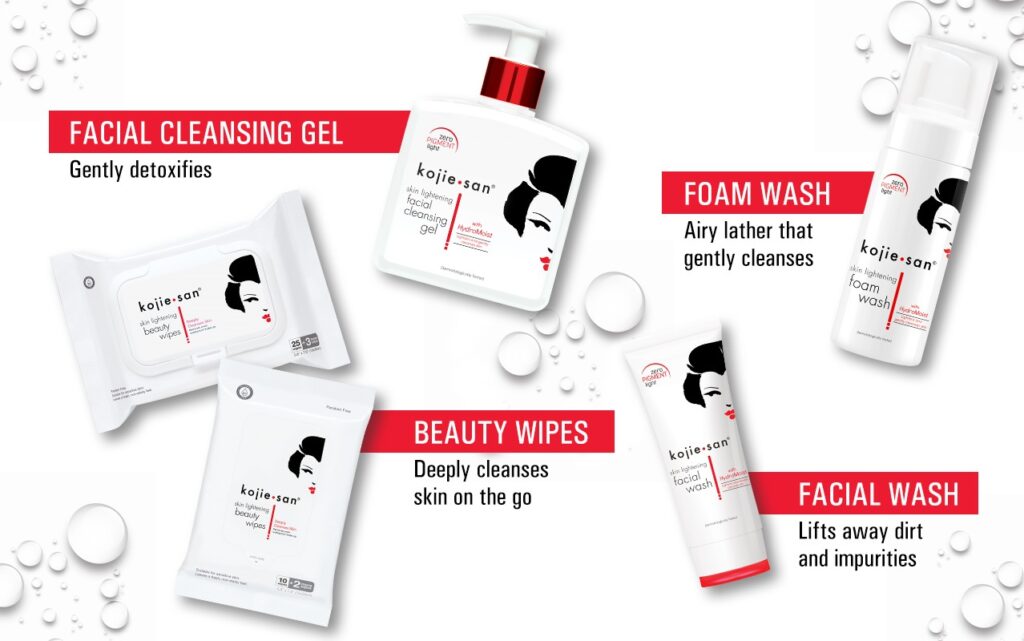 Kojie.san takes the powerful benefits of kojic acid up another notch. The beauty brand now has a complete range of face care products, letting you enjoy the same Kojie.san skin benefits that you love – but in formats that have been especially formulated for the face.
Each product in this face care range of cleansers, toners, and creams is formulated with Zero Pigment Light and HydroMoist. These latest Kojie.san skin innovations zero-in on dark spots, scars, and hyperpigmentation, while locking-in moisture for a light skin that stays soft and supple for hours.
Kojie.san's first ever line of facial cleansers come in three different cleansing actions to fit your unique needs and preferences, so how you achieve Pure Light skin is your choice.
The Kojie.san Skin Lightening Facial Wash w/ HydroMoist is a soap-based facial wash that deeply cleanses the skin to effectively remove sebum and other impurities from your skin, helping to combat oiliness and prevent acne break-outs, whiteheads, and blackheads.
The Kojie.san Skin Lightening Facial Cleansing Gel w/ HydroMoist is a gel-based facial wash that gently cleanses skin to remove dirt and excess surface oil without stripping away the skin's natural moisture.
The Kojie.san Skin Lightening Foam Wash w/ HydroMoist is a skin-calming facial foam wash with a light and airy texture that effectively cleanses while soothing stressed and tired skin.
The beauty brand is also offering a limited edition Kojie.san Skin Lightening Beauty Wipes that cleanses skin by wiping away dirt, oil, and water-proof make-up without any sting on the eyes.
All products are paraben-free, and have been dermatologically-tested safe for sensitive skin  so you can use them with no worries.
With Kojie.san's first line of facial cleansers, you get to choose from an array of high-quality, effective, and carefully-formulated facial cleansing products that fit your skin's unique needs, giving you more ways to achieve that smooth, supple, Pure Light skin.
Get exciting updates and information at @KojiesanPH on Facebook and Instagram and www.kojiesan.com. Kojie.san is available at all leading supermarkets and drugstores nationwide, as well as Kojie.san's official LazMall on Lazada and Beauty MNL.