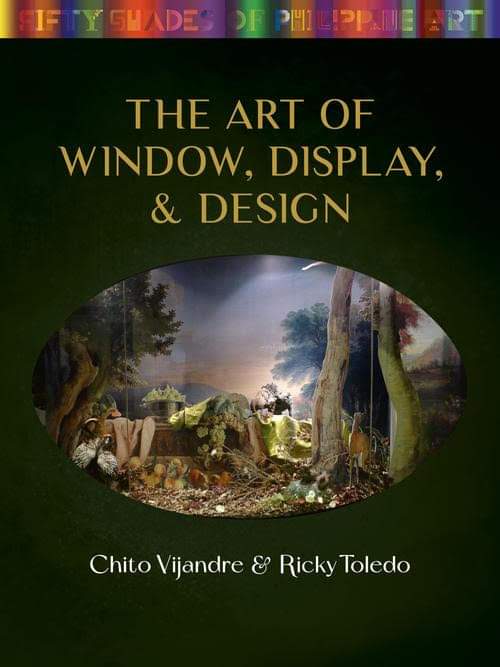 Last February, Vibal Foundation (VFI) released the latest addition to its growing Fifty Shades of Philippine Art series: The Art of Window, Display, and Design, written by Chito Vijandre and Ricky Toledo. The book was launched at VFI's virtual tertulia, which honors its matriarch, Esther A. Vibal. Among the highlights of the online event were performances from an array of Filipino talent.
Richly complemented with over 500 beautiful images of window displays, objets d'art, travel sights, and artistic landmarks from around the world, The Art of Window, Display, and Design showcases the creative display of merchandise that can also quickly segue into its own art form transcending the banality of everyday objects to achieve an artistic visual narrative that is more transcendent and durable for all time.
This newest addition to VFI's Fifty Shades of Philippine Art catalogues not only the famous windows of the authors' lifestyle and home furnishings stores, but also their interiors and fashion productions. The book features ten essays featuring a myriad of art styles and design elements from across the globe and provides tips and principles of visual merchandising, interior design, and fashion.
One the highlights of the book is a trip to Kenya inspired by the Hollywood film Out of Africa and the legendary tale of Isaak Dinesen, leading to a detailed study of Anglo-African safari style; an in-depth look at the concept of mono no aware or fleetingness of life and Japanese art and style as filtered through the geisha culture of Kyoto; a peek into the world of fantasy and imaginative recreation as seen through the mad king, Ludwig of Bavaria; the distillation of classical aesthetics through the prism of Giacomo Puccini's opera Tosca and an intimate tour of the Eternal City; a behind-the-scenes examination of the authors' private abode that is a veritable showcase of cross-cultural influences; and a summation of the cultural kaleidoscope of multi-cultural elements behind the duo's wildly successful benefit fashion shows for the Philippine National Red Cross.
The creative duo of Vijandre and Toledo share a mutual love for the visual and performing arts. Chito Vijandre launched his career as a fashion designer, dressing the youthful and glamorous women in the city. He also mounted some of the most elegant fashion shows in the country. He then concentrated on interior design, creating distinctive residences for Manila's A-list while designing upscale stores and restaurants. Ricky Toledo debuted as a production manager at an Italian publishing and design firm. Later, he established his own creative consultancy studio, creating award-winning television commercials and promotional shows in several world capitals.
Window display as an art form
Some of the world's signature streets in New York, London, Paris, Tokyo, and Milan are not only known for their street tableaux, but also for their specialist boutiques drawing attention and appreciation from the public's eyes with witty, quirky, and even relevant window statements.
It was in the 1950s when Robert J. Leudenfrost announced that in the US, "window display is fast becoming recognized as a new art form." From museum exhibits, high art took over the high street with young artists extending their canvas to the enormous amounts of glass windows being installed in retail centers. Some of the world-renowned artists of the twentieth century displayed their unique art styles and visions in retail store displays, including the surrealist Salvador Dali and the pop artist Andy Warhol.
Similar to fine artists, window display designers need to engage potential customers with visual messages and creations that speak of their world and beyond. Each window display necessitates the perfect blend and expressive use of color, lighting, space, props, fabrics, mannequins, technology, cultural references, and ingenuity.
Interested readers may purchase The Art of Window, Display, and Design and other VFI books at Vibal Online Shop, Lazada, and at Shopee.
About Vibal Foundation
Founded in 2007, Vibal Foundation is Vibal Group's philanthropic arm. Its vision is to engage Filipinos in intellectual discussion of Philippine history, culture, and arts by providing beautiful and insightful print and digital materials.
Its institutional partners are the National Historical Commission of the Philippines; National Museum of the Philippines; Philippine Departments of Labor and Education; San Agustín Museum; UP Jorge B. Vargas Museum; Ateneo Art Gallery; Biblioteca Historica, Universidad Complutense, Madrid; International Rice Research Institute; Galleria Duemila; Gallery Genesis; and Premio Zóbel.
Fifty Shades of Philippine Art is a series of affordable and concisely written books on fine, modern, or popular art. Among its titles are Isabelo Tampinco by Santiago Pilar (2018), Toti Cerda by Laya Boquiren (2019), Francisco V. Coching by Andrea Peterson (2019), Damián Domingo by Luciano P.R. Santiago (2020), and Philippine Cinematic Art (2020) by Christopher Datol, Andrea Peterson, Gaspar A. Vibal, and Nick Lajom.