Winners of the annual Women's Empowerment Principles (WEPs) Awards for 2020 and 2021 gathered at the ceremonial kickoff of the "WEPs Winners Circle" to celebrate gender equality champions and discuss how to push for women's empowerment, gender equality, diversity and inclusion across the workplace, marketplace, and community last December 3, 2021, at the Dusit Thani Manila Hotel, Makati City.
Organized by the UN Women programme WeEmpowerAsia and the European Union, the WEPs Awards recognizes leaders, businesses, and companies operating in the Philippines for their achievements in advancing gender equality in business.
With COVID-19 posing several challenges for women whose responsibilities go beyond their role in the workplace but also at home, companies were encouraged to step up to ensure that women remain a crucial member of the workplace and help advance their participation despite the adversities. Champions of the UN WEPs Awards are testament to how women can still succeed given the right platforms and opportunities.
UN Women Philippines Country Program Manager Lenlen Mesina welcomed the winners at the event after onsite gatherings had to be postponed due to the pandemic. "The work that you all do is not just translating in the companies where you operate or you serve. It also creates impact on the communities where you belong. Today, outside handing over the trophy as sign of recognition, we would also like to share with you the vision on how we can move forward, we hope for you to add voice and amplify the changes we need to make to promote gender equality and women's empowerment within and outside your businesses, companies, organizations, households and to other communities as well," she said.
The event kicked off with special messages from key program partners, including the European Union. Mr. Christoph Wagner, EU Delegation Head of Cooperation, reiterated how the EU prioritizes gender equality, women empowerment, and socio-economic development and the role women play in accomplishing the Sustainable Development Goals (SDGs). "Companies, and the private sector in general, can play a crucial role in empowering women. But this is not self-evident. You have shown the way and have provided best practices – in the marketplace, your own work environment and the communities you're working with. Thank you for that!" he said.
EU Gender Champion and Her Excellency Saskia de Lang, Ambassador of the Embassy of the Netherlands in the Philippines, said, "We recognize that to better address the gender gap, we need women to represent women's interests and ideas; to make decisions; to take the lead. Therefore, having women leaders such as yourselves in corporate leadership opens opportunities for many more women. We need to recognize that gender gaps and barriers still exist and if left unchecked and unchallenged, they will hamper inclusivity and progress."
Meanwhile, UN Resident Coordinator Mr. Gustavo Gonzalez as keynote speaker highlighted that the Philippines is making a substantive progress in gender equality, compared to other Asian countries. He also shared that the new normal is presenting new opportunities for gender equality and women empowerment. "We have to harness such opportunities to foster more inclusive business models. Experience shows that gender equality not only improve working environments but also enhances innovation and reinforces sustainability. In this transformative process, we should not forget to incorporate and address the needs of women, as workers, business leaders and decision makers," he shared.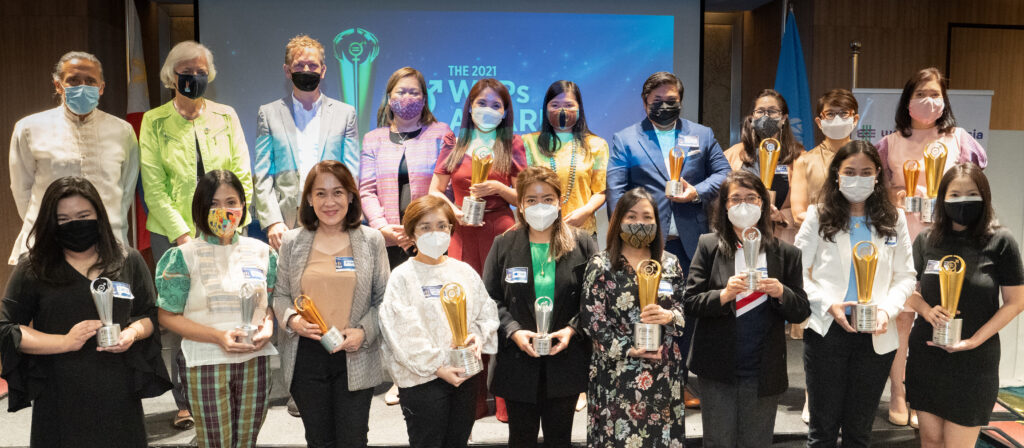 Creating the path ahead
Mesina challenged all the winners by facilitating a group discussion called "Winners Rising Up to the WEPs Challenge" for them to brainstorm and share ideas for collaboration that could contribute further to the achievements of five out of the 17 SDGs including SDGs 1 (No Poverty), 5 (Gender Equality), 8 (Decent Work and Economic Growth), 10 (Reduced Inequalities), and 17 (Partnerships for the Goals).
The discussion gave way for winners to create action items for collaboration and benchmarking, while encouraging each other to replicate their successful programs across different communities.
Jourgie Hornilla, HR Manager at Shell Business Operations in Manila, shared key pointers such as the importance of setting themselves as role models for other women and educating not just women, but also men, to help remove unconscious biases in the workplace.
Representatives from Investing in Women, Philippine National Bank, and Procter & Gamble summarized their recommendations in four points: the importance of leadership commitment in gender equality to be able to achieve programs and plans; how crucial data is in decision-making, creating action plans, benchmarking, and measuring success; why sharing best practices is a must in order to learn from other successful businesses; and why gender inclusivity it is not always about the bottom-line but also about retention of and growing the best talents in the workplace.
Breaking lavender ceilings
In 2020 and 2021, WEPs Awards honored gender equality champions who continued to set the bar high for solutions on gender equality. The awards aim to encourage more businesses to push for programs, policies, and participation of women in decision-making and to create more opportunities for more women to feel empowered and capable to lead.
It had received over 300 applications in 2 years and named thirty (30) companies and businesses awarded to date. BAYO, which bagged as the Champion of Gender Responsive Marketplace category in the Philippines and the Asia Pacific region and 2nd runner up for Community Engagement and Partnership category in this year's WEPs Awards.
"Through UN Women, we can all share our common stories to create a stronger voice and narrative. From there, we can have a stronger spring board for all of these actions to start a similar course. It would really help to organize discussions, coming up with set of ambassadors to be in the core front for communication. But, it is not enough for us to tell them what they can do, it's also good that they [the companies] are prepared and knowledgeable so they can be in that position to also be pervasive to the change we are encouraging them to do," shared Ms. Anna Lagon, CEO and Co- Founder of BAYO.
The Women's Empowerment Principles is a framework introduced by the UN Women and UN Global Compact in 2010 to stir action from the private sector to promote gender equality and women's empowerment in leadership, workplace, marketplace and community. To join the WEPs, visit https://www.weps.org/join.