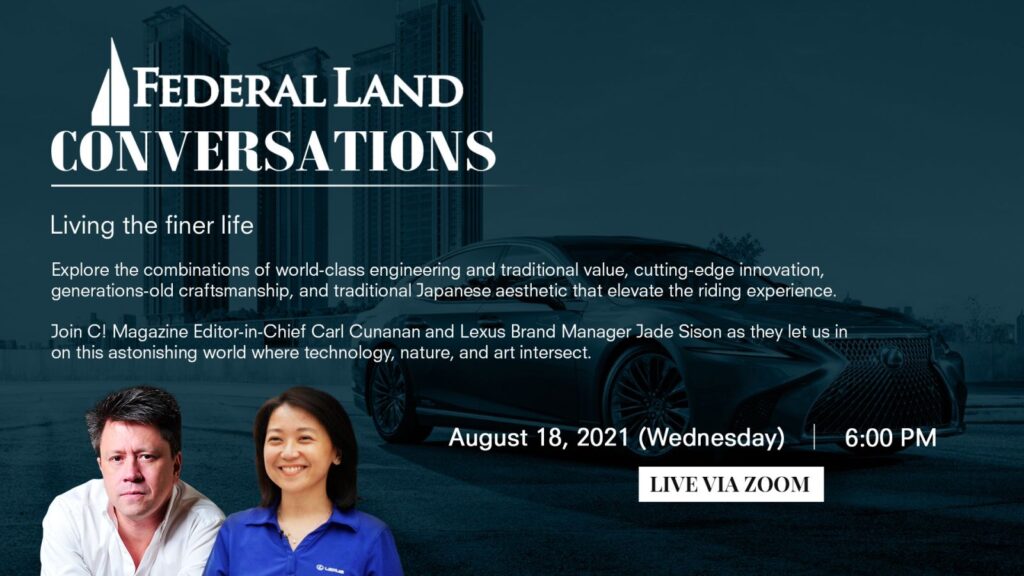 Fine watches and excellent whisky. These are two of the most popular choices of sophisticated people with discerning taste.
To rediscover the world of time and spirits, Federal Land hosted a webinar series titled Federal Land Conversations – Living the Finer Life. The webinars showcase lifestyle and investment workshops aimed at reigniting passions and appreciating finer things in life.
The three-part webinar series is hosted by Carl Cunanan, Editor-in-Chief of Calibre Magazine and C! Magazine. As a prominent watch connoisseur, Cunanan also shared his expertise on watches during the first featured Federal Land Conversations. This was followed by a virtual whisky appreciation with whisky professional Kris Ong, founder of dramboxph and the Philippine liaison of Scotch Malt Whisky Society.  The third webinar will be all about the creation and appreciation of luxury cars airing on August 18. Carl Cunanan and Lexus Philippines Brand Manager Jade Sison will share the story of how to first-rate craftmanship and cutting-edge technology in every Lexus vehicle.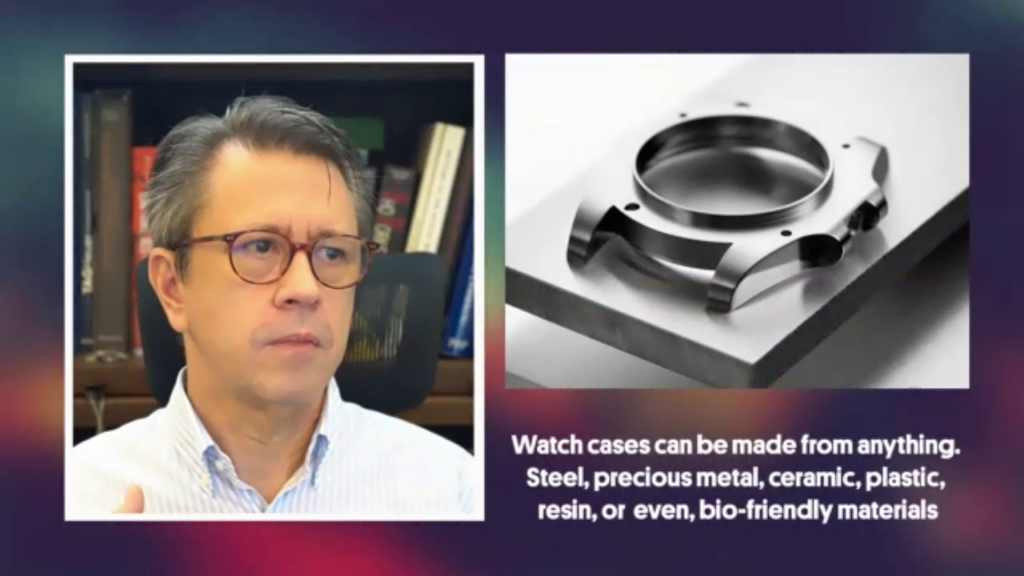 It is time
In the watches webinar, Carl Cunanan walked the audience through the wonderful world of watches, why they are considered a significant part of history, how they bond generations together, how they are prompting people to go back to the touchpoints of physical craftsmanship and attention to detail.
Buying a watch may sound simple, but there are many things to think about before getting one, specifically the "complications." Complications involve anything past the hour, minute, and second hand. The word complication includes functions such as the day-date, perpetual calendar, chronograph, power reserve, moon phase, repeater, tourbillon, to name a few. These all add value to the watch depending on how one wants to use it.
While some may prefer a simple wristwatch, others would choose a handcrafted luxury watch that serves as a legacy or investment. However, Mr. Cunanan cautioned that these expensive timepieces require a different level of understanding—from the brand, product, model, source, and future valuation if they are bought with an expectation of financial return.
"Treat watches as an investment, but if you want to know the value it will have in the future, you must do your homework. Not because it came from one brand, its price will skyrocket," Cunanan said. "Watches as an investment are not only an investment in money. They are an investment in time, an investment in passion, an investment in your soul. Spend wisely," he advised.
Just like property investments, watches are not only about the price but what one is buying them for, the value in the future, and the experience that can be received from them. The precision craftsmanship and unparalleled design are also the very pillars of Federal Land's properties.
In the same way that the market for high-end condominiums like Grand Hyatt Manila Residences South Tower and The Seasons Residences is different from those who want a simple corner home, watches also cater to different market segments.
"If you look at the whole pyramid of needs thing, the further up you go, it's more about you and what defines you than it is about the basics. But neither is right or wrong. It's a matter of preference," Mr. Cunanan said.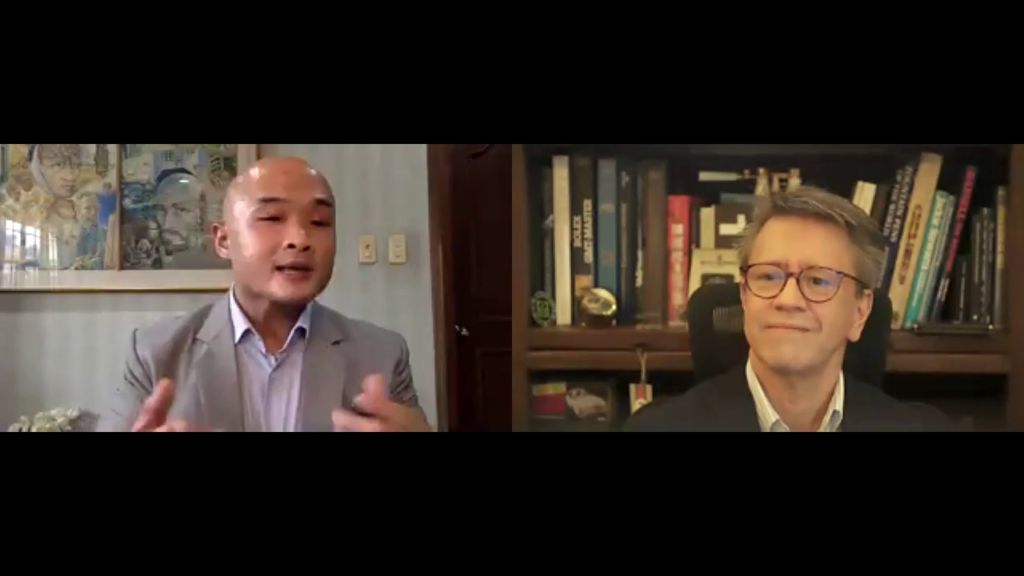 Water of life
Kris Ong took the audience through the whisky tasting process and explained the various influences of one of the world's favorite barreled spirits known as "the water of life."
Whisky was first used as an internal anesthetic and external antibiotic. It originated in Ireland and Scotland and was made from different types of grain such as barley, corn, rye, and wheat.
To pair whisky with food, Mr. Ong said it should be with complementing or contrasting flavors to create a balance or a proper counterbalance. For instance, a bourbon (whisky with 51% of grains made up of corn) tends to be on the sweet side and would be best paired with a saltier meal like a steak. A cream-based dish like Laksa, a whisky on the lighter side, or a bit more acidic would help cut through the fat. Adding a few drops of distilled or bottled water to some whiskies may also unleash more flavors.
When buying a whiskey, Ong stressed to never leave it under the sun for too long as the heat can diminish the drink. He also explained that a newly opened bottle of whisky could last for more than a year, but the air in the bottle creates oxidation. It will not ruin the whisky but may change the flavors, sometimes for the better. To preserve its original taste, an opened bottle should be consumed within a year. The contents may also be transferred to a smaller container to lessen the air.
Whisky-tasting opportunity is available at The Peak of Grand Hyatt Manila, located at Federal Land's Grand Central Park community in Bonifacio Global City.
Luxury living 
The next webinar under the Federal Land Conversations – Living the Finer Life will be all about vehicles, particularly Lexus Philippines' line of luxury cars. It will be held on August 18, 2021, via Zoom Webinars.
Federal Land has lined up webinars to air in the following months. One will be about learning the basics of real estate investing considering your life stage. Another webinar will explore interior design for modern living, the latest design trends and hacks, and how to create live-work spaces at home to balance personal and professional life. There will also be a webinar that will show how to cook delectable dishes and take appetizing shots for posting and sharing online.
To join Federal Land Conversations – Living the Finer Life webinars, visit www.federalland.ph to register.