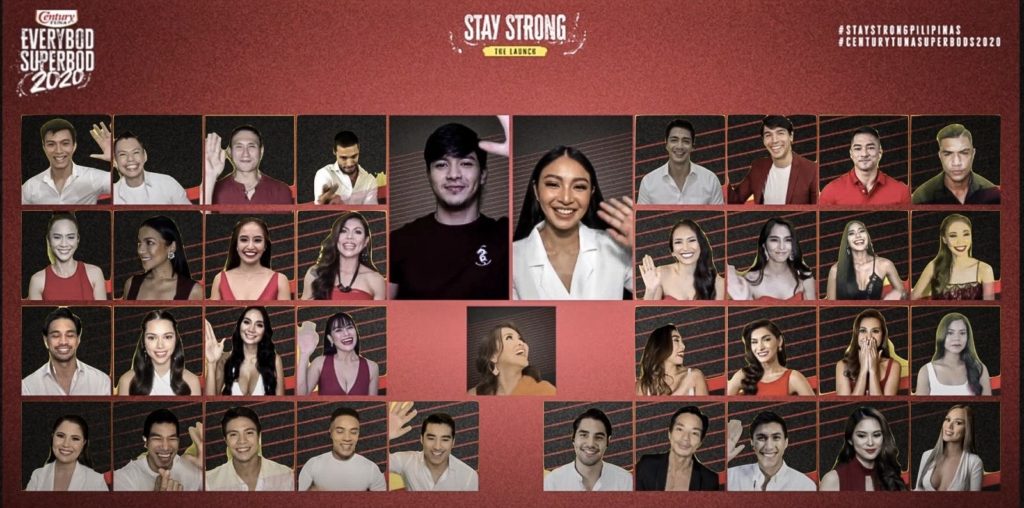 The road to Century Tuna Superbods 2020 was all set: launched earlier this year by showbiz royalties Nadine Lustre and Alden Richards with the message "Every day is a chance to be a better you", the annual fitness competition had all 34 finalists lined up. But when the COVID-19 pandemic happened, the competition pivoted to become a platform with an inspiring message for all.
Times are tough but Century Tuna, the country's leading canned tuna, proved that Pinoys are tougher as it relaunched Century Tuna Everybod Superbod 2020 with a more inclusive and relevant theme: Stay strong, Pilipinas!
Streamed on the Century Superbods Facebook page, the launch featured celebrity Superbods Nadine and Alden, together with the 34 Century Tuna Superbods finalists enjoining everyone to witness the strength of the Superbods spirit to continue pursuing their passion and dreams of a healthier future that begin with proper diet and exercise.
"Now more than ever, we need to encourage everyone to stay physically and mentally strong, and we feel that that can be achieved by eating right, moving our bodies every day and practicing proper hygiene to protect ourselves from the ongoing virus," said Century Pacific Food Inc EVP and COO Greg Banzon.
To further reinforce the importance of staying strong, Century Tuna released a rousing video (https://www.facebook.com/centurytuna/videos/221566542278633) that signalled the resumption of the highly-anticipated Century Tuna Everybod Superbod 2020 competition, following the same objectives: The candidate must be a "Difference Maker," someone who can make a stand and empower Filipinos to be the best they can be.
Of course, this year's unstoppable finalists were ready to show off their hot and fit bods to make a difference and inspire everyone to Stay Strong. In the female category, the 18 fit and sexy finalists are Katrina Arceta (@pasteledpawbykat), Grace del Rosario (@gracedelrosario_makeup), Sherlyn Doloriel (@sherlyndoloriel), Zai Ebido (@zaiebido), Shirley Garcia (@shirleygarcia3797), Lynn Gonzales (@lynnrgonzales), Astrid Hernandez (@astridhernandezph), Renzel Jose (@renzel.mae), Liz Kuczera (@lizkuczera), Karla Lasquite, Samantha Lo (@samantha_ashley_lo), Ines Lorenzo (@tack.n.tanlines), Kai Ochosa (@kaiochsa), Kathleen Paton (@kathleen_paton), Christine Picardal (@tinedoesfitness), Samantha Purvor (@istmesamanthap), Candice Ramos (@candiceramos), and Key Trajano (@keytrajano).
The 16 hot and healthy male finalists are Sam Ajdani (@samajdani), Nelson Banzuela (@nelsonbanzuela25), Kirk Bondad (@Kirk_bondad), Enzo Bonoan (@enzobonoan24), Hans Braga (@hansbraga_), Nicholas Chua (@fat.kid.inside), Robert Hamilton (@roberthamilton_official), Albert Lorenzo (@alberttiongson), Philippe Magalona (@philippemagalona), Erie Matic (@eriematic), Malcolm Mostoles (@malc_mostoles), Gianpaolo Paparo (@gianpaolo.paparo), Julian Roxas (@julsfitph), Gian Ruiz (@makeupmusclesnme), Jason Senga (@oh_jizz_on), and Jojo Urquico (@jojourquico).
Each candidate's journey to becoming the Century Tuna Everybod Superbod 2020 grand winners will consist of various digital challenges that will be posted on the Century Tuna Superbods Facebook page and can be searched using #StayStrongPilipinas, #CenturyTunaSuperbods, #EverybodCanBeASuperbod.
These challenges will lead up to the finals night happening on September 19, 2020 where over Php 2,000,000 worth of prizes is at stake and where one male and one female grand winners will be selected.
To know more about "Century Tuna's Everybod Superbod 2020," visit and follow Century Tuna's Facebook page, @centurytuna or Instagram @centurytunasuperbods.