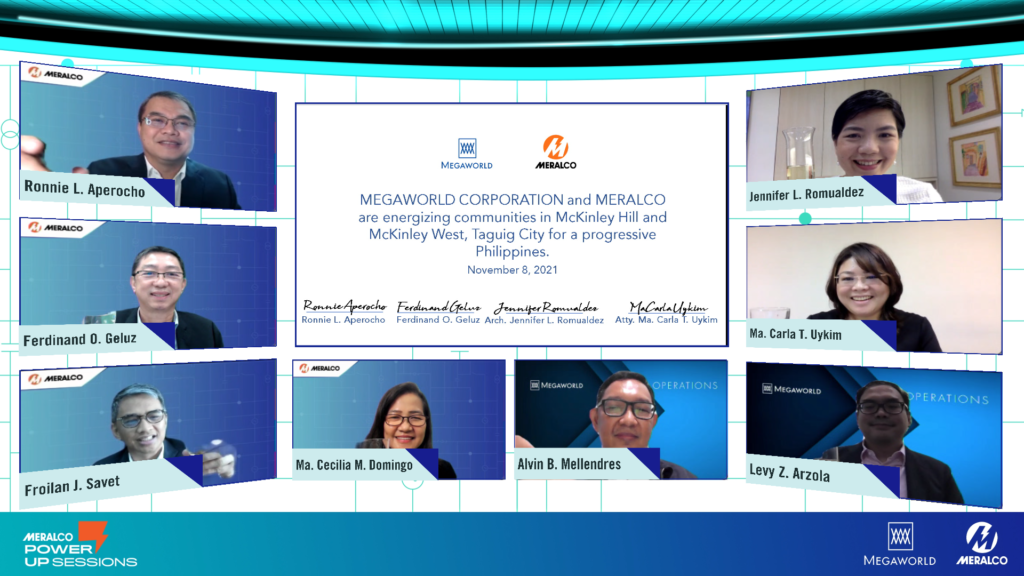 As the narrative shifts from preparing for a post-pandemic future to thriving in a world where COVID-19 is here to stay, Megaworld Corporation and Manila Electric Co. (Meralco) recognize the role that the private sector plays in driving economic recovery. The two corporations partnered to ensure that the integrated community within McKinley Hill—composed of businesses and homes—is powered with stable and reliable electricity, with the goal of ultimately improving lives.
With this partnership, Meralco will develop a 1,694-square meter (sq.m.) property at McKinley Hill in Taguig City into a new power substation which will house three 83-megavolt ampere (MVA) transformer banks with an ultimate capacity of 249 MVA.
The new substation will support the power demands of businesses, institutions, and communities within McKinley Hill, McKinley West, and nearby areas. It will also improve the system reliability, voltage regulation, power quality, and distribution efficiency of key establishments in Venice Grand Canal, McKinley West Campus, Viceroy Residences, Venice Luxury Residences, and Enderun Colleges, among other areas.
Ultimately, this development will help address the critical loading of the two existing transformer banks of Meralco at the Malibay substation.
Construction for the substation is set to begin in February 2022 and is expected for completion by October 2022.
Jennifer L. Romualdez, Megaworld Senior Vice President for Operations Management, said the development is part of the company's vision to uplift lives and help shape the nation. "This initiative will help a variety of sectors and communities prosper and recover from the impact of the pandemic."
Meralco Senior Vice President and Head of Networks Ronnie L. Aperocho adds that the project is part of the company's goal to develop sustainable and progressive cities. "Meralco is privileged to have a great responsibility in how the Philippines' economic growth can continue to thrive," he says.
The 50-hectare McKinley Hill, which forms a major part of the Bonifacio Capital District, is one of Megaworld's four townships in Fort Bonifacio and currently its biggest in Metro Manila. It is home to about 40 residential towers, an exclusive residential village, and 23 office towers including LEED and PEZA-accredited office buildings, as well as international schools, foreign embassies, a full-scale lifestyle mall, and many more.
McKinley Hill is also home to five office buildings currently under the portfolio of MREIT, Inc., the flagship real estate investment trust (REIT) vehicle of the Megaworld Group.
The partnership between Megaworld Corporation and Meralco proves that businesses can have a hand in developing better, more efficient communities that can help the country recover from the harsh effects of the pandemic.