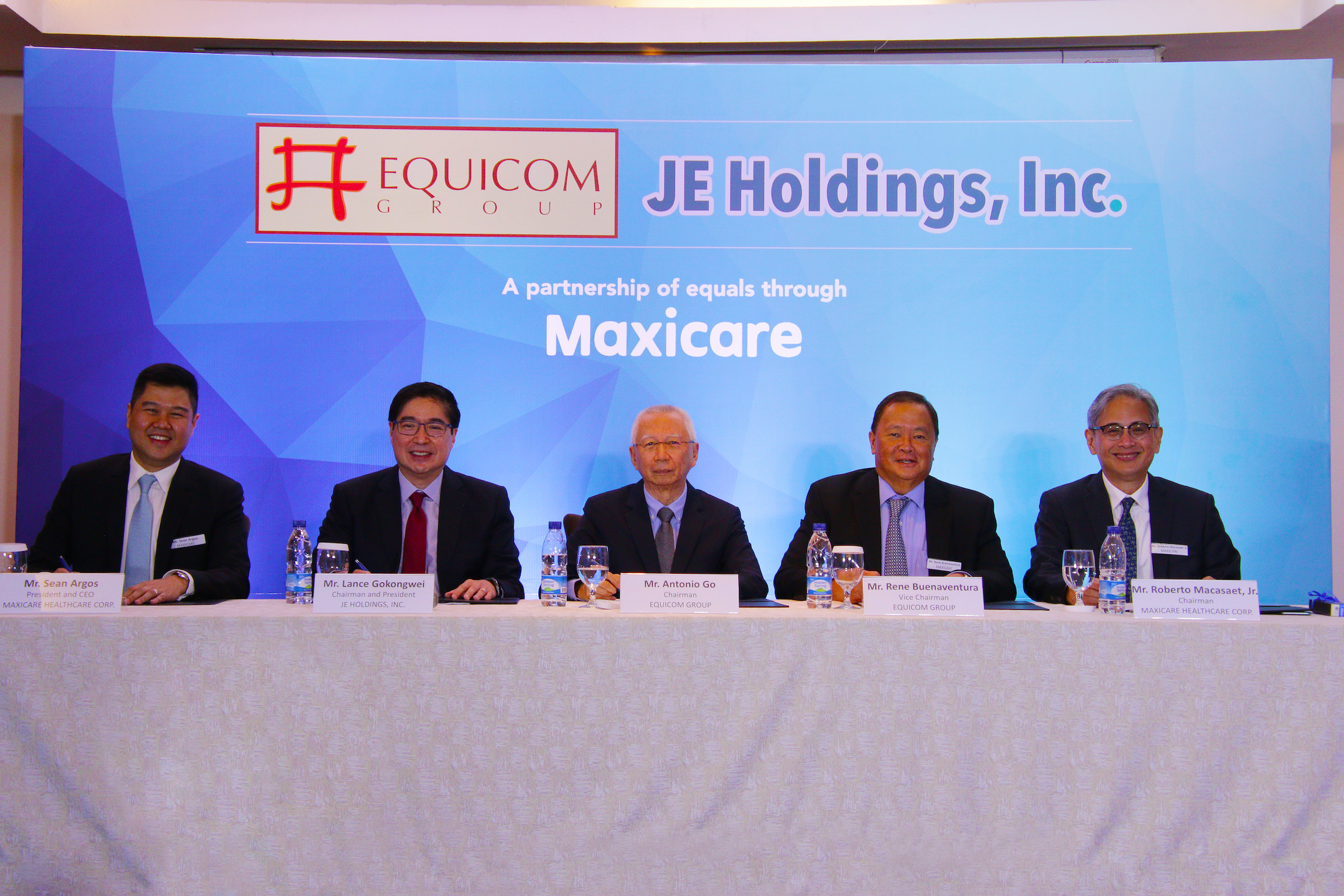 The Equicom Group, the company behind Maxicare, the leading HMO company in the Philippines, and JE Holdings, Inc., announced a strategic partnership that will allow Maxicare to revolutionize its mission of helping Filipinos live their best lives.
JE Holdings, a privately-held investment company of the Gokongwei family, will become a co-equal shareholder of Maxicare alongside the Equicom Group. The partnership agreement, approved by the Insurance Commission on May 5, 2022, will result in a bigger and stronger Maxicare due to the synergies to be derived from the partnership.
The Equicom Group, led by Chairman Antonio Go, is a diversified conglomerate engaged in the areas of healthcare, information technology, banking, and financial services.
According to Mr. Go, the agreement entered with JE Holdings is a partnership of equals that will give Maxicare a stronger foothold in the country's healthcare industry. "Maxicare is already the top HMO provider in the Philippines; this partnership will only strengthen our lead in the healthcare sector and will help us deliver industry-defining services that will benefit Filipino consumers," Go said.
For his part, JE Holdings Chairman Lance Gokongwei said the company is very excited to work with the Equicom Group on this noble undertaking that will further democratize the delivery of essential healthcare services to our countrymen.
"We share Maxicare's vision for the future of healthcare in the Philippines.  As their partner, we commit our support as they continue to innovate to help bring a better and more comprehensive healthcare system in our country. We have high hopes that the synergy from this partnership will provide unparalleled customer experience," Gokongwei said.
Maxicare CEO Sean Argos shared that the partnership between Equicom Group and JE Holdings will create new opportunities that will elevate healthcare services in the country.
"We imagine a future where healthcare services in the country will be further enhanced through a new industry-leading healthcare ecosystem that will benefit Maxicare's medical provider partners and provide Maxicare members better customer experience, affordability, and availability," said Argos.
He also shared Maxicare's plans to expand into new products and services in order to reach and serve more Filipinos, details of which will be announced in the coming months. By leveraging the combined Equicom and Gokongwei ecosystem, Maxicare will now have access to more than 36 million customers, he said.
Established in 1987 by an esteemed group of doctors and businessmen with the vision to deliver a better healthcare system, Maxicare Healthcare Corporation is one of the pioneers in the health maintenance organization (HMO) industry in the Philippines.
As the largest HMO provider in the country, Maxicare continuously provides Filipinos comprehensive healthcare programs via its wide network of medical providers fortified by a strong customer support system. Currently, it services the largest number of HMO customers across the country from corporate segment, small and medium-sized enterprises to families and individuals via its more than 24,000 affiliated doctors and specialists, 1,400 hospitals and clinics, 1,000 dental clinics, 180 rehabilitation, dialysis, and eye centers.