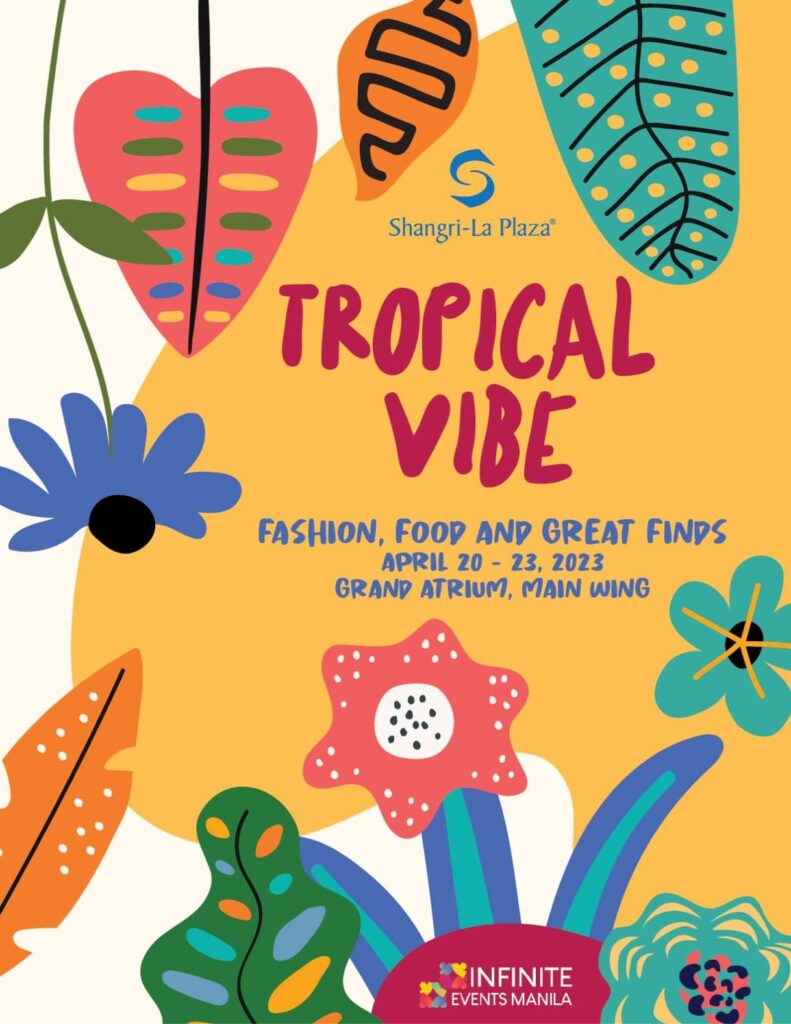 April is shaping up to be a fantastic month as Shangri-La Plaza crafts an exciting line-up of shopping fests, dining selections and fun pursuits for every member of the family.
Enjoy the sunniest days of year by getting started on those DIY home projects. The summer edition of True Value Discount City at the Grand Atrium until April 16 is a sure sign to finally tackle that home improvement list. Homeowners can enjoy up to 70% off on all the essentials for sprucing up their personal spaces – from handyman tools, organizers, furniture, to houseware.
Extend the summer refresh further by updating both pantry and wardrobe with awesome local finds at Tropical Vibe with Infinite Events at the Grand Atrium, until April 16. On the hunt for more things local? Browse and buy everything from food, to charming and quirky knick-knacks at the pop-up bazaars at the Food Forum happening all weekends of April.
Nothing spells summer like playtime for the kids! Treat the little ones to an energetic time at indoor playgrounds Heroes Headquarters and Kidzoona. Every kid is sure to want to try the giant slides, zip lines, foam pits, balance beams, and other stations that train them to become "superheroes" at the Heroes Headquarters. It also has Hero Blast, the world's first non-gun laser tag that uses special blaster gloves. Kidzooona, meanwhile, is where kids can play ball pool with giant inflatable slides and enjoy different "work" stations that let them explore their imagination.
Nothing brings the family together better than good food. Share new and old favorites with the entire family at Shang's Food Forum. And there's even more reason to go with newly opened dining options like Pepa Wings that's known for its delish chicken wings available in 10 flavors like Cheesy Bacon and Salted Egg, and The Blue Apron that's loved for its unique poke tacos. Fans of Pepper Lunch will be glad to know that the popular food joint is back at the Food Forum to serve sizzling plates again.
Hungry for more? Explore different destinations through their flavors at the Asian Eats Food Festival, presented by Asia Society Philippine Foundation, Inc. It's happening at the Grand Atrium from April 27 to 30. This annual food festival celebrates the richness of Asian culture and cuisine. The event features a variety of flavors from Thailand, Turkey, Singapore, Vietnam, Korea, the Philippines, and more. Visit the fest and also get the opportunity to recreate the dishes at home by catching the live cooking demos.
Or better yet, visit these destinations and make that dream family getaway come true with the RCBC Travel Fair. Drop by the East Atrium from April 28 to 30 to get discounted flights and accommodations to help families plan an epic trip that will surely help everyone bond and build lifelong memories.
High summer in the city can be lively and dynamic, too, especially with all the fun activities everyone can relish at Shangri-La Plaza.
For updates and inquiries, follow Shangri-La Plaza on Facebook at www.facebook.com/shangrilaplazaofficial and on Instagram @shangrilaplazaofficial.