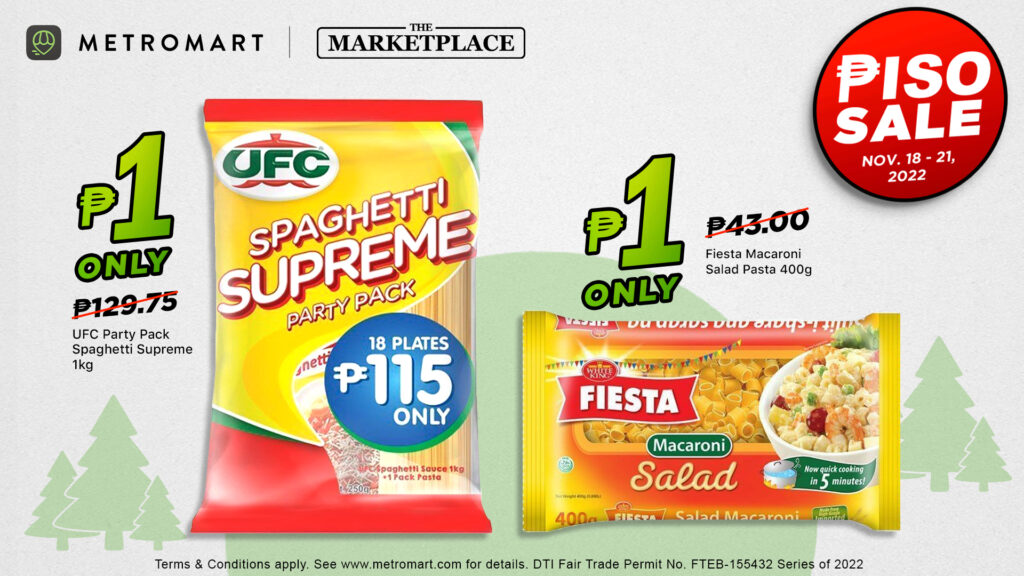 The Marketplace PISO SALE, exclusively via MetroMart will run this weekend on November 18-21, 2022. Select items can be purchased for only ₱1.00 when you order and get it delivered via MetroMart across select branches of The Marketplace.
The Marketplace PISO SALE promo will have various items available for a limited time per day. These items include Del Monte Spaghetti Pack, UFC Spaghetti Party Pack, Ruffles Chips, and so much more.
Please see The Marketplace PISO SALE itinerary below:
The Marketplace

DATE

TIME

PRODUCT NAME

SRP

PROMO PRICE

November 18

9:00AM-2:00PM

Del Monte Filipino Style Spaghetti Sauce + Del Monte Spaghetti 1 Pack

₱138.75

₱1.00

Del Monte Gourmet Carbonara

₱36.25

₱1.00

3:00PM-8:00PM

UFC Party Pack Spaghetti Supreme 1kg

₱129.75

₱1.00

Fiesta Macaroni Salad Pasta 400g

₱43.00

₱1.00

November 19

9:00AM-2:00PM

Royal 4 Cheese Spaghetti 1kg

₱119.75

₱1.00

Devondale Full Cream Milk 1L

₱104.25

₱1.00

3:00PM-8:00PM

Arla Nat Emmenthal Slices 150g

₱205.00

₱1.00

November 20

9:00AM-2:00PM

Fiesta Macaroni Salad Pasta 400g

₱43.00

₱1.00

Arla Kid Cheese Sticks 18g x 6s

₱135.00

₱1.00

3:00PM-8:00PM

Sanicare KT Jumbo 2P 70 PLS 2s

₱123.50

₱1.00

Zonrox Bleach ColorSafe 900mL

₱70.75

₱1.00

November 21

9:00AM-2:00PM

Ruffles Cheddar Sour Cream 6.5oz

₱174.75

₱1.00

3:00PM-8:00PM

CDO Premium Torikatsu 420g

₱154.00

₱1.00
*Sale items are subject to availability across The Marketplace branches.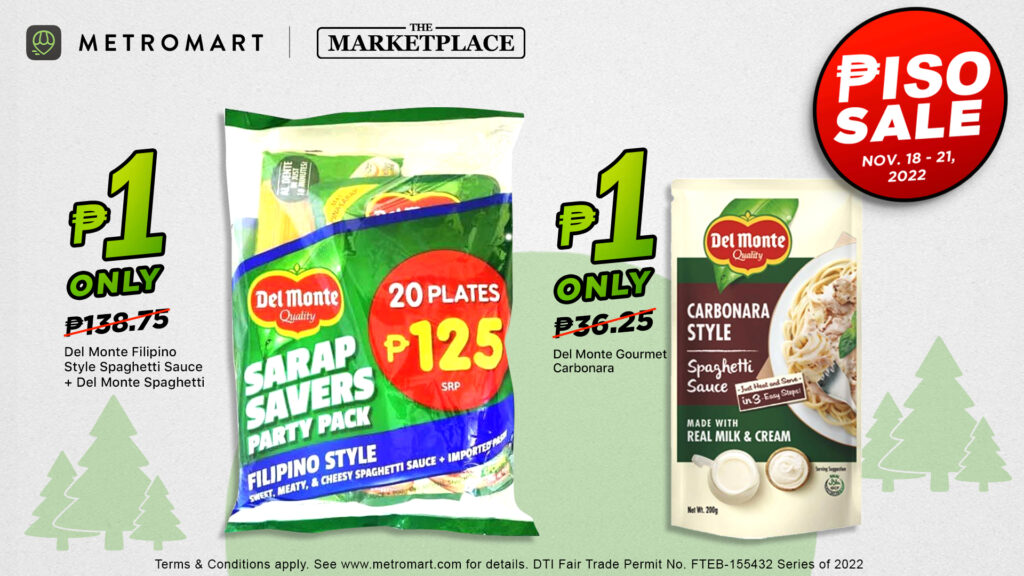 "Just as it can be exciting to seize great bargains, the MetroMart family are equally pleased to provide these to the customers in our successive PISO SALE events. Christmas is right around the corner, and we are gearing up to share even more discounts and promos for everyone. Stay tuned!" Stefano Fazzini, CEO and co-founder of MetroMart, said.
Promos from The Marketplace PISO SALE are applicable to both New and Existing Users of MetroMart. A minimum spends of ₱1,500 is required in order to avail the 1-peso sale items. Only completed checkout of orders within the sale period can avail the discounted items.
This PISO SALE is available in participating branches of The Marketplace via the MetroMart app and website, all over Metro Manila and key locations throughout the Philippines, including Baguio, Pangasinan, Batangas, Davao, Cavite, Cebu, Iloilo, and more.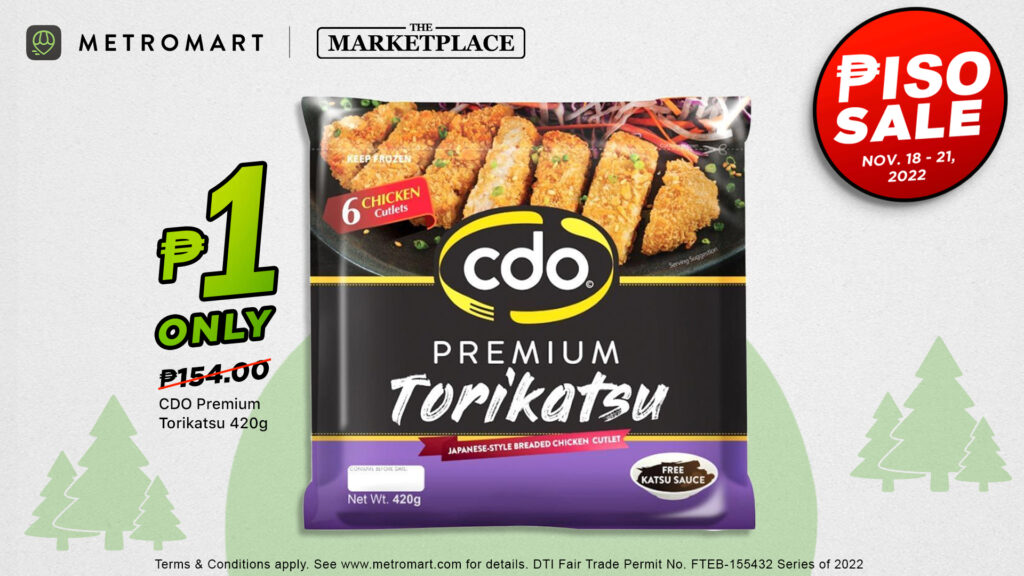 MetroMart is the #1 online grocery delivery service in the Philippines. Our grocery partners include The Marketplace, S&R (with or no membership card required), Robinsons Supermarket, Landmark, Shopwise, All Day Supermarket, MerryMart, Super8 Grocery Warehouse, Ever Supermarket, UltraMega Supermarket, and over 500+ specialty store retailers like Pet Express, Baby Company, Toy Kingdom, Toys"R"Us, National Book Store, Office Warehouse, Southstar Drug and AllDay Rx. Customers can order from their favorite stores on the MetroMart app and have it delivered to their door in 2 hours! For more updates on MetroMart, like and follow us on Facebook and Instagram at @metromartph. Order groceries online or download the app via https://bit.ly/DownloadNowMM