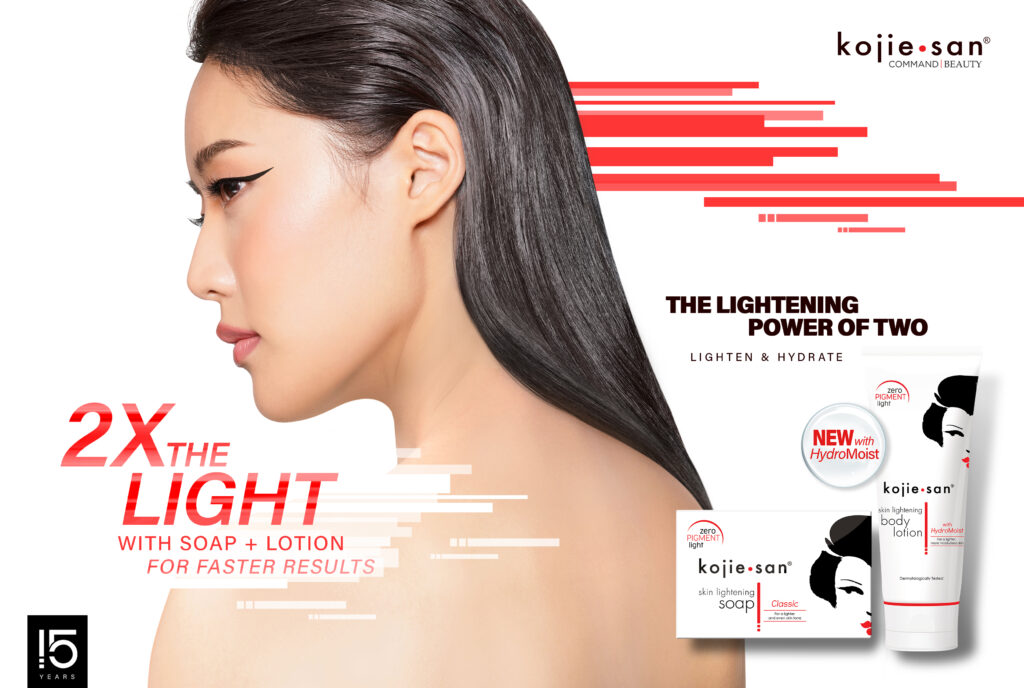 Speed up your pace in achieving your beauty goals by pairing Kojie.san soap and lotion with each other, better together for more unbeatable power that reveals lighter and even skin tone as quickly as possible.
A true innovator in kojic acid formulation, Kojie.san soaps and lotions contain Zero Pigment Light technology that zeroes in on dark spots, age spots, scars, melasma and hyperpigmentation. Used individually, the soaps and lotions deliver great results. But when used in combination with each other, they promise better performance—twice as fast. That's because the Kojie.san soaps and lotions are especially formulated to work in tandem to give you optimal results, accelerating your goal in getting the complexion you've always wanted.
Start your journey of surpassing the expected by lathering on either of Kojie.san's popular soaps when you shower. The original Kojie.san Skin Lightening Classic Soap keeps everything that's beloved of high-grade kojic acid but now made more potent with Zero Pigment Light to reveal fairer skin. Kojie.san Skin Lightening HydroMoist Soap contains the same technology, with the addition of HydroMoist formula to target dark spots and even out skin tone while keeping it moisturized for hours.
After showering, take step 2 by using Zero Pigment Light-powered Kojie.san lotions. This means your doubling the benefits you get from the latest kojic acid technology. Both also come in a light, non-greasy HydroMoist formulation that's easily absorbed by your skin. Kojie.san Skin Lightening Body Lotion with HydroMoist deeply moisturizes skin to keep it soft, smooth, and well hydrated for up to 72 hours. Kojie.san Skin Lightening Body Lotion SPF25 w/ HydroMoist protects your skin from harsh environmental factors that can halt your progress and lead to skin damage with its UVA UVB filters.
Command Beauty and achieve the look you want in no time by making the most out of Kojie.san's highly effective formulation made even more powerful with this reliable soap-and-lotion combo.
Get exciting updates and information at @KojiesanPH on Facebook and Instagram and www.kojiesan.com. Kojie.san is available at all leading supermarkets and drugstores nationwide, as well as Kojie.san's official LazMall on Lazada and Beauty MNL.