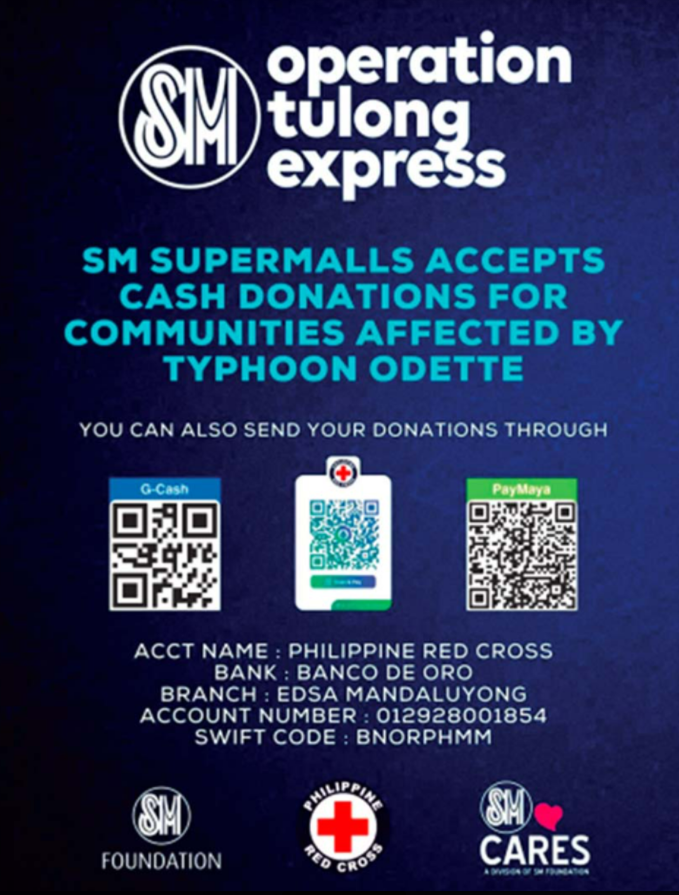 To provide much-needed help to thousands of Filipinos affected by the onslaught of Typhoon Odette, SM Foundation, SM Supermalls and SM Markets together with SM affiliates and partners, initiated its immediate disaster relief response through its Operation Tulong Express Program (OPTE) and allotted over 33,000 care and relief packs for the victims of the super typhoon. The SM Kalinga packs consisting of rice, bottled water, and other basic essentials were distributed to over 35 barangays in the VisMin region which were devastated by typhoon Odette.
The relief operations became part of its Christmas drive, "100 Days of Caring" launched in September and aimed at giving back to various communities and groups in need, during the holiday season. The humanitarian response to Odette began almost as soon as the super typhoon hit.
Hundreds of residents in affected areas flocked to SM malls in the VisMin region where they found temporary shelter and availed of free Wi-Fi, charging stations, drinking water, light snacks, and overnight parking. SM's retail stores and malls also remained open to make sure residents have access to these essential items.
"SM Malls have always served as a temporary shelter to Filipinos in times of calamities. We are always ready to help families and communities in areas affected by the disaster and will continue to deploy quick disaster relief programs. This is part of our mission to practice the act of sharing and giving this holiday season, especially during these critical times," said SM Supermalls President Steven Tan.
Special attention was given to SM employees whose lives and properties were impacted by Typhoon Odette. As of this writing, over 1,000 5-gallon bottles of drinking water and over 250 rechargeable solar lights have been allocated to Cebu-based employees,while 76,000 bottles more and SM Kalinga packs have been distributed to employees and agency personnel in Butuan, Palawan, Cebu, Bacolod and Iloilo.
SM has allotted over ₱30M in financial aid and goods for its employees while in solidarity, over ₱517,000 worth of donations have been raised from fellow-employees nationwide.
"The relief operations will continue well into 2022, and we enjoin Filipinos across the nation to extend a helping hand to typhoon Odette victims. There are cash donation boxes located at the SM Cares' Bears of Joy booths and mall entrances in 86 malls (including the SMDC malls) nationwide. Filipinos here and abroad can also donate through direct deposit to the Philippine Red Cross by scanning the PRC QR on our posters and social media posts.
"We appeal to our kababayans to continue to strengthen our bayanihan spirit, to send help and spread hope in these trying times. Together, we can get through this." Tan added.
For more information, visit this link and follow @smsupermalls on Facebook, Instagram and Twitter.