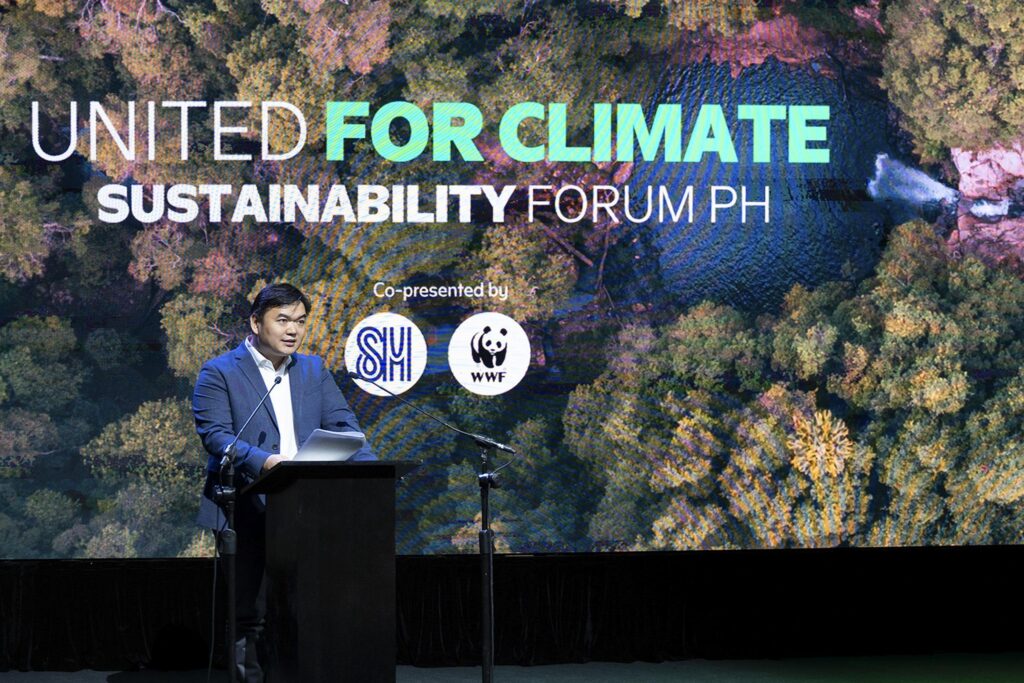 Over the past decade, experts have come together proposing solutions to mitigate the serious effects of climate change. SM Investments Corporation and WWF Philippines joined forces through "United for Climate: Sustainability Forum PH 2022", held recently at the Conrad Manila, to trigger a more ambitious and coordinated climate response among the business community.
The SM Group's climate position recognizes climate change as an urgent global priority and considers the unique challenges of the Philippines. Anchoring all subsidiaries' present and future climate action plans, the SM Group commits to do its part through decarbonization, which is a major aspect of climate mitigation, and through various efforts that would help people and ecosystems adapt to climate impacts and build resiliency.
In his keynote address, Hans Sy, Jr., President of SM Engineering Design and Development Corp. emphasized the SM Group's commitment to climate action and issued a strong call for collective partnership among the business community to support the Philippine climate agenda.
Mr. Sy opened with a very important statement – that climate change is happening right at our doorsteps.
"When we speak of Climate Change, we often view it to be a global issue that doesn't affect our everyday lives. When increasing temperatures are mentioned, we imagine melting arctic sea ice or the blistering heat in a remote desert across the globe. Yet, the impacts of climate change can't be more real as we speak today and be more personal to you and me," Mr. Sy said.
Mr. Sy also shared his insights following the discussions by the global community at the 27th Conference of the Parties to the United Nations Framework Convention on Climate Change (COP27).
"Two key takeaways stood out for me– the urgency of a united accelerated effort to reduce carbon emissions and the need to help developing countries most vulnerable to climate change thrive above its devastating impact," Mr. Sy said.
On the first issue, Mr. Sy said that the initial step towards the goal of limiting temperature rise to 1.5C is mitigation, where one of the key drivers is the systemic shift in energy use and sourcing. He added that as an organization, SM has taken big steps to align its resources along this path.
As prime examples of energy efficient properties, SM Aura Premier and Conrad Manila are LEED Gold Certified.
Complementing this is the intentional shift to renewable energy sources.
In 2022, SM Prime Holdings, Inc. achieved its goal to increase its renewable energy portfolio to more than 50%."  Its partnership with Aboitiz Power for Cleanergy supply will help power SM's properties under the Retail Competition and Open Access program by year-end.
The rehabilitation of over 10 hectares of mangroves in Hamilo Cove and Pampanga is also a great example of a nature-based solution addressing climate resiliency, safety and prosperity for the community.
Mr. Sy also gave equal importance to climate resilience with SM's constant support to the communities it operates in – from providing a platform for over 90,000 MSMEs partners within the SM ecosystem, to providing environment-friendly systems like rainwater catchments, and submersible pumps for people living around their malls. This is all part and parcel of Mr. Sy's forward-looking vision of a stronger future.
Mr. Sy stands firm on SM's commitment to the country. "This is the reason why for us at SM, climate adaptation and resilience are the keys to thriving above the damage and losses brought about by climate change," he explains. "We translate our values into practical solutions by designating a significant portion of our capital expenditure or CAPEX to incorporate resiliency and sustainability in our infrastructure designs." He also added that these projects are designed so that the most vulnerable will not be left behind in times of crisis.
"As an engineer, I am passionate about designing things that work, that help solve problems. I appreciate the complexity of systems, but I also need to think in very practical terms. My job requires understanding physical, structural and system limits. If something is not up to standard, then it is not – there is no 'pwede na'. Otherwise, public safety is at risk," Mr. Sy said.
To illustrate, communities in Masinag, Antipolo understood what climate change was about.  Every time it rains, the families would see the flood waters rise and this happened to them year after year.
When SM built SM Masinag, it incorporated a rainwater catchment facility with a 17,681 cubic meter water capacity, equivalent to 7 Olympic size swimming pools. The two communities connected their drainage systems to the mall which is equipped with three 30 HP (Horsepower) submersible pumps which are used to pump out accumulated rainwater. As a result, families in the area can adapt to the impact of increasing typhoons and rainfall without having to fear the loss of their homes and the safety of their loved ones.
Another example is the SM Mall of Asia complex, designed with a seawall to protect the surrounding communities from potential storm surges or rising sea levels. The property also uses specialized foundation systems to provide more robust protection against liquefaction and seismic events.
It is also elevated by 4.5 meters high in MLLW (Mean Lower Low Water) in preparation for climate change issues and has a wave return and drainage channel to prevent flooding.
In closing, Mr. Sy made this commitment to walk-the-talk towards a climate alliance with a common roadmap and standards can be measured.
"The opportunity we see is for a private sector alliance that would accelerate action in both mitigation and adaptation and help drive the transition to a green economy.
We owe it to our children, the millions of Filipinos yet to be born, to succeed in this fight for the climate," Mr. Sy said.
"Going green is at its highest level of awareness, but it still carries the baggage that it is the more expensive option. That should not be the case. SM is committed to serve communities and millions of Filipinos," he said.
"The price of status quo, according to the Egypt COP, is that global temperatures will go up to 2.8C by 2050. That is a disaster scenario that will mean unbearable losses for everyone. Doing nothing is the bigger cost. And the only way we will succeed in bringing down that 'cost' is if we work together," he added.
As the country moves into a climate-defined future, the SM Group, with the partnership of WWF Philippines, are charting a course of climate action that is science-based and has at its core the well-being of all Filipinos now and into the future.