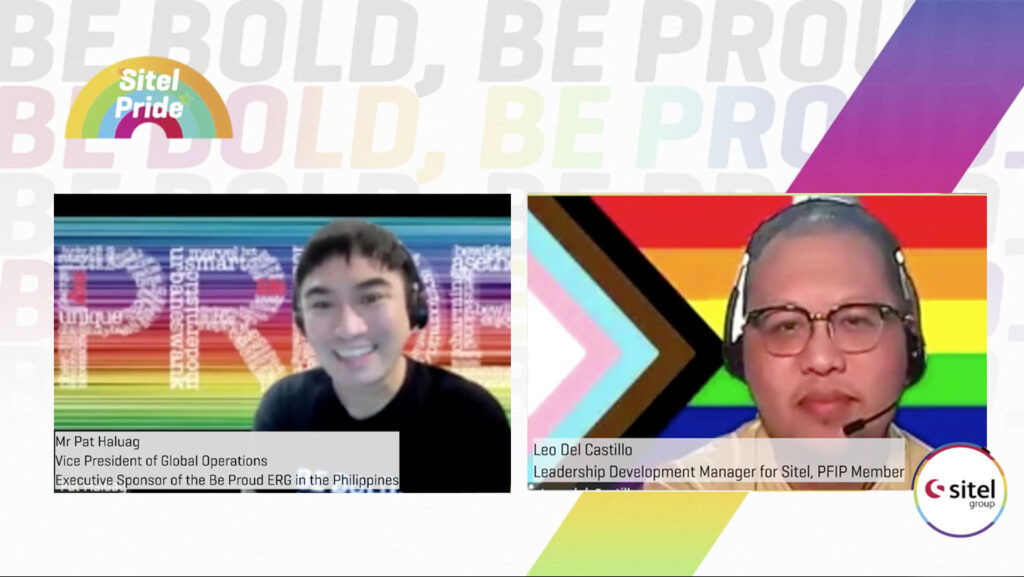 Sitel Group®, a global leader in end-to-end customer experience (CX) products and solutions, commemorated Pride Month 2021 with a month-long celebration of inclusion and diversity, reinforcing its commitment to supporting the LGBTQIA+ community, providing a safe workplace with equal opportunities and raising awareness within the industry and the community for inclusive policies and practices.
"Pride Month is an important time to celebrate the many differences and similarities that bind us together," shared Jorelle Robles, Head of Marketing – Asia Pacific Region, Sitel Group. "Inclusion and Diversity is one of our guiding employee promise pillars and we say – 'BE BOLD, BE YOU.' or Kada Pagkakaiba, Kabarkada. We strive to create a work environment that is safe and supportive of our LGBTQ+ community and this June we amplified the message to 'BE BOLD, BE PROUD.' inspiring everyone to share their stories, uplift one another and learn from each other."
To commemorate Pride Month 2021, Sitel Group shared the inspiring stories of members of their LGBTQIA+ community, created a series of educational SOGIE microlearning training videos, hosted informative panel discussions with Pride industry champions and allies, and threw an exciting culminating Digital Pride Fest 2021 with raffles, contests, performances and an important panel discussion highlighting the LGBTQIA+ experience.
"Sitel Group understands that the communities need us to have important conversations to help improve the status quo and make tangible changes," said Leo del Castillo, Sitel Pride Barkada Lead. "At Sitel, we don't just celebrate diversity and practice inclusion, but we also acknowledge the LGBT+ community as equal business partners. We keep the conversations going and always address all opportunities to improve."
The month-long celebration at Sitel Group capped off with the awards night for the Sitel Drag QuaranQueen Season 2 – the second installment in the company's widely popular drag queen competition and the Digital Pride fest – a virtual Pride celebration featuring special appearances of some Philippine Drag personalities, live performances, and stories from Sitel kabarkadas.
"This June we highlighted several diverse individuals of the Sitel Philippines Barkada. We always encourage our associates to be their most authentic selves," Robles said. "They can dress how they like, speak their minds, and share their amazing talents. Our Pride Month celebration reinforces our commitment to building an inclusive culture where our people are encouraged and free to be themselves."
Vice President of Global Operations and the Executive Sponsor of the Sitel Pride Barkada Employee Resource Group in the Philippines, Pat Haluag added, "We put together a Pride celebration that had an equal number of fun activities and important discussions. After all, Pride Month is the perfect time to discuss gay rights and the fight for equality. Sitel is committed to fostering, cultivating, and preserving a safe, diverse, equitable and inclusive workplace. And this commitment doesn't end when Pride Month ends, but continues every single day."