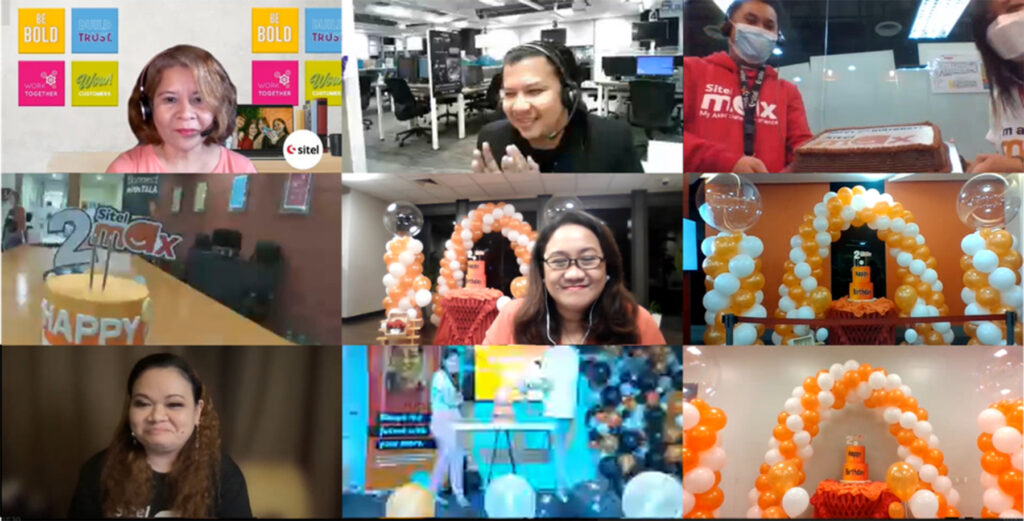 Sitel Group®, one of the largest global providers of customer experience (CX) products and solutions, marked the second anniversary of its Sitel® My Associate Experience (MAX) program with a weeklong celebration of events and activities including roadshows, themed contests, workshops and a culminating party with simultaneous online concerts.
"The MAX Week celebrations in 2021 mark the second anniversary of Sitel MAX, so we made sure to make them twice as fun," shared Ravi Iyengar, Chief Operating Officer, Asia Pacific (APAC), Sitel Group. "Additionally, this week has been extra special because this is the first major event our team has held as one organization since the acquisition of Sykes Enterprises, Inc. It's the perfect way to mark the beginning of our new shared journey as one strong Sitel Barkada. With over 45,000 associates in the APAC region, we are continuing to expand our programs and fostering a culture where our employees can learn, lead and grow together."
Sitel MAX is the Sitel Group employee experience program. It was built around improving the associate experience across culture, technology, processes and working environment. Sitel MAX finds tangible ways to engage associates through digital technology and social interfaces while launching programs and initiatives that bring more value to the 160,000 Sitel Group associates around the globe. Sitel Group believes that the associate experience is the customer experience. Through the improvements made by MAX, Sitel Group associates will be even more engaged to deliver better customer experiences to customers around the world.
Since its launch in 2019, Sitel Group has designated the first week of October, known as Customer Service Week, as Sitel MAX Week. The event puts MAX is in the spotlight, honors the contributions of every associate and continues to harness the collective genius of Sitel Group employees across all levels promoting collaboration, highlighting emerging best practices and improving the associate journey through a people-centric approach.
"As we commemorate two years of Sitel MAX, I must say that MAX is evergreen," shared Bryce Kiguchi, Learning Specialist, Sitel Eton. "It's continuously relevant. MAX enhances the associate experience by encouraging everyone in the organization to engage with one another and leverage each other's knowledge, skills, and experiences. Sitel MAX encourages everyone to grow at their own pace and allows us to all shine individually and together as one Sitel Barkada."
In the Philippines, Sitel MAX has ongoing programs and activities across all locations in Metro Manila, Baguio, Tarlac and Palawan. Along with the global health and wellness program, SitelFit, MAX continues to uplift the associate experience through a wide range of initiatives including learning and development workshops, team collaborations, promotion and advancement opportunities and digital solution innovations.
The past two years were especially poignant for Sitel MAX as the company has had to make essential pivots in the face of the global pandemic. Between the launch of MAXhubs, boosting work-from-home capabilities and expanding SitelFit to cover both physical and mental health issues, Sitel Group ensured that associates had the support they needed despite the challenges of the global health crisis.
In 2021, with the introduction of the Legacy SYKES teams, Sitel Group created an even more exciting celebration to mark the coming together of two teams. Throughout the week, sites and teams experienced various forums, roadshows and events. The closing event was the Sitel MAX Week Closing Party held virtually and streamed live on Facebook.
The party featured panel discussions, presentations on the latest associate programs, performances by Sitel talents, and a raffle with a variety of prizes including a brand new iPhone 13. It culminated with a live performance by The Juans followed by a Hale concert at Sitel Baguio.