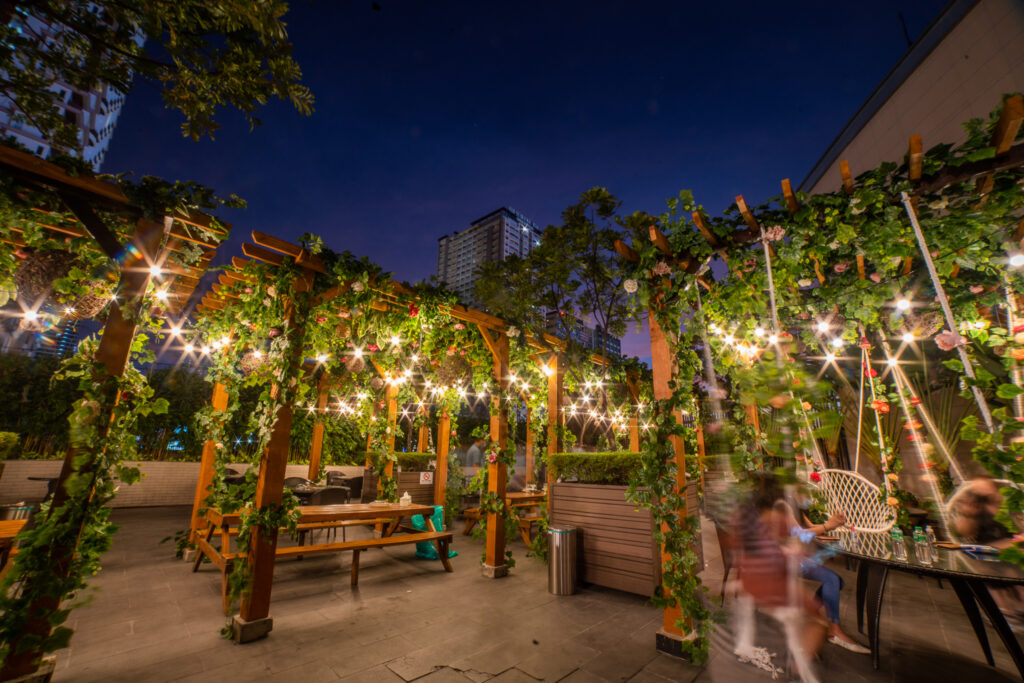 Known for being a top dining and lifestyle destination in the metro, Shangri-La Plaza continues to make mall guests feel well taken care of in the new normal by enhancing its al fresco dining spaces, giving every nook and cranny that signature Shang touch in terms of ambiance and hospitality.
Shang has now opened the enhanced Dine Al Fresco at the Ledge Level 6, which now features greenery and natural elements as well as string and mood lights, making it more conducive not only to dining but also to working. This space is fashioned in a way to make it a great spot for meetings, virtual or in person, intimate gatherings, or small celebrations. With a relaxing yet modern look, Dine Al Fresco at the Ledge Level 6 can also serve as a backdrop for content creators who need a new space to shoot.
To provide a safer and better dining experience at every touchpoint, Shang has also implemented its new Safe Dining Made Easy protocols that aim to lessen interactions between people when mall guests are ordering food. With this, mall guests now have the option to simply scan their preferred restaurant's QR code to check its digital menu. The QR codes also allows them to conveniently order from any of the Shang restaurants, letting mall guests indulge in their cravings with no worries. For added protection, they can also request for their food to be served in takeaway boxes, and for acrylic barriers to be installed on their table. Diners also have the presence of their own Concierge or Butler services to ensure pleasurable dining experiences.
As a safety measure, only the representative from the mall guest's preferred restaurant can take their orders and handle their payments. All cards are sanitized and placed inside a holder before they're handed back to the guest after processing payments. As diners can only remove their face shields and masks only when they're about to eat, they should wear both face coverings when dealing with the restaurant reps.
Aside from Dine Al Fresco at the Ledge Level 6, mall guests can also expect the same soothing and safe atmosphere when dining at the Balcony at Level 5 and ground level Streetscape. Aside from these inspired outdoor areas, Shang is planning to expand its al fresco dining with even more curated spaces that provide top tier experiences in the new normal.
Whether dining alone or with loved ones, the #ShangCommunity can sit back, relax and savor every flavor and every moment when dining out at Shang.
Visit www.facebook.com/shangrilaplazaofficial or follow the Shang on Instagram: @shangrilaplazaofficial for more details.