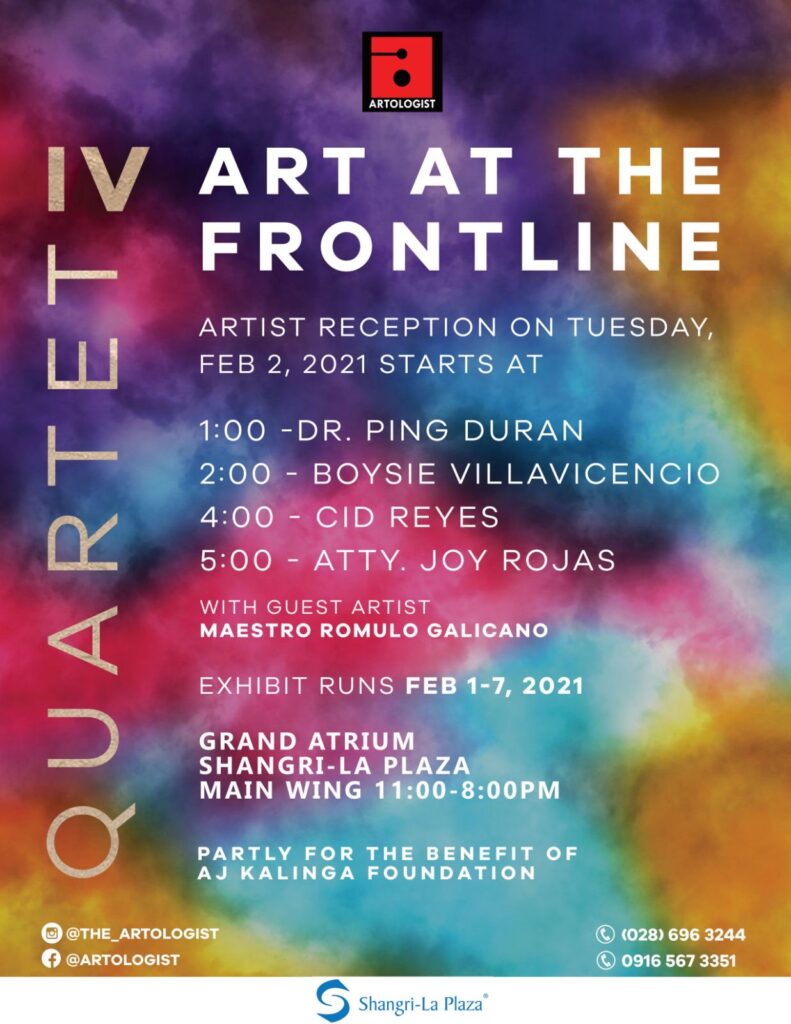 In celebration of the National Arts Month, Shangri-La Plaza is showcasing three major exhibitions organized by respected galleries, a testament to its longtime commitment of supporting the arts by bringing it closer to more people. 
The first art exhibition is Quartet IV: Art at the Frontline taking place on February 1-7 at the Grand Atrium. This exhibit features works that serve as a response to the ongoing COVID-19 pandemic. It brings together four painters, who also excel in their own chosen careers. These are topnotch opthalmologist Dr. Ping Puran, fashion designer-equestrian-businessman Boysie Villavicencio, foremost art critic Cid Reyes, and seasoned lawyer and former Philippine Charity Sweepstakes Office General Manager Atty. Joy Rojas.  
Quartet IV: Art at the Frontline is curated by The Artologist, which is known as the home of the young, emerging and midcareer contemporary artists. A portion of the sales from this exhibit will be donated to the AJ Kalinga Foundation.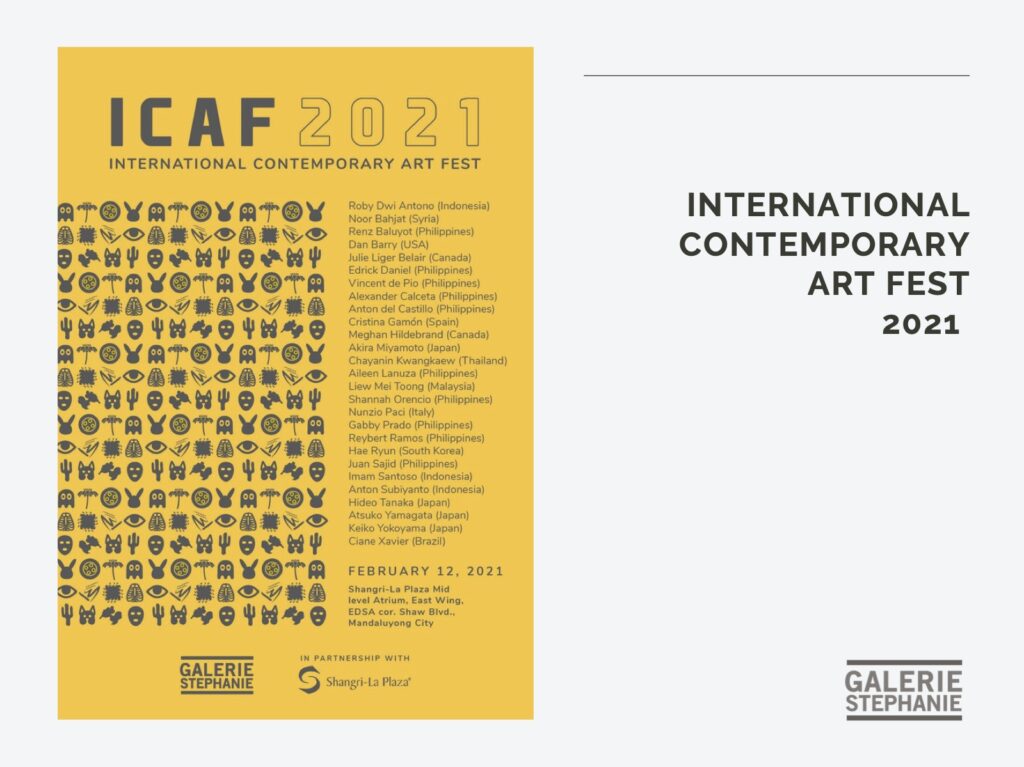 Another art exhibit that mall guests should look forward to is the International Contemporary Art Fest, happening on February 18-24 at the Midlevel Atrium. Organized by Galerie Stephanie—which is known for bridging international and local art through artist residencies and art fair participations, this annual art fest celebrates the diversification and growth of international artists in the Philippines, featuring works from Asia, Middle East, USA, Canada, and Europe.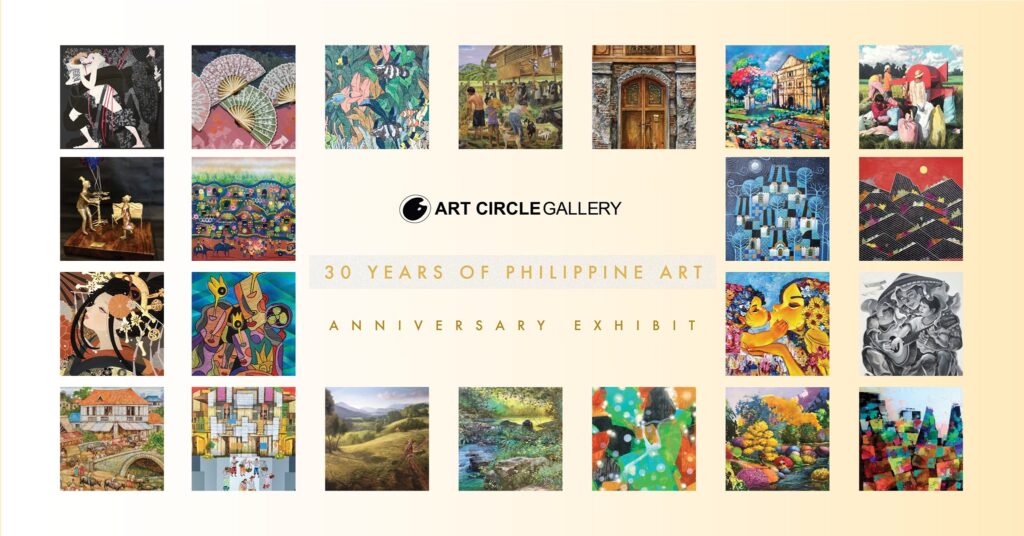 For 2021, this highly anticipated group show at the Shang brings together 27 artists from 11 countries. They are Renz Baluyot, Edrick Daniel, Vincent de Pio, Alexander Calceta, Anton del Castillo, Aileen Lanuza, Shannah Orencio, Gabby Prado, Reybert Ramos and Juan Sajid from the Philippines; Roby Dwi Antono, Imam Santoso and Anton Subiyanto from Indonesia; Chayanin Kwangkaew from Thailand; Liew Mei Toong from Malaysia; Akira Miyamoto, Hideo Tanaka, Atsuko Yamagata, and Keiko Yokoyama from Japan; Noor Bahjat from Syria; Dan Barry from the United States, Julie Liger Belair and Meghan Hilderbrand from Canada; Cristina Gamon from Spain; Nunzio Paci from Italy; and Ciane Xavie from Brazil. 
Shang's final contribution to National Art Month is The Art of Healing, Resilience, and Resistance, which will be presented by Art Circle Gallery on February 24-28 at the Grand Atrium. This art exhibit is in celebration of Art Circle Gallery's 30th anniversary and brings together accomplished Filipino contemporary artists, whose work reflect on the pandemic. 
This exhibition features pieces that showcase landscapes of healing, and portraits and figures as acts of resistance. It is divided into two parts, the first focuses on The Art of Healing while the second is about The Art of Resilience and Resistance. It also tackles isolation, mental health, and personal struggles and hopes amid a crisis. Part of the proceeds from this exhibition will be donated to the family of the artists who passed away during the pandemic.
With these art exhibits, the #ShangCommunity gets to experience the power of the art in giving joy and relief, encouraging introspection, and inspiring people into action.  
For inquiries, call 8-370-2597/98 or visit www.facebook.com/shangrilaplazaofficial. Follow the Shang on Instagram: @shangrilaplazaofficial.