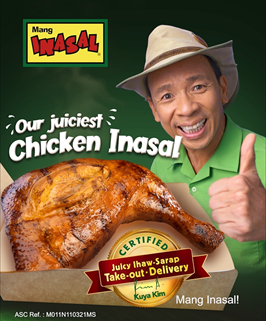 We've all felt it – that familiar craving for our favorite juicy ihaw-sarap meals. Nowadays, though, when our taste buds seek out the familiar savory and smoky flavors, we stop ourselves short. What's the point of ordering ihaw-sarap meals if we're not getting them fresh off the grill?
The pandemic ushered in a host of food-ordering and delivery applications. Even as the IATF and LGUs relax some dine-in restrictions, takeout and delivery continue to be major channels
To continually adapt to the expectations of customers on 'new normal' dining, Mang Inasal has improved its food preparation and cooking process to achieve consistent off-the-grill goodness for its ihaw-sarap meals. One innovation is the juicy-lock grilling process which seeks to ensure the freshness and juiciness of its best-selling Chicken Inasal.
Promoting this exciting development is Mang Inasal's newest brand ambassador Kuya Kim Atienza who headlines Mang Inasal's latest video. Check out what he has to say in this link: https://www.youtube.com/watch?v=LLDd_qd4wfI
Satisfy your cravings for Chicken Inasal meals so juicy that they taste like they come straight from the grill — even at home! Order via manginasaldelivery.com.ph, Mang Inasal App, GrabFood, and foodpanda.