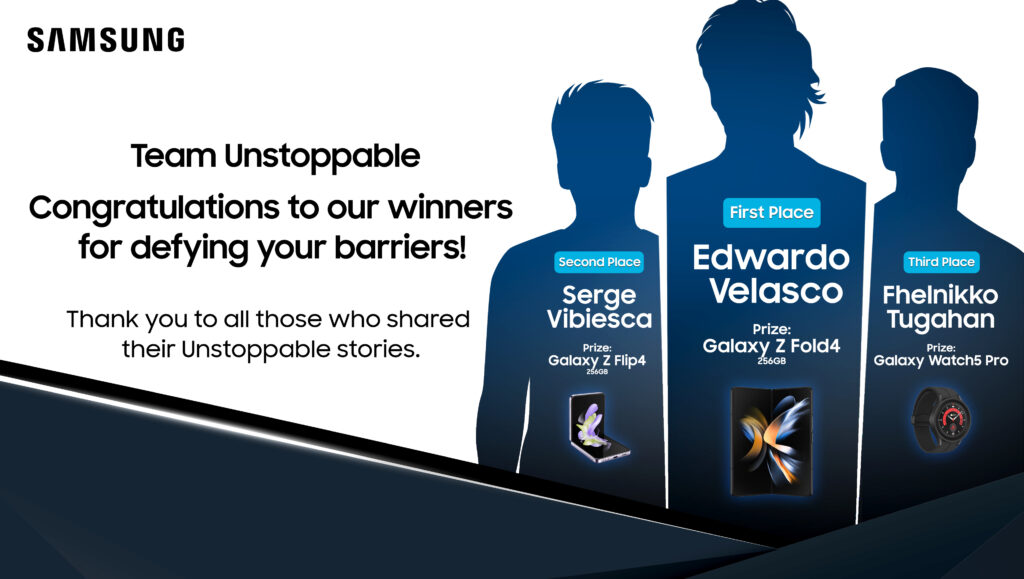 Samsung Electronics Philippines Corp. (SEPCO) recently rounded off the second run of the #TeamUnstoppable, a regional brand campaign that challenges the Gen Zs and millennials of Southeast Asia to overcome barriers, uplift others and create positive change.
Building upon the success of the campaign last year, the #TeamUnstoppable 2022 movement continued to encourage young digital natives to creatively express their very own 'unstoppable' stories. Reaching out to the wider regional youth community who are passionate about gaming, food, fashion as well as issues in sustainability and education, the campaign this year achieved massive awareness on various social media platforms.
Here in the Philippines, hundreds of young go-getters opened up and shared the personal barriers they have defied, with the help of technology from Samsung, to emerge as a better version of themselves. Today, we unveil the winners and their inspiring stories.
The top three winners who are all luckily getting the latest Samsung devices are as follows:
1stplace: Edwardo Erano Velasco won Samsung Galaxy Z Fold4 256GB worth PHP 98, 990.00.
2ndplace: FheInikko Tagahan won Samsung Galaxy Z Flip4 256GB worth PHP 62,990.00,
3rdplace: Serge Ivon Vibiesca won Samsung Galaxy Watch5 Pro 45mm worth PHP 26, 990.00.
"We are pleased that the #TeamUnstoppable campaign gave the youth a platform to share their hopes for making the world a better place and making a difference in the lives of those around them. The huge turnout for this campaign inspires us to develop more programs and initiatives aimed at youth in our community," shared Minsu Chu, President of Samsung Electronics Philippines Corp. (SEPCO).
The #TeamUnstoppable 2022 campaign kicked off with the premiere of a regional film, featuring the stories of six inspiring individuals all over the world. The roster includes Karla Golosinda, a.k.a. 'Queen Wrecker' from Manila, which featured a three-part narrative on how she breaks the mold by using her platform to spread hope, inspiration, and fun to her audience. Golosinda has turned her passion for gaming into a force for good by using the funds she has raised from online gaming streams to help underprivileged students and victims of natural disasters. In addition, she also uses her online presence to advocate for women's empowerment and wildlife conservation.
This year's campaign was a success in its pursuit of engaging the youth as it centered on TikTok, where a brand-new generation of 'unstoppable' young individuals shared their authentic stories in snackable, mobile-first episodic videos.
Moreover, the campaign has encouraged many unafraid, undeterred and unwavering young people around the country to take risks, explore their creativity, and use their own social media platforms to advocate for positive change in their local communities.
To uncover more Unstoppable stories, visit https://www.samsung.com/ph/teamunstoppable/.