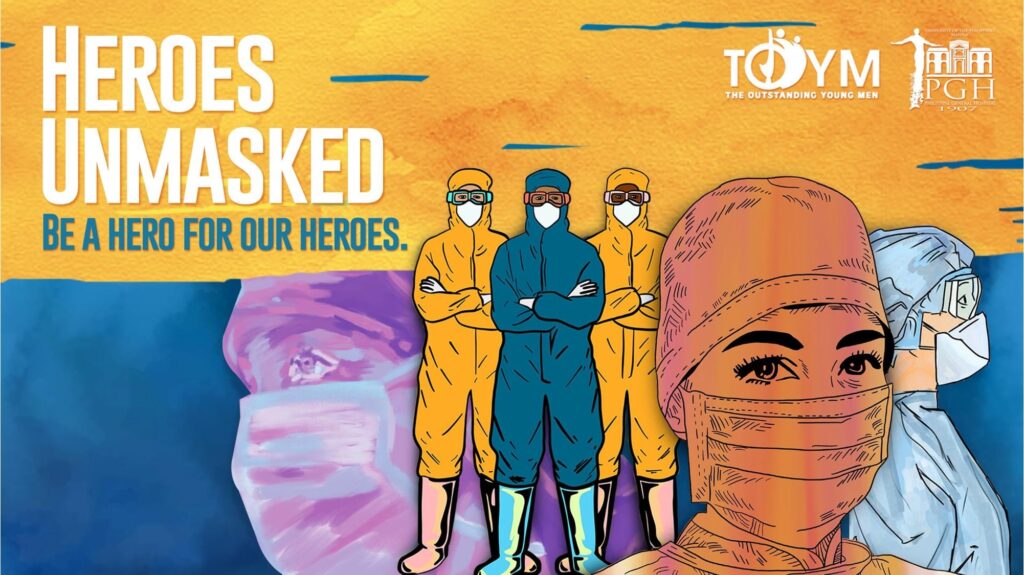 The entire country continues to live in such formidable times as we navigate the uncharted course of the COVID-19 pandemic. And no other sector of society has been carrying the brunt of this burden more than the healthcare system, led by the tireless medical frontliners who put their lives on the line daily for the sake of the rest of us Filipinos. As everyone looks forward to recovery and better times, there are still many things that we need to work on and many whom we need to extend help to.
The TOYM has a long-standing reputation as an institution that honors outstanding young men and women, whose selfless dedication to their profession or vocation has resulted in significant contributions to their countrymen's welfare. With the current need for assistance, TOYM is leading an initiative to raise funds to benefit the Philippine General Hospital (PGH), in recognition of its laudable efforts of providing quality healthcare for Filipinos from all socio-economic classes.
Heroes Unmasked is the campaign that benefits the Panatag na Kanlungan Project of PGH, which provides necessary assistance for medical frontliners and volunteers. The endeavor is highlighted by an original song composition and music video created through the collaborative efforts of iconic musical artists Ryan Cayabyab, Lea Salonga, and Gary Valenciano.
Historic for being the first song ever that Lea and Gary have worked together on, Heroes is inspired by and dedicated to the medical frontliners who put their lives on the line daily to heal, care for, and alleviate the sufferings of fellow Filipinos. The touching and poignant piece is also meant to galvanize the nation to encourage and show their solidarity with these modern-day heroes.
"TOYM is honored and grateful to have three of the biggest names in music collaborate to offer their talents, time, and voices to drive awareness and support for the Heroes Unmasked campaign," says Donnie V. Tantoco, Chairman of TOYM. "We're also very proud that Heroes is actually the first song ever that Lea and Gary have worked on together. As an institution that recognizes young individuals who have positively impacted larger society, we think it is time to take bolder action, and we hope that our call can be answered by the entire nation for the benefit of our medical frontliners."
This coming holiday season, the campaign presents many ways to support the cause. Both corporate and personal donations are welcome, the details of which are available at www.toymheroescampaign.org.
Everyone can view and share the Heroes music video on Youtube, and participate in Hero's Hour on November 17 at 8:00PM, when the TOYM community and the public join hands in streaming the video to drive awareness on the efforts to benefit PGH. The music video is also easily searchable on Youtube, just key in Heroes Unmasked on the search bar.
For those who would like to show their support in a more creative manner, TOYM has also launched the Heroes Unmasked Song Challenge. Open to anyone 15 years old and above, participants can create a video and dedicate it to a frontliner they consider their hero.
Video entries may be a song cover, dance, slideshow, or any animated format, played to the song Heroes, and uploaded on their preferred platform, whether Facebook, Instagram or Youtube, with the hashtags #HeroesUnmasked #TOYM #PGH. Cash prizes are at stake for standout videos including a grand prize of P20,000, and P15,000, P10,000, and P5,000 for first, second and third runners-up, respectively. The challenge runs until December 31, 2021.
The full mechanics for the Heroes Unmasked Song Challenge can be found at www.toymheroescampaign.org. DTI Fair Trade Permit No. FTEB-129782 Series of 2021.
TOYM declares it a time to be a hero for our heroes. Donate to the cause, join the song challenge, and stream the music video to show your support.
For updates and details on the Heroes Unmasked campaign, visit www.toymheroescampaign.org and follow and like @toym_philippines on Instagram, @TheOutstandingYoungMen on Facebook, and @TOYM_Ph on Twitter.