Nu Skin's ageLOC LumiSpa's exclusive skin movement technology now works as a targeted treatment for the eye area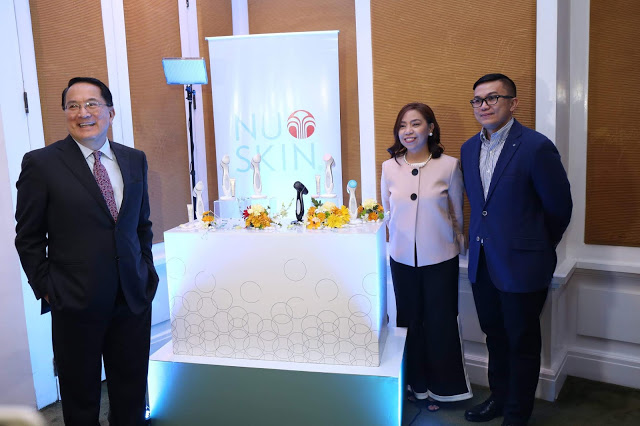 Nu Skin Enterprises, Inc. today announced the Philippine launch of ageLOC LumiSpa Accent and ageLOC LumiSpa IdealEyes, a new targeted treatment that harnesses the power of ageLOC LumiSpa to rejuvenate skin around the eyes.
Targeted Focus
Paired with ageLOC LumiSpa IdealEyes, the multitasking ageLOC LumiSpa Accent uses an oscillating motion to gently exfoliate the skin around the eyes while delivering key ingredients to promote brighter, fresher eyes. Together, the system delivers several benefits.
ageLOC LumiSpa Accent:
• Gently massages active ingredients into the skin for enhanced efficacy
• Increases the appearance of skin volume and density around eyes
• Promotes the appearance of stronger, healthier skin while refining fine lines and wrinkles
• Spot treatment head uses the softest silicone available
• Spot treatment head is embedded with antimicrobial silver which makes cleaning as easy as possible and helps keep the silicone tips hygienic
ageLOC LumiSpa IdealEyes:
• Fresher, brighter, hydrated skin around the eyes
• Softens, smooths and instantly hydrates skin while promoting radiance
• Eyes look awake and refreshed while minimizing the look of tired, stressed skin • Reduces appearance of dark circles
• Visibly reduces puffy eyes and under-eye bags
• Helps to visibly lift and firm the eyelids
• Helps improve skin texture and tighten skin around the eyes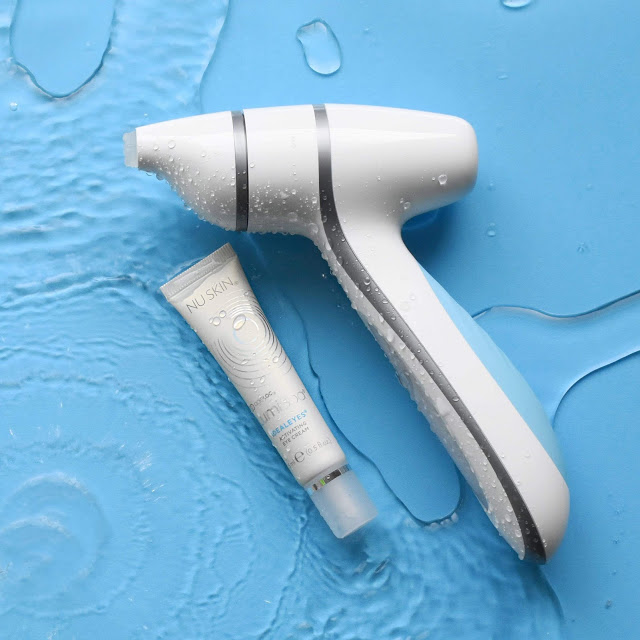 Science-based Development
ageLOC LumiSpa Accent and ageLOC LumiSpa IdealEyes were inspired by the multi-functionality and the patented Micropulse Oscillation technology of ageLOC LumiSpa paired with the treatment cleansers. The ageLOC LumiSpa Accent tip, made from the gentlest silicone available, has a unique topography with offset peaks and troughs and oscillates back and forth to precisely move skin without overstimulating it. Like ageLOC LumiSpa treatment heads, the ageLOC LumiSpa Accent tip is also designed to gently exfoliate skin and is embedded with anti-microbial silver, which is more hygienic than other topical devices used on skin. Nu Skin conducted several preliminary studies that revealed that individuals who used the ageLOC LumiSpa Accent product pairing experienced improvements in reduced appearance of puffiness, eye bags, fine lines and wrinkles.
"We've developed a topical formula that not only provides the correct cushioning and interaction between the surface and the skin, but also provides some key ingredients for this area," said Dr. Joseph Chang, Chief Scientific Officer. "The eye area's unique characteristics make it a perfect candidate for this targeted treatment. It's never too early to start caring for this area and keep your eyes looking glowing and healthy."
ageLOC LumiSpa and ageLOC LumiSpa IdealEyes System
The ageLOC LumiSpa system includes:
• The ageLOC LumiSpa Accent attachment: ageLOC LumiSpa Accent is a waterproof attachment head specifically designed to fit on the ageLOC LumiSpa handheld device. ageLOC LumiSpa treatment heads move at the precise frequency, validated by clinical studies, to promote skin renewal for a healthy and refreshed appearance.
• Silicone Treatment Head: ageLOC LumiSpa Accent features one treatment head made of the softest silicone available and is embedded with anti-microbial silver.
• ageLOC LumiSpa IdealEyes: the ageLOC LumiSpa Accent optimizes the effectiveness of this potent eye cream by enabling gentle interaction with the skin. ageLOC LumiSpa IdealEyes contains Nu Skin's proprietary ageLOC ingredient blend that is designed to maintain healthy, bright, youthful looking skin. The treatment also contains popular, effective ingredients including:
o A peptide complex to help visibly firm and tone skin.
o Tetrahexyldecyl Ascorbate (a form of vitamin C) to help protect against free radical damage and brighten the eye area.
o Plankton extract to help decrease the appearance of pigmentation in the undereye area and tone the eye area.
o Squalene to help prevent moisture loss and restore skin's flexibility.
o An antioxidant complex to protect skin against daily environmental stress.
o Caffeine visibly reduces puffy eyes and under-eye bags o Ophthalmologist tested
Availability
The ageLOC® LumiSpa Accent Launch kit includes the ageLOC LumiSpa device with Normal Surface Head, ageLOC LumiSpa Cleanser, ageLOC LumiSpa Accent with silicone head, ageLOC LumiSpa IdealEyes, and a quick start guide. It will be available on 13 March 2019 with a retail price of PHP 20,000.
For more information, please visit www.nuskin.com.ph