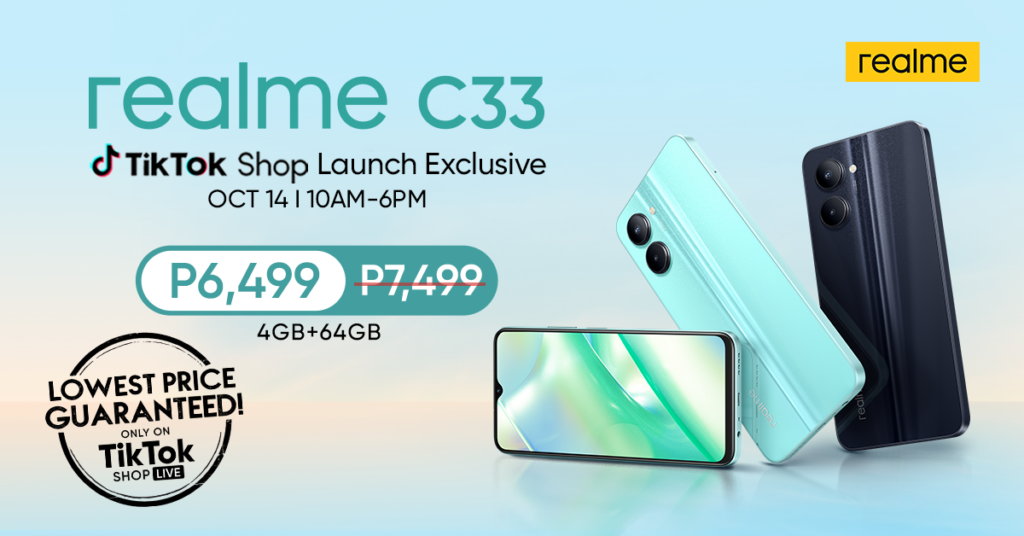 realme, the PH's number 1 smartphone brand for 6 consecutive quarters (based on IDC's Q2 2022 sell-in report), once again shows its commitment to bring well-rounded entry-level smartphones accessible to Filipinos. Adding to the brand's best-selling realme C Series, the realme C33 will be made available starting this Friday, October 14.
The new realme C33 promises a boundless smartphone experience with its impressive balance of style and functionality. It is packed in an 8.3mm Ultra Slim Boundless Sea Design and a 6.5" HD+ LCD Display. It is also powered by a Unisoc T612 Processor and has a 5000mAh Massive Battery to give a smooth operating performance. The realme C33 is also equipped with Fast Side Fingerprint Sensor placed in a spot that is easily accessible when naturally gripping the smartphone.
Fun and Stylish smartphone experience for everyone
The all-new realme C33 allows ease of use with one hand as it comes in an 8.3mm Ultra Slim Boundless Sea Design. For a comfortable hold and easy grip, it also features a squared-off box type build, paired with rounded corners. Complementing this is a Fast Side Fingerprint Sensor that is placed on the side for easy access when naturally gripping the smartphone. On top of this, the realme C33 offers an immersive viewing experience with a large high resolution with its 6.5" HD+ LCD Display, giving a screen-to-body ratio of 88.70%, and a resolution of 720×1600 pixels. The realme C33 comes in two stunning colors: Aqua Blue and Night Sea.
The realme C33 delivers a smooth operating experience between one task to another since it is backed by a Unisoc T612 Processor, a powerful 12nm octa-core processor which houses two Cortex-A75 cores that clock at up to 1.82GHz. As for the gamers out there, the realme C33 also houses a Mali-G57 GPU for a great gaming performance.
Whether for fun, work or for gaming, the realme C33 can last throughout the day even for heavy smartphone users since it is equipped with a 5000mAh Massive Battery. Aside from all these impressive specs, the realme C33 is the first smartphone in the C-Series that supports Android 12 via realme UI S Edition. The realme C33 will also be available in the 4GB+64GB storage variant.
When it comes to camera features, the realme C33 proves that a good quality camera can come at an affordable price point. Equipped with a 50MP Al Camera, the realme C33 can capture moments crystal clear and with flair as it comes with a variety of photography functions catered for different photography needs. It also features a CHDR Algorithm that provides clearer backlight shots giving images its sharp, detailed, and defined quality. In terms of front camera, the realme C33 boasts a 5MP Selfie Camera that makes it perfect for good quality selfie photos and videos.
Get the realme C33 at an exclusive first-selling price on TikTok Shop Philippines
As an exclusive treat to the realme Squad, the realme C33 will be launching with lowest price guaranteed for a limited time only via TikTok Shop Philippines. Enjoy the newest model at P1,000 OFF during the realme TikTok Shop Launch Exclusive happening on Friday (October 14) from 10AM to 6PM. Be sure to tune in to realme's official TikTok Shop for more information about the product.
To know more about realme's latest updates, follow the realme PH Facebook page at http://facebook.com/realmePhilippines or visit the official realme website at https://www.realme.com/ph/.