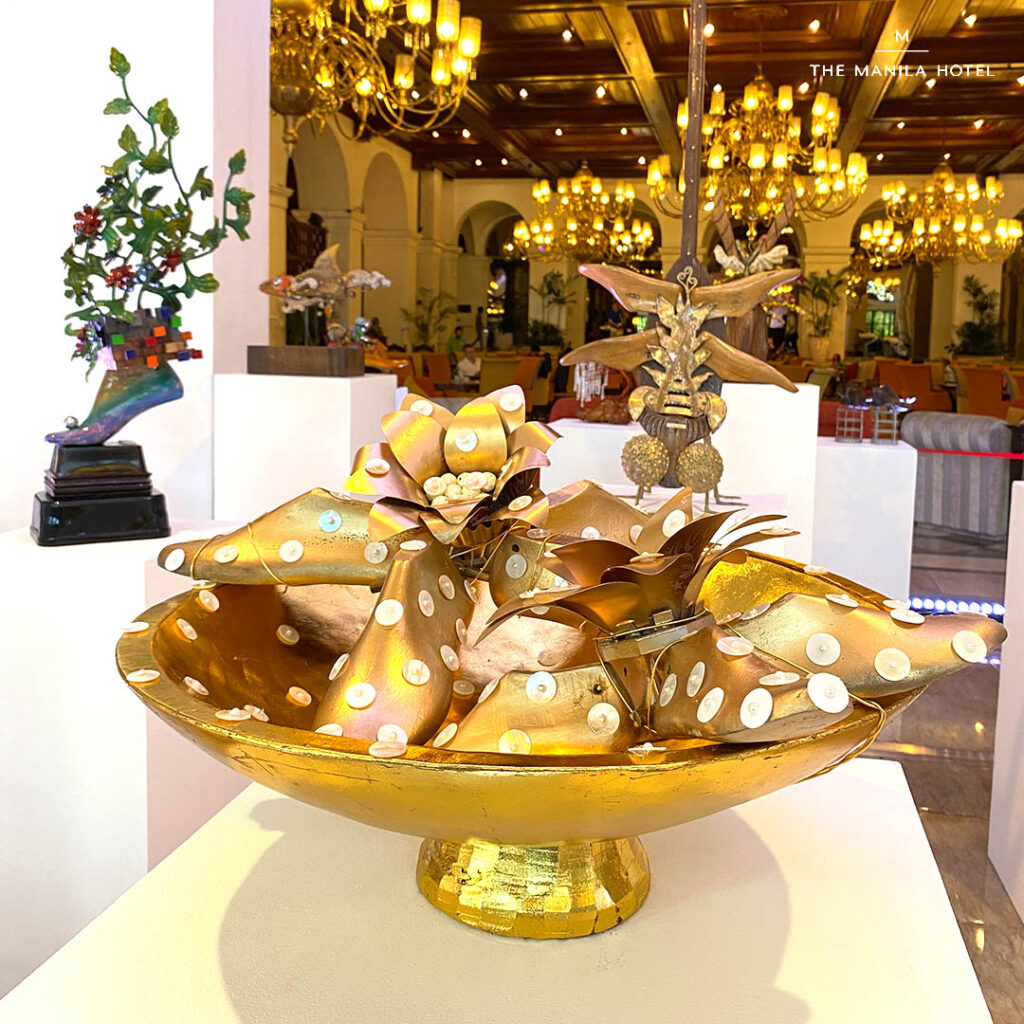 From May 8 to 20, Project Hulmahan is setting foot at The Manila Hotel's Grand Lobby and Art Gallery. The art exhibit features a diverse range of artworks such as sculptures, paintings, and mixed media pieces—all using shoe molds—created by both established and emerging artists who share a passion for helping others through their art.
"We looked for volunteer artists by posting publicly on Facebook who were willing to paint or make any kind of art out of hulmahan [shoe molds] that are no longer being used because the pandemic hit the struggling shoe industry in Marikina, the Shoe Capital of the Philippines," relates Bernardo. The call for volunteers had a positive response that hundreds of artists all over the Philippines expressed interest. The Manila Hotel's creative consultant Rachy Cuna, National Artists Maestro Ryan Cayabyab and Kidlat Tahimik, sculptors Pete Jimenez, Jonathan Dangue, Julie Lluch-Dalena, and thespian Dolly De Leon are some of the participating artists whose works are featured in Project Hulmahan.
Project Hulmahan is a brainchild of Zena Bernardo, one of the members of Ladies Who Launch (LWL) and one of the co-founders of Bayanihang Marikenyo at Marikenya. Ms. Bernardo met with shut down shoe manufacturers in her hometown, Marikina, and their group purchased almost 500 pairs of shoe molds with the intention of transforming them into artworks to earn funds for community- based activities.
"It is fitting that The Manila Hotel collaborates with inspiring ladies, as the Grand Dame celebrates ladies, especially mothers, in the month of May", says Marvin Kim Tan, Director of Sales and Marketing of The Manila Hotel. Ladies Who Launch is a four-woman team made up of Zena Bernardo (mother of Ana Patricia 'Patreng' of the famed Maginhawa community pantry), Dolly De Leon, internationally-acclaimed actress, Judith Albano, and Jasmine Ong. They were the founders of the community kitchen, which assisted many people during the height of the Covid-19 pandemic.
The proceeds from the artworks will benefit the advocacy efforts of these three organizations: Bayanihang Marikenyo at Marikenya for community kitchen and livelihood programs, The Community Kitchen Project for nationwide disaster response, and a community-based art school for kids.
"Sa akin napaka-deep ng story ng [Project] Hulmahan. We want to give dignity back to the community; we consider them as partners in our community-based projects and not beggars. We may not be popular, but we want to be transparent and accountable. [Project] Hulmahan is about molding a person and molding a society. The success of this project will depend on working together and pooling resources so we can ensure that those in need have access to necessities during these challenging times," says Bernardo.
Project Hulmahan is on display at The Manila Hotel's Grand Lobby and Art Gallery until May 20, 2023. Admission is free.
To culminate the fundraising endeavor, a grand auction will be held at Centennial Hall of The Manila Hotel on May 21 from 6PM to 11PM. This is by invitation only.