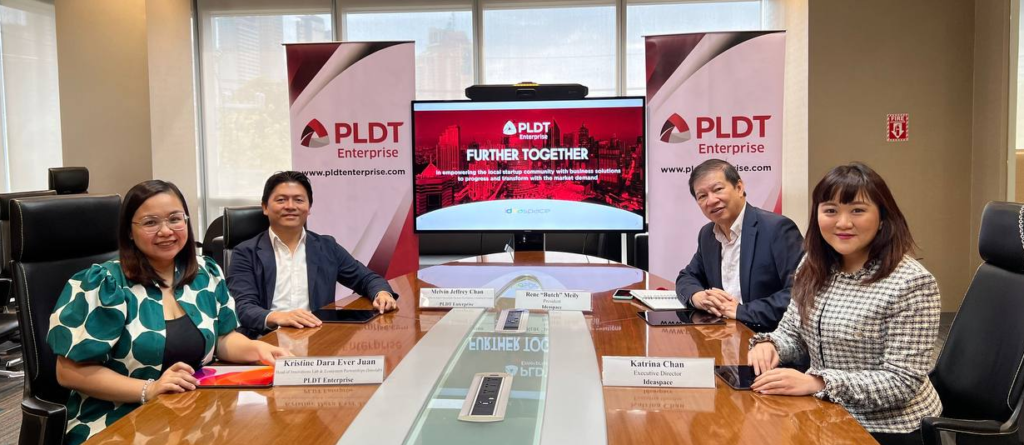 Fully committed to strengthening its support to the Philippine startup community and aiming to collaborate with the next tech unicorn—the country's largest fully integrated telecommunications company, PLDT, through Innovation Laboratory (Innolab), signed a partnership with IdeaSpace Foundation, a non-profit organization that runs founder-focused programs for early-stage tech startup founders solving emerging market issues.
Since 2003, PLDT and its wireless unit, Smart Communications, Inc., have been supporting the local startups with Innolab– a world-class facility established to create opportunities with startup partners focusing on research, new-generation product development, and innovation.
"We recognize the limitless potential our startup communities have in shaping the next generation technologies," shares Melvin Jeffrey Chan, Vice President and Head of PLDT Enterprise Innovations, Business Development, Consulting and Presales. "That is why we continue to support startup communities from co-marketing, co-innovating, mentoring, prototyping, sandboxing, to other forms of technology support like cloud, API or the connectivity they need to scale up."
Through this partnership, PLDT and IdeaSpace can support and collaborate with local startups through accelerator programs, as well as specialized workshops, networking events and awareness roadshows on innovation, and technopreneurship.
"Partnering with local startups allows us to empower more Filipino entrepreneurs," says Kristine Dara Ever Juan, Head at PLDT Innolab. "Our goal is simple and that is to inspire them to be fearless in taking risks and turn ideas into innovative solutions through collaboration."  
Empowering Micro, Small, and Medium-Enterprises (MSMEs), including local startups, has been one of the key drivers of PLDT's enterprise business group. PLDT has long supported MSMEs enable them with solutions and innovations to meet their business needs and help them grow and thrive in this challenging landscape. Together, PLDT Enterprise and MSMEs aim to create a positive impact and experience breakthroughs as they move further with their businesses.
"I am grateful for the opportunity to cement the partnership between these two sister entities. PLDT and IdeaSpace Foundation in fact share common goals, that of enabling businesses, specifically startups, so they can help generate jobs and wealth," says Rene "Butch" Meily, President, IdeaSpace Foundation. "Our motto is 'Startups Changing the World' and if we work together, we can do that."
Enabling local startups to transform 
In 2022, PLDT Enterprise partnered with Twala, a blockchain technology startup introduced through IdeaSpace. It has been among the startups that the Group has been collaborating with over the years, to expand its influence in the community. Twala aims to reduce document fraud with blockchain smart contracts, further strengthening PLDT's information and communications technology portfolio and building digital trust, security, and compliance for its several ecosystems.
Since 2012, IdeaSpace has been helping technology entrepreneurs develop and scale tech or tech-enabled innovations, and transform these into stable, scalable, and sustainable businesses. To date, the foundation has supported 107 startups, mentored more than 300 entrepreneurs, and deployed P180M for community and ecosystem support activities.
"We are thankful for our growing partnership with PLDT, and are confident that through this, we will be able to empower more founders and unlock opportunities that will continue to shape the future of the industry, community, and our society," says Katrina Rausa Chan, Executive Director at IdeaSpace.  
For more information, visit https://pldtenterprise.com/.