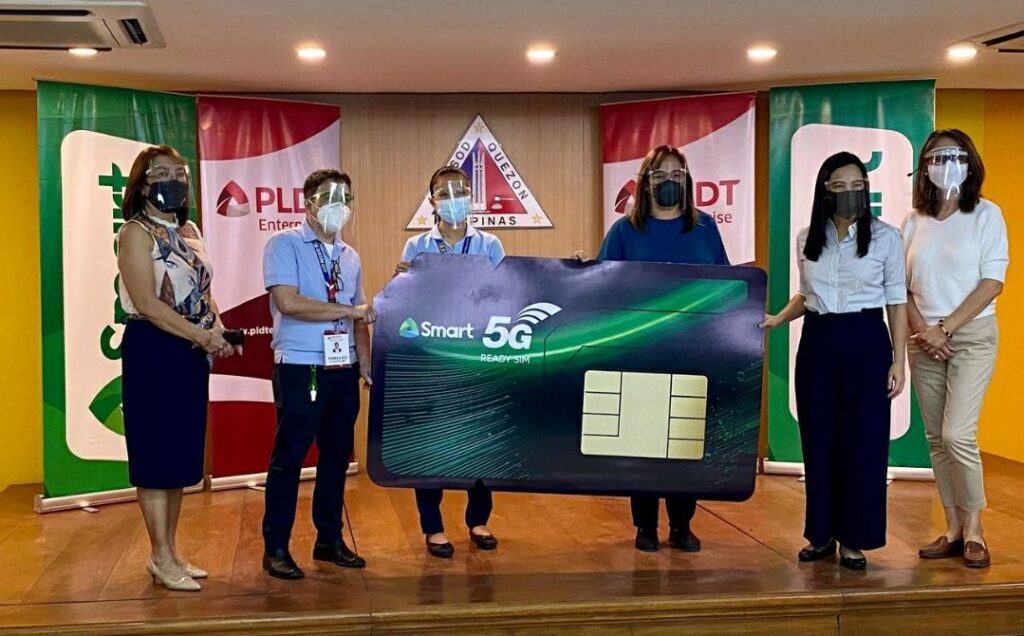 In support of digital learning in the new normal, PLDT Enterprise announces its partnership with Quezon City University further stressing its commitment to help strengthen and empower the academe industry amid the challenges of the global health crisis.
PLDT Enterprise recently turned over Smart Bizload packages and Smart LTE Pocket WiFi units to be used by the faculty and students of Quezon City University. A total of 250 faculty members and 9,500 students will now be equipped with faster and more widespread connectivity for lessons, information and materials for enhanced online learning and interaction. Additionally, Bizload packages and Pocket Wifi units were also handed over to be used by 7,587 Quezon City Secondary School Teachers.
Jovy Hernandez, ePLDT President & CEO and SVP & Head for PLDT and Smart Enterprise Business Groups noted that "PLDT Enterprise's partnership with Quezon City University is part of our continuing efforts to support not only the Quezon City LGU, but also specifically to fortify digital learning by providing strong and reliable connectivity while remaining safe at home. Quezon City University students and faculty will get the best possible educational materials for uninterrupted eLearning with generous data allocation and access to useful academic suites and various other learning management systems."
Smart Bizload is a secure, convenient and web-based prepaid loading service that allows companies and the academe connectivity for their employees, faculty and students. It enables efficient loading and management of SMART or Talk and Text prepaid accounts. Smart LTE Pocket Wifi, meanwhile, delivers significantly faster speeds by using Carrier Aggregation, the latest technique in mobile communications for delivery of more data rates per user, reduced latency, and increased capacity for subscribers.
Vic Tria, PLDT FVP & Enterprise Revenue Group Head said "the need for fast, efficient and seamless connectivity to enable students to thrive with eLearning is now more urgent than ever, and PLDT Enterprise is pleased to be able to provide the platform for Quezon City University's faculty and students to keep up with the educational demands of the new normal."
Smart LTE is the fastest fourth generation (4G) wireless technology in existence. LTE or Long-Term Evolution is capable of delivering download speeds which are several times faster than present-day 3G standards. Smart is the first Telco to bring LTE to the Philippines.
In her remarks at the turnover program, Dr. Theresita Atienza, QC University President said, "We highly appreciate this partnership with PLDT Enterprise. It comes at a time when we need it most, in order for us to augment and make easier the online learning efforts of our students, and for our faculty to have the much-needed connectivity to access their teaching modules, apps and eLearning platforms. With the tools that PLDT Enterprise has provided us, we are now more confident that our faculty and students will accomplish more in their pursuit of the education that will drive the country forward despite these challenging times".
For more information on PLDT Enterprise, go to pldtenterprise.com.