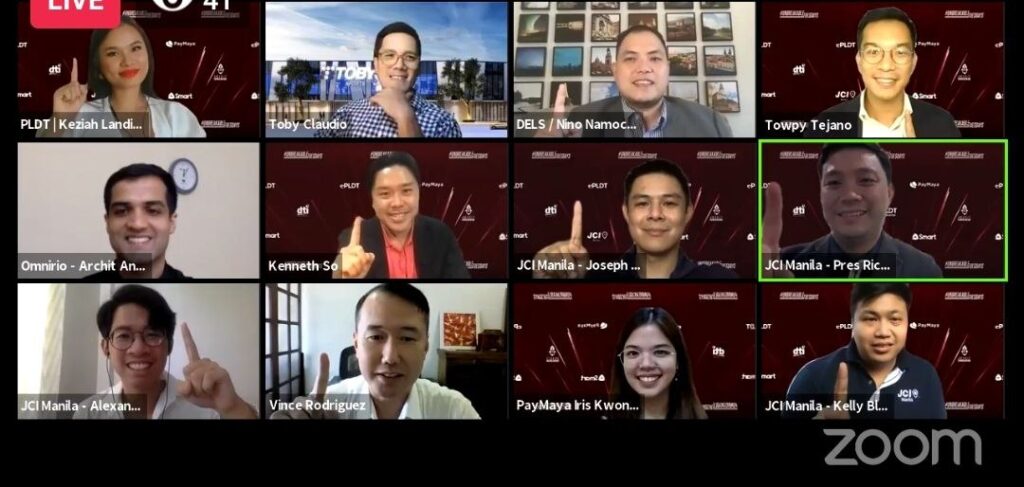 The global health crisis has severely affected the business industry, from MSMEs to big corporations, especially when the mandated lockdowns in 2020 extended for months—leaving many business owners needing to pivot their operations and turn to digital innovations in order to survive, and thrive. To this end, PLDT Enterprise continues to equip businesses with digital tools and solutions to help them achieve growth despite the challenges of the situation.
PLDT Enterprise has partnered with the Department of Trade and Industry (DTI), JCI Manila, and PayMaya for the #UNBREAKABLETuesdays Virtual Forum Series and #UNBREAKABLETuesdays x eBossing Online Class Series, dedicated to empowering businesses through digital solutions.
Businesses pivot through the crisis
DTI Secretary Ramon Lopez, who gave the keynote speech during the recent webinar on how technology enabled enterprises power through the adverse effects of the global health crisis, relates how businesses have quickly pivoted to digital technology in response to the pandemic, thus making them unbreakable in this new chapter of business. Although digitalization is not without its sets of obstacles, enabling partners such as PLDT Enterprises have provided flexible solutions that allow MSMEs jumpstart their businesses, having them learn to navigate these tools and make them work with their business needs.
Jovy Hernandez, ePLDT President & CEO and SVP & Head for PLDT and Smart Enterprise Business Groups, lauded the efforts of DTI in ensuring that businesses remain updated with digital technology by bringing in industry leaders. "We at PLDT Enterprise are committed to helping businesses and SMEs become unbreakable through our wide range of digital solutions. It is our goal to empower them with solutions that will enhance their resiliency and efficiency, so they can continue to grow despite the challenges the pandemic has brought."
Among the PLDT Enterprise digital solutions that businesses have been availing of are BEYOND FIBER, PayMaya, Smart Bro, and Smart Enterprise Postpaid.
Solutions to strengthen businesses
BEYOND FIBER empowers businesses of all sizes with a reliable connectivity that enables them to go beyond and take the digital shift. With superior wi-fi powered by Cisco Meraki to securely connect work and guest devices, Curated Digital Solutions to accelerate digital adoption, and business-grade internet with the unique 90-90 advantage, BEYOND FIBER is the best choice for resilient connectivity in today's new normal. The 90-90 service promise means that businesses can get the most out of their internet connectivity as BEYOND FIBER can provide a minimum of 90% of the subscribed speed at 90% service reliability.
PayMaya was ably represented in the webinar by PayMaya MSME Ecosystems Head Ms. Irish Kwan, who said that business unusual has become business "as usual." PayMaya has helped businesses adapt, as it remains one of the biggest financial technology service provides in the country, leading Philippine partners for safe and secure payments both online and face-to-face, through bank payments, credit or debit cards, online payment, and use of QR codes. There are three business pillars in PayMaya: the PayMaya Consumer wallet, an app which has 28 million users, where one can do bank transfers, do top up online or over the counter; the second being PayMaya Enterprise, the enabler of online merchants, both micro and huge merchants, and the third being the Smart Padala, which is the largest agent network with 38,000 agents nationwide.
Another PLDT Enterprise Smart solution is Smart Bro, which runs on the fastest mobile network in the country. It offers wireless broadband connectivity which empowers users to work from anywhere even if they are in and out of the office. It also allows multi-gadget connectivity when you get the service with a pocket wifi or a router. All Smart Bro plans under PLDT Enterprise are 5G ready and can be bundled with Smart's first 5G-enabled Pocket WiFi, the 5G Rocket Wifi – the best performing 5G device available in the Philippine market today, which allows subscribers to stay connected, be productive and multi-task even while on the go.
Smart Enterprise Postpaid is another offering which allows businesses to access voice, SMS and data services, powering their mobile with choice plans that fit one's business needs and budget. With Smart's fastest LTE network based on third party recognition, including Ookla, P3 and OpenSignal, one can stay connected with employees and customers with a superior data surfing experience. Its unlimited all-net calls, texts, and landline concessions lets one stay in contact with partners and staff, while having reliable enterprise support.
Best Practices in Digital Innovation
Toby Claudio, President of Toby's Sports which has been in operation for 42 years, narrated the need of the company to reinvent and rediscover their business, which had to close for up to three months. There was a reconfiguration of business, keeping in mind that they were selling not just sports equipment, but a healthy lifestyle. "We had to innovate our way out of a crisis, strengthening ecommerce and giving various options as we re-engineered our retail concept," he said, adding, "there is no excuse for any business now to learn ecommerce, to elevate its operations and harness innovation despite crisis."
Toby's Sports, the country's largest store for sports and fitness with 65 stores nationwide, received the PLDT MVP Bossing Award in 2020, with the theme "Rediscovery, Reinvention," in recognition of the company's ability to pull through the global health crisis by adapting and changing to the current normal.
Other speakers were Nino Namoco, CEO of Del's Apparel and Archit Anand, CEO and Co-Founder of Omnirio.
Del's Apparel, which has been in operation for the last five decades, was able to credit the year 2020 as their best year yet, being able to adapt to technology innovations and using it to their advantage, as they provided health and safety wear which was greatly in demand during the global health crisis. Being able to know the pulse of the market, its business adaptability, grabbing opportunities, reliability, and most importantly, its use of technology innovations to their advantage have definitely helped their business thrive.
The #UNBREAKABLETuesdays Virtual Forum Series and #UNBREAKABLETuesdays x eBossing Online Class Series are projects of PLDT Enterprise in cooperation with DTI, the JCI Manila Business Academy and PayMaya.


For more information, visit pldtenterprise.com