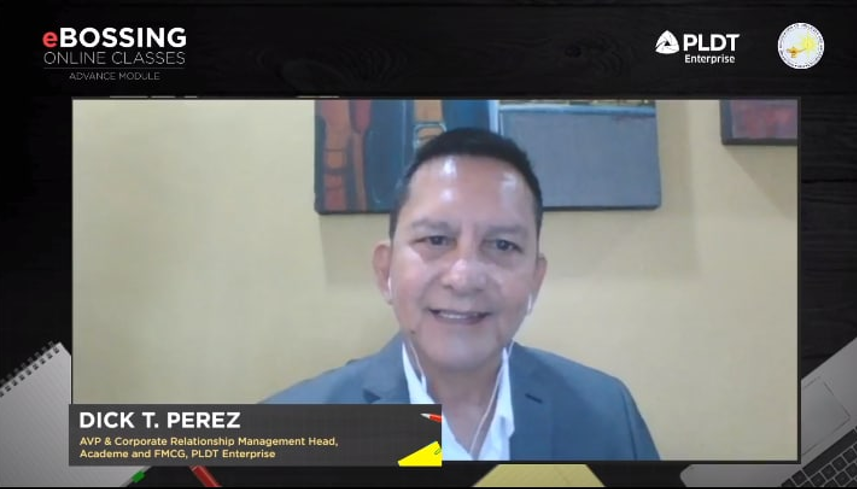 PLDT Enterprise, the B2B arm of the largest fully integrated telecommunications company in the Philippines, called for innovative solutions that would address the threats to the well-being of students and teachers as they continue eLearning in the next normal.
During PLDT Enterprise's recently held eBossing Online Class—dedicated for the members of the Philippine Association of Colleges and Universities (PACU) and their 3,000 university and colleges heads, faculty members, and admin officers—Dick Perez, PLDT Enterprise Assistant Vice President and Corporate Relationship Management Head for Academe & FMCG, said that the toll of increased workload on teachers and other associated effects of the pandemic should not be underestimated.
A study from United Nations Educational, Scientific and Cultural Organization (UNESCO) found that more than 28 million students, educators, and parents are grappling with the impact of the COVID-19 pandemic, which also affects their health and well-being.
Perez highlighted that a good way of lessening stress in online learning is to make a pedagogy based on fun, interaction, and collaboration.
"The inclusion of collaborative activities in an online course leads to positive performance outcomes. Collaborative group interaction facilitates active learning, shared knowledge and promotes social interaction and a supportive e-learning community," Perez said.
"Moreover, the value of teaching through games is compelling. Games draw students into the learning process, foster a healthy sense of competition, and encourage them to refrain from failures as stepping stone to greater success."
However, when using a game-based learning approach, Perez advised educators to "avoid games that offer arbitrary rewards but rather those that challenge students to make difficult choices that lead to interesting and meaningful outcomes."
Meanwhile, PLDT Enterprise Assistant VP and Head for Education, FMCG, SMBiz Enterprise Strategic Solution Group John Combalicer added that higher education institutions need to prioritize making online academic counseling and medical services accessible to students.
"We need to address the educational well-being for the next normal. PLDT is your partner in helping your educational institution in your role to creating more e-learning experience that will help educators, students, and parents cope up in this pandemic," Combalicer noted.
During the program, CHED Commissioner Dr. Aldrin Darilag, CHRP, RHT, RN enumerated the different programs and goals of the institution for the sector and talked about institutionalizing online learning and other relevant policies that aim "to retrofit the educational system in the new normal and empower both educators and learners."
Darilag shared about PHL CHED Connect, a platform launched by CHED that contains more than 1.6K educational content and has engaged more than 60K unique users already.
PLDT Enterprise has been a partner of PACU in providing connectivity plans and e-Learning services to its member schools. The group has also been working with global technology companies in creating more meaningful connections and immersive eLearning experiences for students and teachers.
For more information, visit pldtenterprise.com