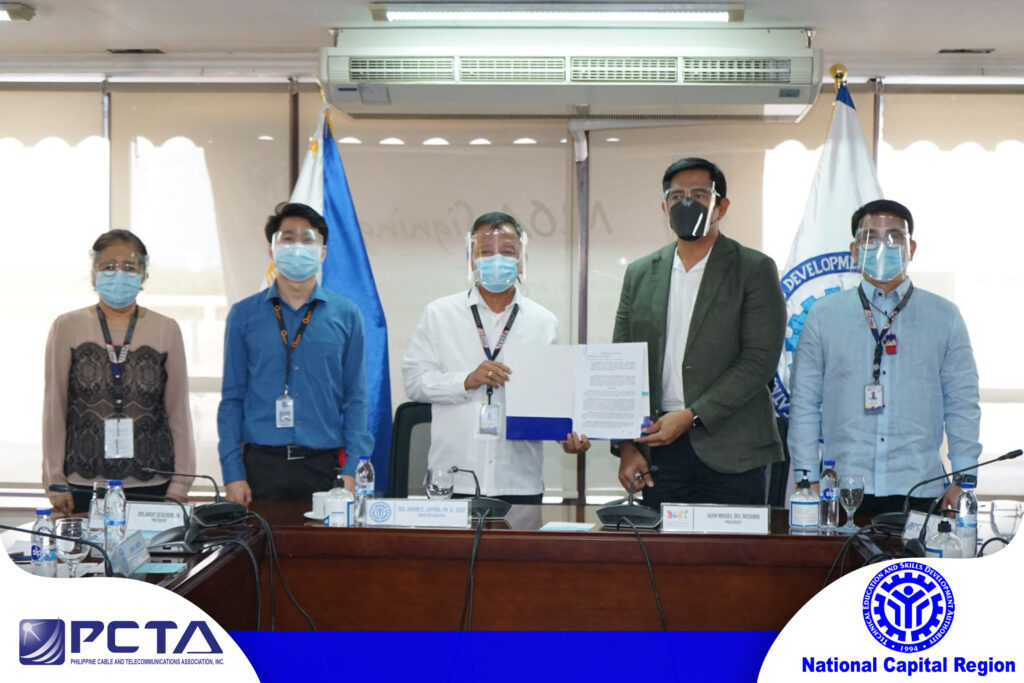 As more homes need to be powered by connectivity in response to the pandemic situation, the Philippine Cable and Telecommunications Association (PCTA) has partnered with the Technical Education and Skills Development Authority (TESDA) to co-develop training programs for potential workers in the ever-growing cable TV and broadband space.
According to surveys, cable connectivity is one of the few industries that experienced growth in 2020 and PCTA members need more skilled workers to help connect homes and bring them online, to help them stay entertained at home or work and study at home.
The program is designed to engage the direct participation of employers, workers, learning institutions and government in the design, development and implementation of industry-driven and demand-driven technical education and skills development towards creation of qualified, competent, and job-ready Filipino workforce. It also aims to provide for more strategic policy reforms in Tech-Voc training that is aligned to the industry requirements to address the unemployment and job-skill mismatch.
"For decades, the PCTA has wanted a Cable TV academy and we had already laid the groundwork for it by joining up with TESDA to create courses for cable installers. The challenge was always 'where will we put the academy?' With the pandemic showing distance or virtual instruction can work, the academy can be anywhere where there is internet," says PCTA President Joel Dabao.
Through the strength of TESDA's nationwide network of learning hubs, there will be more Filipinos who can be given job opportunities to help support their families. With this program, the PCTA hopes to be a primary driver of pandemic recovery. With more skilled workers available for hiring by the PCTA members all over the country, more homes will be able to go online and work from home through reliable broadband technology. Increasing the work forces in the cable industry will likewise help drive a rise in consumption and subscription services, ensuring security for those who previously could not find work.
Dabao says, "Our touchpoints in our industry are the Filipino homes and communities. We launched our Mabuhay ang Lokal campaign early this year to celebrate our culture and share the stories of our communities. With this partnership with TESDA, we are now empowering those in our communities whose livelihoods have been affected by the COVID-19 pandemic. PCTA is committed to uplift its role in the local community by providing employment to at-risk and in-need Filipinos."
PCTA hopes that it will inspire other industries to create new pathways towards employment and help the country bounce back towards recovery in the next normal. For more information on PCTA, visit www.pcta.org.ph or follow PCTA on Facebook.