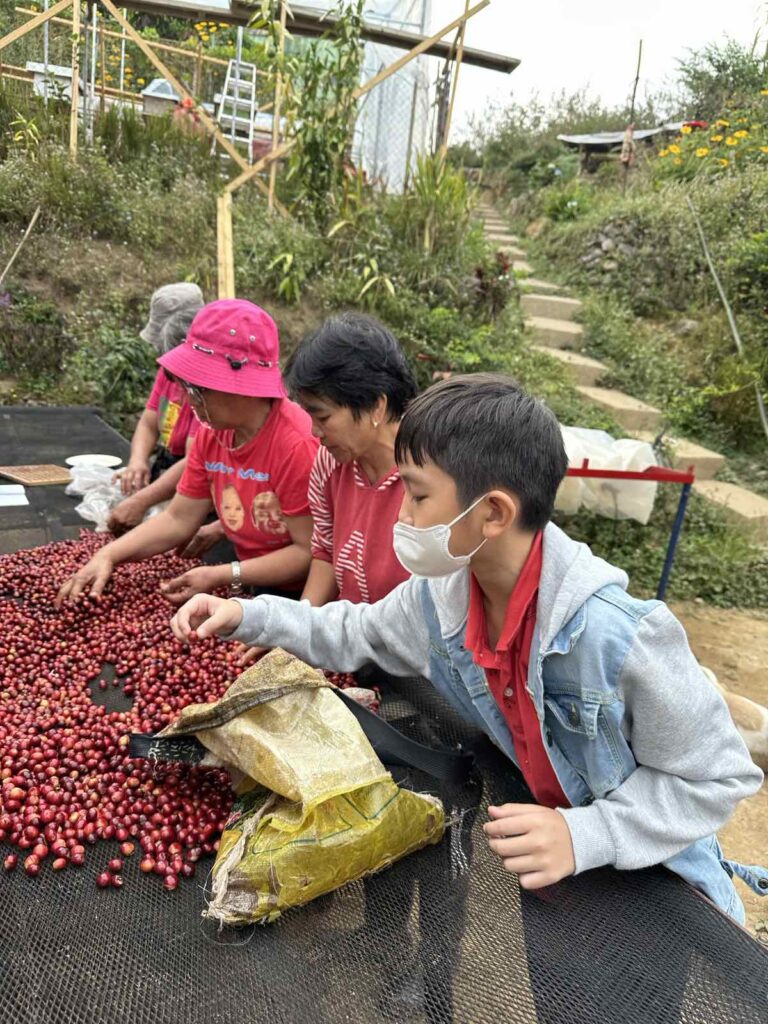 The "ber "months have always been Filipinos most favorite time of year. November to January is coffee harvest season, and it's Christmastime!! The season of giving and the happiest time of the year!
Harvest season comes only once a year, starting in November and ending in January so imagine how the coffee farmers feel when the coffees they have nurtured all year round start to ripen and are ready to be picked. 2019 National Barista Champ and President and CEO of Henry & Sons, Michael Harris Conlin, have been in the coffee industry for over two decades, and he found out that working with partner farmers during harvest season is the most enjoyable and satisfying way to enjoy the love for coffee.
This year, Conlin decided to bring his 10-year-old son Dylan to learn more about coffee and help around the farm. Since Dylan was a toddler, he has always been fascinated with coffee. There were times when Dylan would take part in his father's brewing routine. So this year, Conlin wanted to show him how coffee is picked and processed at its origin. He wanted him to appreciate the hard work of the coffee farmers and take part in giving Sitio Hartwell in Itogon Benguet's 24 children and families, Henry & Sons long-time partner farmers food and treats for Christmas.
Being around the coffee farming community, one can feel the energy and excitement of the farmers. Harvest season is hard work. Farmers worked nonstop processing, cleaning the coffees ready for drying, receiving, grading, and pulping coffee cherries. Coffee on the drying bed must be rolled and moved every three hours to ensure it dries evenly.
Most of this year's Sitio Hartwel harvest has been pre-booked and will be shipped to great coffee roasters in Australia, Canada, UAE, and the UK.
This year Henry & Sons focused on three post-harvest processing techniques: sashed process, the company's signature CM natural process, and a new experimental process launching in April 2023.
Conlin shared, "We found that by creating customized processing methodologies for Sitio Hartwel, we can bring out the full potential of the coffees and give the coffee farmers more value for their coffees."
Sitio Hartwel, Itogon Benguet was an old mining community Henry and Sons adopted in 2018. After five years, the town is now a world-renowned, award-winning coffee farming community. The community has over sixty backyard farmers who can produce approximately 2 tons of coffee cherries annually.
For more information on these coffees, visit www.thevault.ph and www.henryandsons.