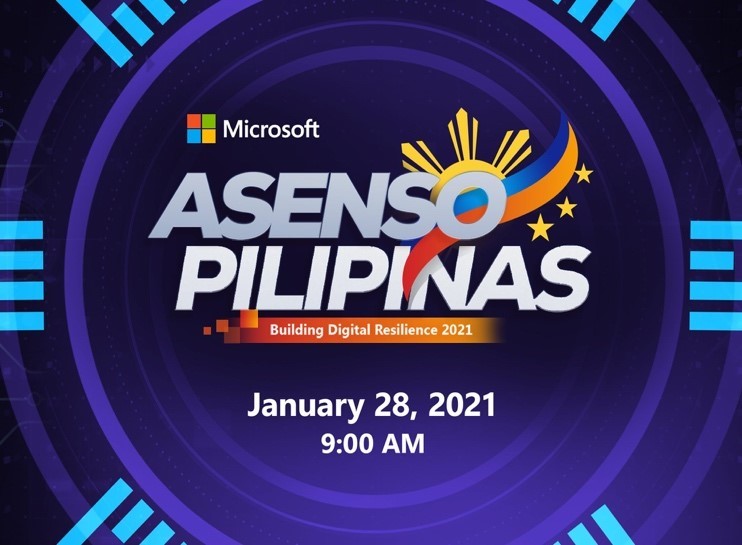 Over 10,000 public officials and students across the Philippines participated today in Microsoft Philippines' largest-ever public sector cloud summit to date, "Asenso Pilipinas: Building Digital Resilience".
Today's gathering aimed to enable stakeholders across the Philippine government and broader public sector to accelerate digital transformation on a national scale. These support the Philippine government's ambitions to reignite economic growth in 2021 and beyond and return the Philippines to the ranks of high growth developing economies.
"We confront the same challenges in 2021 that we did 2020," said Microsoft Philippines Country General Manager Andres Ortola. "Management of the Covid-19 public health crisis will drive daily agendas for months to come. Meanwhile, as access to vaccines becomes more prevalent, the transition to economic recovery will be the top concern for governments across the world, including the Philippines. We at Microsoft seek to serve partners across the Philippines' public sector guided by three core principles: Reset, Rebound & Recover."
"We envision Asenso Pilipinas to be a catalyst event," added Ortola. "By working closely with leading private and public organizations across the Philippines we know we can jointly and successfully drive innovations and power purpose-driven digital transformation whenever and wherever it is needed."
Upskilling Public Sector Professionals for Better Governance
Today's gathering enabled different departments and sectors from across the Philippine government to accelerate efforts at reigniting economic growth in 2021 and beyond by achieving digital transformation on a national scale. The summit highlighted innovative solutions available to reinvent, reimagine and transform the framework and processes in the public sector.
The event featured four learning tracks focused on a) People: how to close skills gaps and enhance productivity and employability; b) Process: how to stimulate digital transformation across the board; c) Data: building stronger coalitions for responsible digital innovation; and d) Technology: leveraging technological advances to create societal impact sustainably.
An esteemed roster of national leaders from both public and private sectors joined today's sessions.
Department of Education (DEPED) Secretary Leonor Magtolis Briones, delivered a keynote speech focused on digital transformation and how education in the Philippines will look in the post-Covid 19 environment.
Department of Information & Communications Technology (DICT) Undersecretary for Legal Affairs, Policy, Planning & Finance, Jose Arturo de Castro participated as well, discussing plans to upskill government employees with digital skills, in partnership with Microsoft.
In addition, the learning tracks featured Supreme Court of the Philippines Court Administrator, Justice Jose Midas Marquez, Department of Environment & Natural Resources (DENR) Undersecretary Analiza R. Teh, and Asian Development Bank (ADB) Director for Digital Innovation and Architecture, Ozzeir Khan.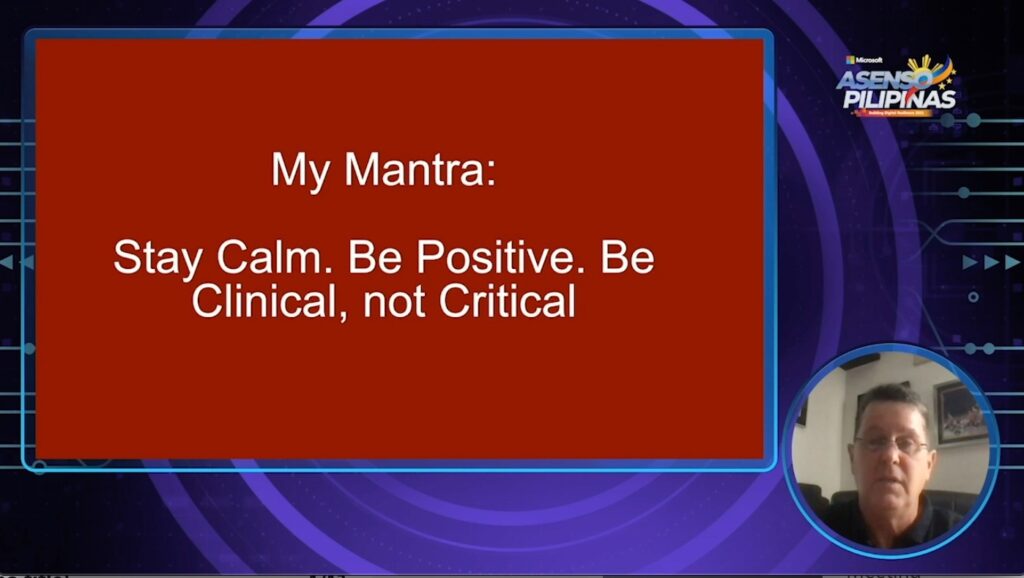 Preparing Students with Digital Knowledge and Skills
Meanwhile, thousands of students from across the Philippines' 7,600-plus islands attended a parallel student track, gaining valuable, inspiring insights, and learning how to access the right tools, experiences, and learning opportunities to build the digital skills necessary to fuel the future.
The student track featured three skilling sessions aimed to empower students in job-seeking and professional networking, digital tools, and resources to strengthen job readiness and essential skills and competencies needed in real-world settings, led by DITO CME Chief Operating Officer Donald Lim; LinkedIn Channel Partnerships Lead Chi Ming Loh; Grab Philippines Country Marketing Head RJ Cabaluna; Western Digital Country HR Director Gil Paolo de Guzman and PJ Lanot of Pino Group of Concepts.
How a Culture of Innovation Can Build Resilience and Accelerate Digital Transformation
Daniel-Zoe-Jimenez, Associate Vice-President of International Data Corporation (IDC), APAC presented the results of an Asia-Pacific-wide, Microsoft-commissioned IDC study, "Culture of Innovation: Foundation for business resilience and economic recovery in Asia."
The study surveyed 213 business decision makers and 231 workers in the Philippines within a 6-month period, before and since the start of the global COVID-19 pandemic. The Philippines study comprised part of a broad survey of 3,312 leading business decision makers and 3,495 workers across 15 markets across Asia Pacific.
Since the COVID-19 pandemic began, 56% of organizations in the Philippines—like leaders across Asia Pacific (64%)—have found innovation to be easier. The study also indicated that 88% of business decision-makers in the Philippines remarked that innovation is now a "must" for them to quickly respond to market challenges and opportunities and ensure business resilience.
Microsoft Para sa Bayan: Empowering and Enabling Better Government Through Technology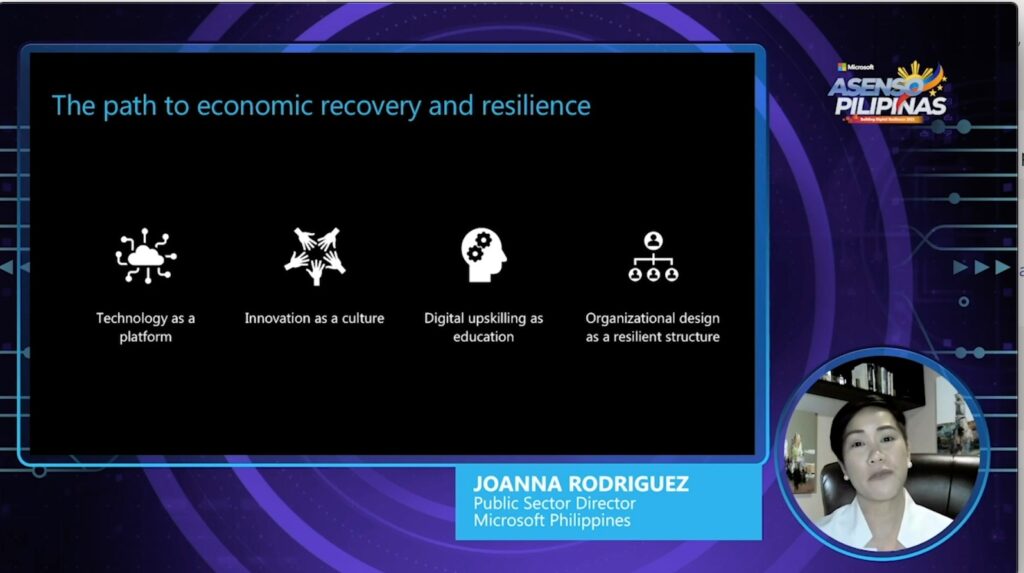 Today's summit forms a core service offering from Microsoft Philippines' "Para sa Bayan" initiative. "Para sa Bayan" is a nationwide, holistic series of programs, technology interventions, and skilling efforts to empower stakeholders across the Philippine government, public and private sectors.
Four core strategies drive the Para sa Bayan program: stimulate digital transformation; build coalitions for responsible innovation; close the skills gap to enhance employability; and create societal impact sustainability. The program was built to support and empower the different national digital initiatives of the government and strengthen the Philippines as a digital nation–ready to meet the challenges and capitalize upon the opportunities that will become available for post Covid-19 pandemic governance.
"Through Para sa Bayan, our national goal is to serve as a proactive agent of positive change for at least 25 million Filipinos by 2023. By working closely with government and stakeholders across the public sector, we can help deliver improved digital skills, inclusive opportunities, and digital citizen services for every single Filipino," said Microsoft Philippines Public Sector Director, Joanna Rodriguez. "In 2020 Microsoft celebrated its 25th consecutive year operating in the Philippine market. We are committed to continue our service for the Filipino people and look forward to building—through technology—a stronger, more resilient nation together."