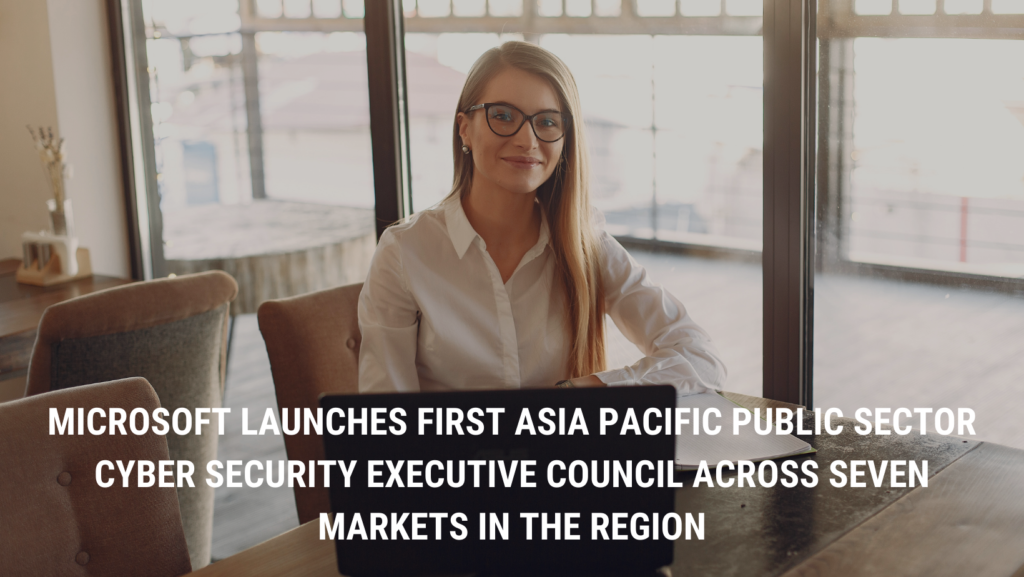 Cybercrime is globally disruptive and economically damaging, causing trillions of dollars in financial losses and operational impacts to individual and business victims. It threatens national security and diminishes trust in the digital economy and the Internet. Additionally, APAC continues to experience a higher-than-average encounter rate for malware and ransomware attacks – 1.6 and 1.7 times higher respectively than the rest of the world.
No single entity can fight cybercrime effectively. Which is why Microsoft has launched the first Asia Pacific Public Sector Cyber Security Executive Council. It brings together a coalition of policy makers from government and state agencies, as well as technology and industry leaders, with the aim of building a strong communications channel for addressing cyber threats and sharing best practices across the participating countries.
Joining the council are 15 policy makers from Brunei, Indonesia, Korea, Malaysia, Philippines, Singapore, and Thailand, supported by cybersecurity professionals from Microsoft. This collective marks a significant commitment towards accelerating public-private partnerships in cybersecurity, while promoting a broader sharing of threat intelligence to be better positioned to respond in the event of an attacks. At the forefront of the council's vision is the drive to build a community where threat intelligence, technology, and resources can be shared in a timely and open manner. The council is set to meet virtually on a quarterly basis to maintain a continuous exchange of information on cyber threats and cybersecurity solutions.
During the keynote fireside chat at the Microsoft APAC Public Sector Summit on 06 May 2021, Satya Nadella, CEO of Microsoft shared how we are empowering nations for a digital society. He explained that over the past year, Microsoft has witnessed a second wave of digital transformation, and governments have accelerated their adoption of technology initiatives to build resilience and transform. He emphasized the need to have a strong digital foundation for the public sector to succeed, and they can do that by adopting a data driven strategy. And finally, Satya reinforced Microsoft's commitments to the national empowerment plans in place in the form the new data center regions in New Zealand, Indonesia, and Malaysia.
At the same summit, Ann Johnson, Corporate Vice President, Security Compliance and Identity hosted a Cybersecurity panel titled 'Building a resilient cyber defense global eco-system'. She shared that the trends that Microsoft is seeing in cybercrime tend to follow the issues of the day. Bad actors repurpose their infrastructure to attract attention based on the news of the day. For organizations and governments to stay protected, a zero-trust mindset needs to be implemented. Which is why the Asia Pacific Public Sector Cyber Security Executive Council couldn't have come at a more critical time, where the stakeholders in the ecosystem can collaborate on prioritizing national cybersecurity defense.
The session was attended by three of the founding members of the first Asia Pacific Public Sector Cyber Security Executive Council: CyberSecurity Malaysia, National Information Society Agency Korea, and National Cybersecurity Agency Thailand.
A more effective regional strategy against cyberattacks
With most technology infrastructure owned and operated by private companies; it is also mission critical that governments form coalitions with leading tech companies to lead effective cyber-defense strategies and safeguard our region against attackers.
Dato' Ts. Dr. Haji Amirudin Abdul Wahab FASc, CEO of CyberSecurity Malaysia shared, "Cybersecurity is an important national agenda that cannot rely solely on the back of IT team. It should be a priority and responsibility of all individuals, as we continue to see cyber-criminal activities rise exponentially with the proliferation of data and digital connectivity. This coalition certainly establish stronger partnerships with industry leaders and practitioners that allow us to fortify our security postures and combat cybercrime."
On the future of the cybersecurity eco-system and role the coalition will play, Ph.D. candidate ChangHee Yun, Principle Researcher of AI/Future Strategy Center, National Information Society Agency Korea added, "the collective intelligence amongst the Asia Pacific nations is paramount to jointly share best practices and strategies that will enable us to resolve cybersecurity challenges at a faster pace, and a more proactive manner. With similar threat landscapes, this partnership will ensure that we are steps ahead of the perpetrators, establishing higher standards for the cybersecurity eco-system as well."
Group Captain Amorn Chomchoey, Acting Deputy Secretary General, National Cybersecurity Agency Thailand: "The cybersecurity executive council is an instrumental platform for collaboration between our nations. I believe with the stronger relationships we will forge via this council will enable us to anticipate threats as early as possible, prevent them before the effects of cybercrime evolves into another "pandemic" for the cyberworld."
 Unique level of collaboration between governments and the tech sector
As part of the Asia Pacific Public Sector Cyber Security Executive Council, government agencies and state leaders will join a forum that includes Microsoft and our ecosystem of cybersecurity industry advisors. The aim of the forum is to share best practices, learn from Microsoft security certification trainings, dedicated workshops, and hands-on lab sessions, with a goal of driving improvements to the digital skills of the workforce to reduce the talent gap in cybersecurity across the participating nations. The members of the Asia Pacific Public Sector Cyber Security Executive Council will share experiences and knowledge relating to cyber threats and will work to drive greater collaboration and cooperation between countries. This effort will build on existing efforts to strengthen cybersecurity partnerships in the Asia-Pacific, including through the Asia-Pacific Economic Cooperation (APEC), Association of Southeast Asian Nations (ASEAN), and Global Forum on Cyber Expertise.
"Cyberthreats and attacks are inevitable in this interconnected world, which is why our collective strength and collaboration as a community is imperative. Today's announcement is the first step towards defending our communities in cyberspace and I'm excited to announce the launch of the first APAC Public Sector Cybersecurity Executive Council with the founding members that include government leaders, policymakers, regulators, industry stakeholders across the region. Our joint mission is to build a strong coalition, to strengthen our cyber security defense," said Sherie Ng, General Manager, Public Sector, Microsoft Asia Pacific.