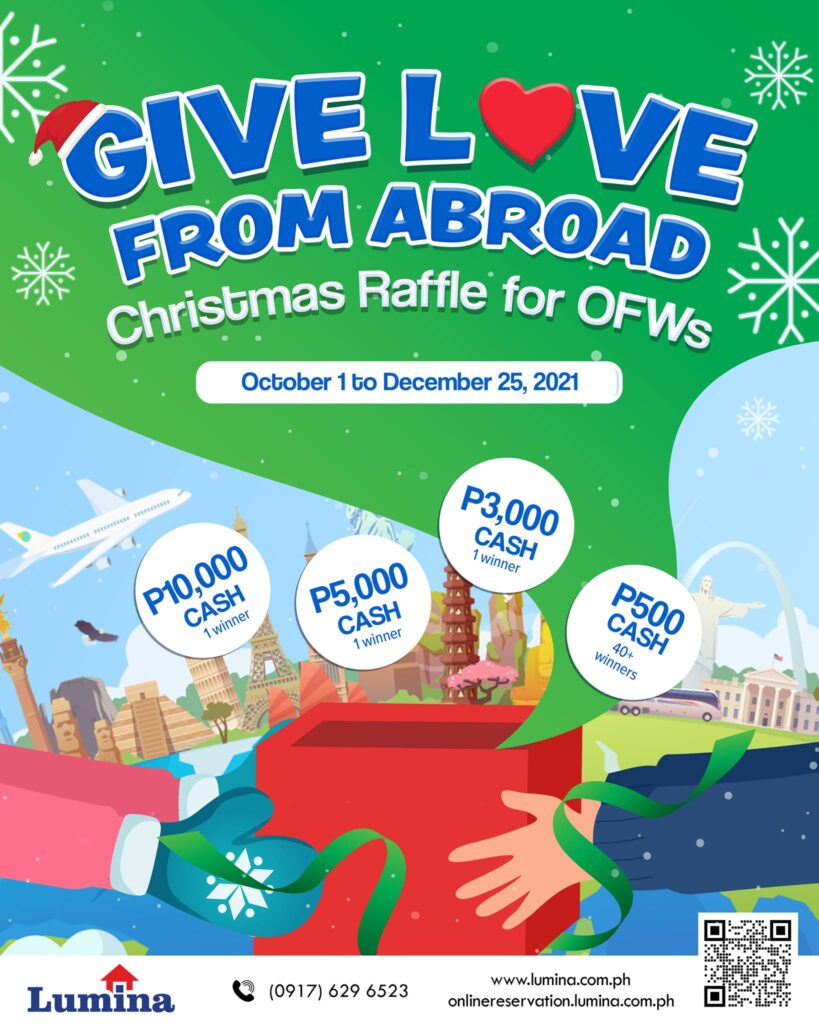 It's been a part of the Filipino culture to come home, reunite, and warmly celebrate Christmas together. But as times have changed, many overseas Filipino workers (OFWs) have to spend the holidays miles away from home.
And while OFWs are from different countries and professions, their hearts beat the same and they show the Filipino kind of love, a love that's selfless, family-oriented, and knows no boundaries. That's why OFWs, our unsung heroes, brave the holiday blues and feelings of longing by working hard to provide a brighter future for their families back home.
Give Love from Abroad Buyers' Promo
Now, in line with Lumina's Christmas theme Juan Love this Christmas, and to salute the sacrifice and invaluable contribution of OFWs to every Filipino, Lumina Homes gives back the love this holiday season with Give Love from Abroad: Pamaskong Lumina Raffle Promo for OFWs.
To make the Christmas season more special, the raffle promo is open for buyers and referrers.
Principal buyer OFWs get three raffle tickets for every Lumina Homes reservation from Oct. 1 to Dec. 25, 2021. You may score more raffle tickets by referring Lumina Homes to your fellow OFWs. You will get one raffle ticket for each referral.
Winners get to take home P10,000 (first prize), P5,000 (second prize), P3,000 (third prize), and consolation prizes that include AllEasy load and Lumina freebies. Stay tuned on Lumina's official Facebook page for the live raffle draw on Dec. 27, 2021.
LuminAguinaldo Sellers' Promo
As a gift that keeps on giving, Lumina also runs the LuminAguinaldo raffle promo for its sellers. Lucky sellers get to take home cash prizes, lechon, LED TV, a refrigerator, washing machine, tablets, cellphones, Christmas baskets from AllHome, and shopping spree for as much as P5,000!
If you are a Lumina seller, you are entitled to raffle tickets for every valid reservation from Oct. 1 to Dec. 28, 2021. The number of raffle tickets will be based on the house model reserved by your buyer. Also, your accounts should be updated upon redemption of the prizes.
Join the Lumina-wide Virtual Year-End Party on Dec. 29, 2021 to catch the announcement of winners of the LuminAguinaldo raffle promo!
For the latest updates on Lumina Homes, contact (0917) 629 6523. Visit www.lumina.com.ph and/or like @luminahomesofficial on Facebook