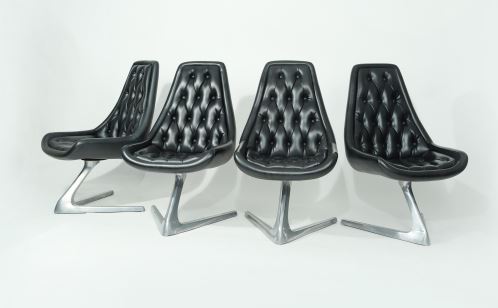 Ken and Isa Mishuku can't help but beam with pride as they show their furniture warehouse in Laguna. Still undergoing renovation, the couple excitedly talks about how they envision putting in their mid century tables, chairs, cabinets, lamps, etc. that continue to grow in number the way their followers have grown exponentially.
Success, however, didn't come overnight for the two young parents of three. Their obsession began more than a decade ago when they furnished their home and had differing design ideas. Isa wanted something fresh, modern & streamlined, while Ken was into vintage — brick walls, manly leather couches – something that would go with his vintage guitar collection.
Searching for items at the time was very difficult. There were hardly any places to go to find vintage items. "We really had to go deep into sourcing to find something close to what we had in mind. Through these searches I came across this supplier who would bring in vintage leather Chesterfield sofas and in their container, there were also a few vintage modernist pieces that were really just fillers mixed in. Because of that, they were selling it really cheap, possibly because there were very few buyers for those items" Ken says. "Isa said she was drawn to the more modern stuff so it was there that we finally found a happy compromise, where we could mix the old and new. So we bought those items; they were modern pieces but had a very vintage feel to them —  We were not aware at the time, but we had entered that realm of Mid Century Modern, and we never really left."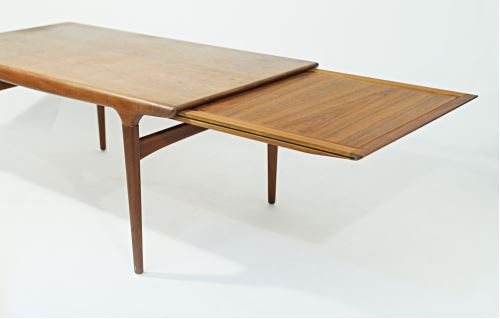 Eventually, Ken's newfound passion led him to find what was being advertised as a vintage 1950s Eames lounge chair being sold online by a local seller. Priced at P40,000 at the time, it seemed too good to be true as similar chairs would go for half a million pesos. The couple took a leap of faith and bought the chair, seeing its potential after some much needed restoration.
"But back then, there wasn't really a lot of literature about what is and how to distinguish an original piece," Ken says. "It was our first time to see an Eames lounge chair in person, I just trusted the seller's word."
He then went on to place an online order from the USA for the materials to be used in the restoration. However, the parts would not fit.
"I was in denial, hoping what we had was maybe a prototype but upon further research, I came to the conclusion that the Eames lounge chair we had was a definite fake," Ken said. "Because the production process for these chairs from the very beginning never really changed. All the parts that you buy now should have fit."
That expensive lesson pushed Ken to smarten up, and to know more about chairs and furniture in general. The fake Eames is now stored in their warehouse and the couple has an authentic one in their home.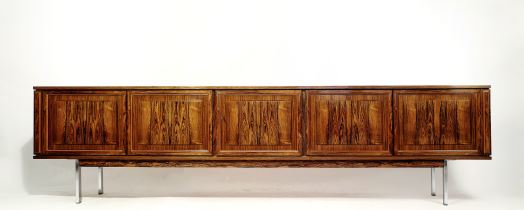 "May pagka-hoarder kasi si Ken," Isa says. "He is the type who likes to prepare waaay in advance, so namimili na siya ng mga furniture even before we started building the house."
"We didn't really think of it as something to sell, just to use personally, for the house," Ken adds. "Later on, naipon na sa garage, a friend told me about a Facebook furniture buy&sell group, I started selling on that group and I would talk fondly about the pieces, passionately (you could also say nerdy) and I guess it resonated well with collectors; and it grew from there."
Along the way, their distinct yet discerning individual tastes have found balance and today, their Midcentury Manila brand has become the go-to place for vintage showcase pieces that can liven up any home or office.
"When you say mid century modern, it's a mix of organic and aerodynamic shaped wood, steel, moulded plastic and fiberglass that convey lightness and functionality, mostly designed by the World's Top Architects — which blew up after the war, in the late 1940s to the 1970s, during the rise of mass housing and throughout the space race" Ken explains.
Their "midcenturymanila" instagram page has over twenty thousand followers and anything they post gets sold almost immediately. Browse through the items and one can easily appreciate the effort they put in not only presenting it visually but also in telling the story behind each piece – sometimes how it was acquired, or the process it took to revive the piece, or an interesting backstory on the design of the item.
"I'm the type to become obsessed when I'm into something… I don't like to take shortcuts," Ken said. "So when we would have a piece that was lined up to be sold,  I would prep and clean it myself and make sure each piece came out looking the best it could — ready to use. Because I know the feeling of a buyer who pays a considerable amount and has expectations, even though it is second-hand. So I learned how to take things apart and put them back together, how to remove rust, how to clean aged plastic efficiently, and invest in the right tools. I became obsessed with the correct process of restoration and refinishing, which we try to drill down in all the work we do up to today. Even though I no longer do the restoration myself, I still spearhead the process and frequent the work area to make sure that the same level of care and love for the pieces which brought us to where we are now, is still carried out."
It has now come to a point where Ken is able to, upon closer inspection, distinguish an authentic from a fake or the type of wood used; or even, estimate a furniture piece's age.
A regular customer then who became a close friend to the couple, Monique Teodoro, suggested they put on a furniture exhibit.
Ken and Isa then went on an adventure buying trip abroad to source pieces from different local thrift shops and marketplaces, even trying early-morning flea-market hunting and were able to fill up two containers with mid century modern furniture. Suffice it to say, their very first 60-piece show called CIRCA in collaboration with the Provenance Art Gallery in Shangri-La at the Fort in 2018 was a success. They would follow it up a year later with a 120-piece show entitled 20th Century Icons of Furniture Design with Proscenium at Rockwell. Then in 2020, despite the pandemic, they put up an even bigger 200 Iconic & Exotic Object Exhibit with Fred Yuson & CWC Interiors in BGC. Since then they have been including a curated mix of Mid Century Modern Pieces for online auctions with Leon Gallery Makati.
Today, interest in mid century modern furniture is steadily increasing all thanks to Ken and Isa; so much so that there have been offshoots that more or less hope to get a slice of the niche market.
But Ken and Isa's passion project is more about allowing Filipinos to be able to own a piece of and have an appreciation for what can be considered functional art.
"Something not a lot of people understand is that when we have stuff come in, let's say a hundred pieces, there are certain buyers who could purchase everything in one go but I don't allow it," Ken says. "If I do that, financially we'll be ok… but how do you grow as a brand when only one client eats up the entire pie?"
"The goal at Midcentury Manila is really not money-making," Isa adds. "It's really to fuel this active, growing community that is passionate about design. Most efforts are unmeasured, done on the fly, spurred purely to foster engagement and make followers and friends feel included, engaged, like they too are a part of what makes Midcenturymanila work. Sometimes Ken comes up with games, or even just gives items away on the instagram page because he wants everyone in on the fun. "
"It keeps things interesting," Ken adds.
Clearly, there is no slowing down Midcentury Manila as it has now become a go-to when it comes to mid century modern furniture, all due to the couple's tireless dedication to simply sharing their passion day-to-day to a community of like-minded individuals; and the strong, effective partnerships they've built along the way that have allowed them to take their vision to the next level. And with a deep trove of treasured pieces around the world yet to be discovered, it's safe to say that both Ken and Isa have only just begun to scratch the surface.