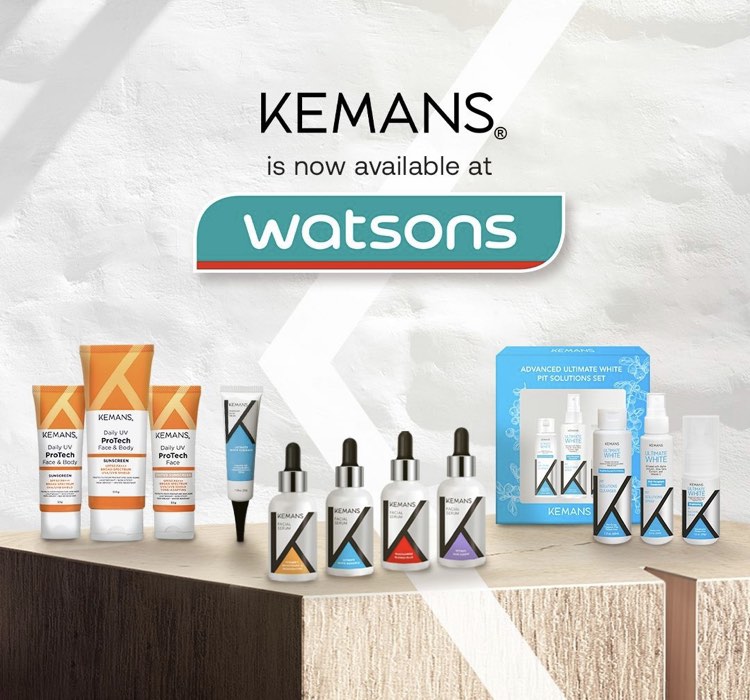 Kemans, an expertly formulated skincare and personal care solutions brand that offers real results, and Watsons, Asia's premier beauty and wellness retailer, have recently formed a partnership that will greatly benefit both brands.
While Kemans has already started creating buzz online, with its products made readily available for consumers on different online platforms, this partnership with Watsons makes Kemans products even more accessible to customers, as they are already available at Watsons stores nationwide.
Having Kemans products available in Watsons means people can try out the products before deciding which ones will best suit their skin needs.
Aside from being available at different Watsons outlets, Kemans products can also be found on the Watsons app and website. This means people from all over the Philippines can access their products online for worry-free, on-the-go shopping.
The Kemans products that are currently available at Watsons include their four facial serums – the Ultimate White Radiance Facial Serum 30g, the Vitamin C Brightening and Regenerating Serum 30g, the Retinol Skin Renew Serum 30g, and the Niacinamide Blemish-Blur Serum 30g; their whitening line like the Ultimate White Radiance Overnight Glow Cream in 30g; their underarm line like the Ultimate White Pit Solutions Cleanser 60ml, the Ultimate White Pit Solutions Spray 60ml, the Ultimate White Pit Solutions Cream 30g, and the Advanced Ultimate White Pit Solutions Set; and lastly, the newly-launched Daily UV ProTech Face and Body Sunscreen 100g, the Daily UV ProTech Face and Body Sunscreen 30g, and the Daily UV ProTech Face Tinted Sunscreen 30g.
The people at Kemans are grateful for the partnership, as they look forward to a long and fruitful relationship with the mega retailer. They also plan to introduce more products within the year, aside from the sunscreens they only recently launched just in time for summer.
To know more about their products, visit Kemans on Facebook, Instagram, and Tiktok, or check out watsons.com.ph or download the Watsons app.