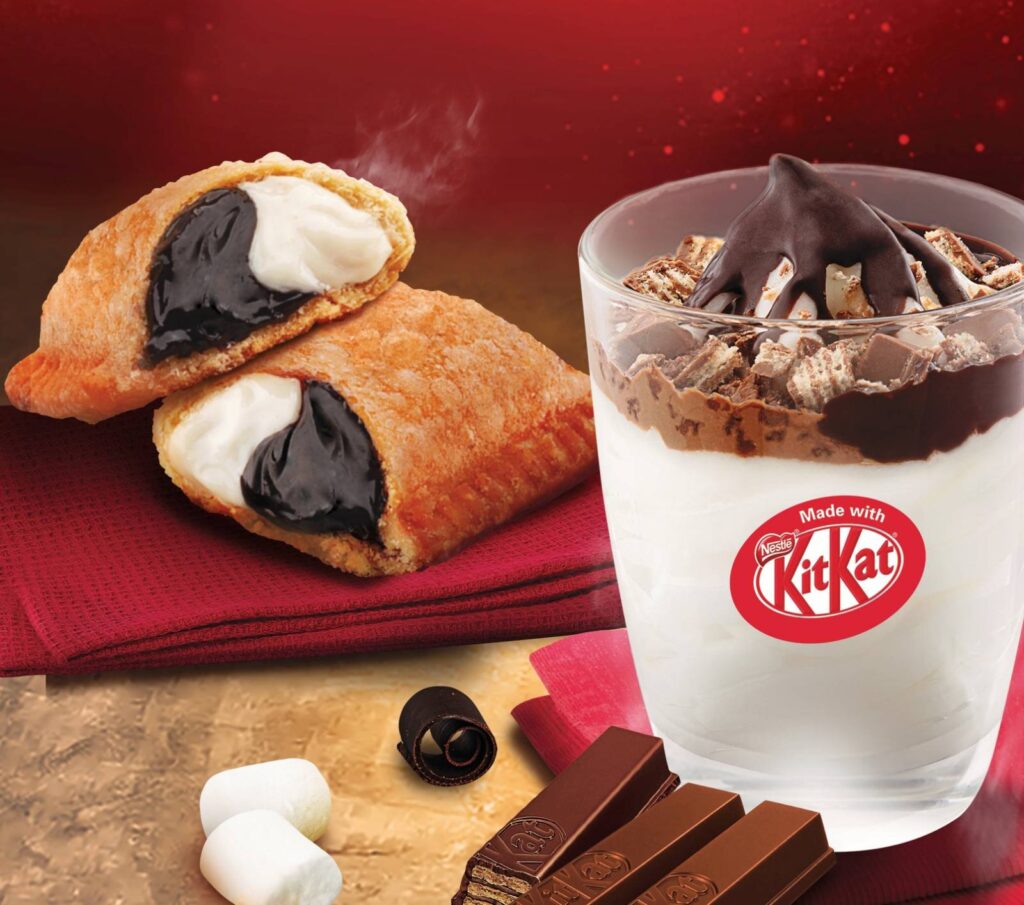 the Choco Mallow Pie and the Choco Crumble Sundae made with KITKAT®. Available for a limited time only, these indulgent desserts are perfect for those craving for a deliciously satisfying snack for the holidays. Enjoy it solo or pair it with your favorite Jollibee meals to make every moment extra special with family and friends!
The Jollibee Choco Mallow Pie, with its signature crispy golden brown pie crust, is packed with a delectable combo of rich chocolate and fluffy marshmallow filling that will surely be an instant favorite. It's also best when shared, as the Choco Mallow Pie is also available in 3 Pies To-Go and 6 Pies To-Go so everyone can get in on its sweet, fluffy goodness.
The Jollibee Choco Crumble Sundae made with KITKAT® is the latest addition to its line-up of decadent sundae desserts. Its creamy vanilla soft-serve ice cream is generously topped with KITKAT® Bits, KITKAT® Spread, Rich Chocolate Syrup, and Crunchy Chocolate Coating. With this creamy, chunky chocolate delight, the Choco Crumble Sundae can satisfy every sweet craving and make every holiday gathering an all-out celebration for the whole family.
"What's a holiday celebration without dessert or a sweet snack that every member of the family can indulge in? With the Choco Mallow Pie and Choco Crumble Sundae, we hope to provide customers with a truly enjoyable Christmas treats to complete every gathering. After 2 or so years, we're finally able to get together with family and friends, so it's time to indulge and give in to our sweet cravings for that all-out Christmas celebration," said Pam Reyes, AVP for Marketing of Jollibee.
Make Christmas celebrations satisfyingly sweeter with your loved ones with these limited-time desserts! Visit https://www.jollibee.com.ph to find Jollibee stores near you and see the complete "Sarap ng Pasko" menu. Aside from Take-Out and Drive-Thru, you can also have it safely delivered to you via the Jollibee Delivery App, JollibeeDelivery.com, #87000, GrabFood, and Foodpanda!
For more info and updates on Jollibee products, like Jollibee on Facebook, subscribe to Jollibee Philippines on YouTube, and follow @jollibee on Twitter, Instagram, and TikTok.