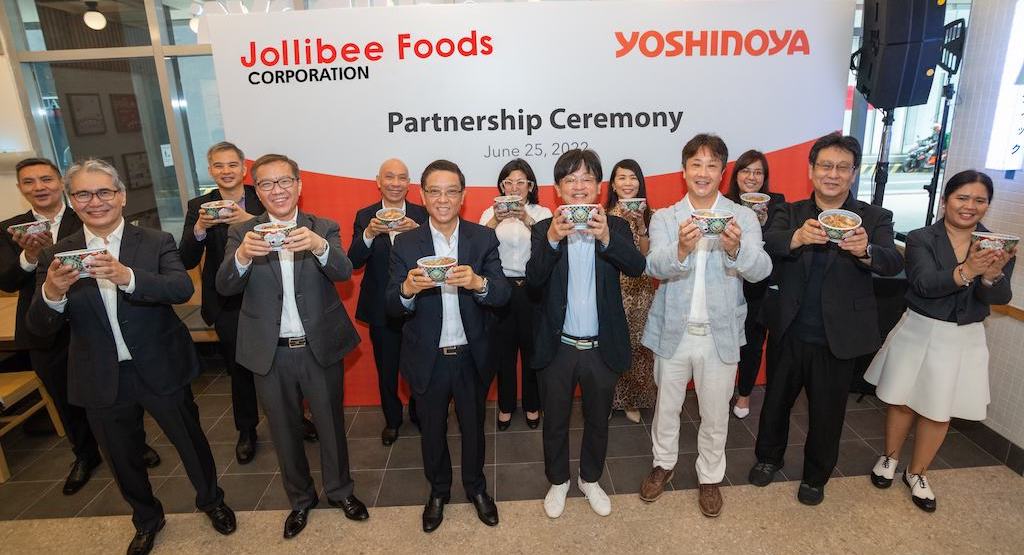 The Jollibee Group and Yoshinoya International hailed its partnership in a ceremony that culminated in a beef bowl toast led by Jollibee Group President & CEO Ernesto Tanmantiong (front row, 3rd from left), Asia Yoshinoya CEO Tetsuya Naruse (front row, 4th from left), Jollibee Group President for Philippine Business Joseph Tanbuntiong (front row, 2nd from left), and Jollibee Group Chief Real Estate and Design Officer William Tan Untiong (back row, 3rd from left).
The Jollibee Group welcomed Yoshinoya International executives in a Partnership Ceremony on June 25 to celebrate their collaboration that will bring the authentic Yoshinoya Japan beef bowl experience to the Philippines.
Yoshinoya, Japan's world-famous Beef Bowl Chain, is the first foray into Japanese food by the Jollibee Group. Jollibee Foods Corporation formed a joint venture with Yoshinoya International Philippines Inc. ("Yoshinoya International") to operate the Yoshinoya stores in the country, with plans to expand to 50 stores in the long term.
The Yoshinoya International executives who attended the private ceremony were Tetsuya Naruse, CEO of Asia Yoshinoya International Sdn Bhd ("Asia Yoshinoya"); Shigekazu Miyata, President of Yoshinoya International; and Shigeo Kurokawa, Director of Yoshinoya International.
Asia Yoshinoya CEO Tetsuya Naruse hailed its partnership with the Jollibee Group during the partnership ceremony. "In the history of Yoshinoya, I can say that we have never encountered a company such as yours. I've met the best partners that we could work with and I'm really looking forward to this partnership."
"We would like to thank Yoshinoya International for partnering with Jollibee Group. Together, under Yoshinoya Jollibee Foods Inc., we will grow and expand Yoshinoya in the Philippines, and we will work hard to make it the No. 1 Japanese restaurant in the country," said Joseph Tanbuntiong, President for Philippine Business of the Jollibee Group.
In a disclosure released in February 2021, the Jollibee Group said it aims to be the leading market developer of foreign restaurant brands in the country, as these foreign franchised brands are expected to contribute to the sustainable growth of its domestic business. Jollibee Group continues to see the success of brands like Burger King, Panda Express, and PHO24 and will apply the same success drivers in expanding Yoshinoya.
Partnership for success
Like the humble beginnings of the Jollibee Group, Yoshinoya started as a family-run shop located at Nihonbashi Fish Market in Tokyo. Today, Yoshinoya has more than 2,000 global locations.
"Our dreams to make it big one day in our respective markets have driven Yoshinoya and the Jollibee Group to continuously work hard and always strive for excellence," said Tanbuntiong. "With similar values and a true love for great tasting food, we see a strong foundation for success in this partnership."
"I met Jollibee Group Founder and Chairman Tony Tan Caktiong, and after our conversation, I concluded that there is no other company that we would like to do this partnership with. And although some years have passed since then, we have reached this moment today and it's all thanks to all your efforts," added Naruse.
"Part of who we are in Yoshinoya Holdings is being 'For the People,' which means reaching as many people as possible with our tasty and value-for-money food—this is also what the Jollibee Group is all about. I look forward to working well together and I commit that we in Yoshinoya will give our full support to the Jollibee Group," he added.
Now ready to serve the same superior tasting and authentic Japanese Beef Bowls, Yoshinoya is set for its grand opening slated this July.