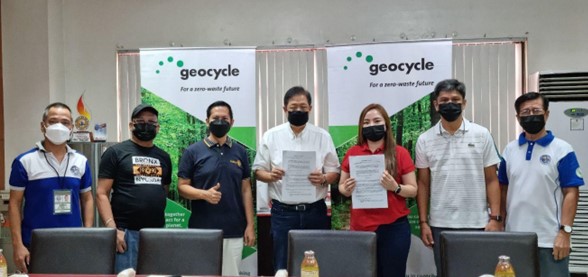 Leading cement maker Holcim Philippines, Inc. and its waste management unit Geoycle will help the municipalities of Binangonan, Cainta, and Taytay in Rizal sustainably manage their municipal wastes by converting these materials to low-carbon fuels in making cement.
Holcim Philippines sealed the partnership with the leaders of the municipal governments on different dates in August. The three municipalities will send to Holcim's Bulacan plant non-hazardous and non-recyclable residual wastes such as plastics, laminates, textiles, and rubber for pre- and co-processing. Holcim will receive up to 650 tons of such materials annually.
The Company will also extend technical assistance and training on waste segregation to the municipalities to ensure a sustainable solution to their waste management woes. The partnership will help the municipalities reduce the wastes sent to landfills and expenses related to this.
Holcim Philippines supports 28 municipalities and cities throughout the Philippines in waste management with 18 added this year. In 2021, the Company co-processed sorted municipal solid waste equivalent to the annual output of 17,500 households, helping local governments divert these away from landfills.
Holcim Philippines Head of Geocycle Jon Alan Cuyno: "We are thankful to the local governments of Binangonan, Cainta, and Taytay, for their trust in our ability to provide a safe and environmentally-sound waste management solution. We need more innovative and solutions-driven local executives who want to convert their increasing waste management challenges into opportunities for a greener community.  We need them to rethink waste and replace conventional waste management practices with newer, more sustainable ones."
Co-processing is a government-approved and globally-recognized waste management technology that repurposes non-recyclable qualified discarded materials from various industries into alternative low-carbon fuels and raw materials used in cement kilns. Among the environmental advantages of co-processing are the extremely high temperatures of kiln and longer treatment time materials that prevent formation of harmful gasses. There are also no residues to be landfilled.
Holcim Philippines is increasing its use of low-carbon fuels in cement manufacturing to reduce carbon emissions, cut use of virgin raw materials and contribute to managing wastes in the country in a sustainable manner.