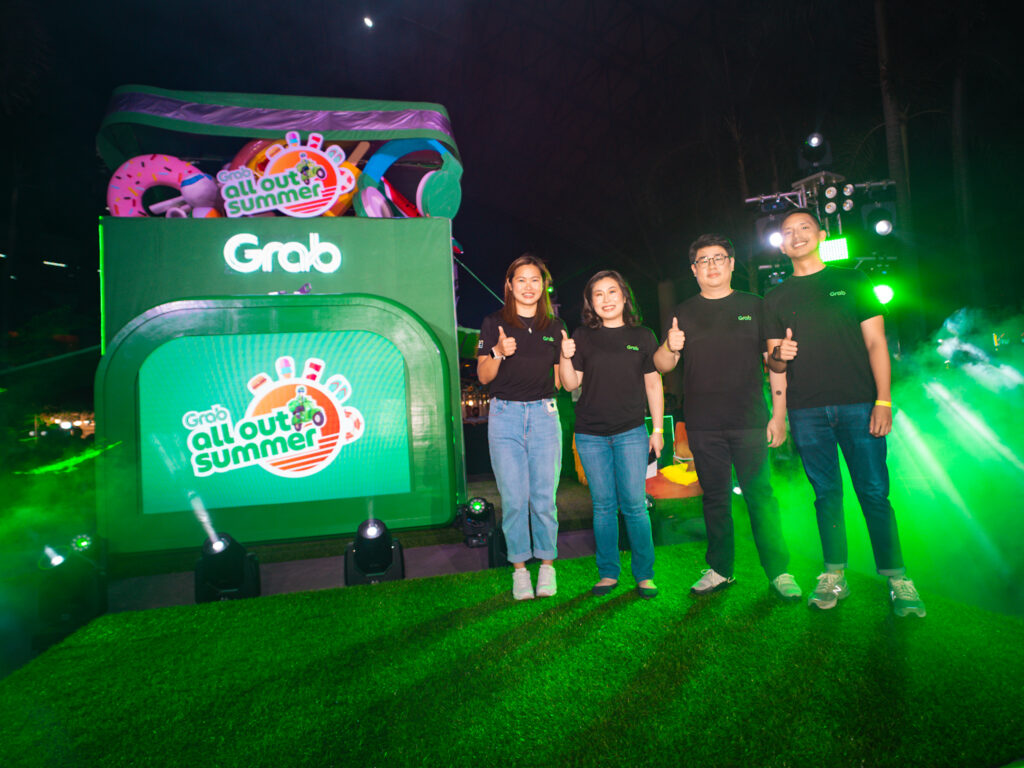 Summer 2023 is here! After years of losing out on the ultimate Summer experience, Grab Philippines is urging barkadas and families to go ALL IN this year and create new fun and exciting moments!
With Grab, you can make any wild Summer fantasy a reality. Grab has you covered whether you're hanging out in the city or travelling to some of the country's most stunning outdoor places with its dependable array of services, interesting activations, and over a thousand fantastic rewards!
Unique Gastronomic Experience with GrabFood
GrabFood has a wide selection of restaurants that offer every culinary delight that you can think of! Featuring both local and international flavors, GrabFood lets you create your own unique food exploration that is delivered right to your doorstep!
But if you really are all for that sunkissed, outdoor thrill, feel free to bond with the barkada by going to your favorite restaurants! And make the experience more seamless and convenient by skipping the in-store counter queues with GrabFood's Self Pick-Up – a feature that allows you to select and pay for your order via the Grab app. Enjoy great deals, too, by making Self Pick-Up orders in restaurants that have the Grab All Out Summer Sticker!
Hassle-Free Summer Vacay Shopping with GrabMart
Don't worry about the essentials needed for spontaneous summer trips for GrabMart has everything that you can possibly need – from sunscreen to slippers. GrabMart hosts a broad selection of products that are ready for on-demand delivery. These include packaged food, fresh produce, healthcare essentials, personal care items, household products, and even pet supplies. Have these essentials delivered to you instantly or at a time more convenient for you. With GrabMart, there is no more lining up at the grocery store or rushing to the mall for Summer vacay shopping.
Safe, Convenient and Reliable Mobility with GrabCar
An All Out Summer means that you have to be up and about. Do not fuss over the trip to the airport or the roadtrip from one destination to another – just travel worry-free with GrabCar. Being present in Metro Manila and major cities across the Philippines like Cebu, Bacolod and Iloilo; GrabCar offers safe, reliable and convenient transportation for every Summer adventurer exploring the country.
And since you are back on the road, make sure to visit the Grab All Out Summer Hangout Spots for exclusive treats and deals. Play games and win challenges in these interactive Summer Hangout Spots. The four spots are located in Market, Market in BGC, Festive Walk Mall in Iloilo, SM Lanang Premier in Davao, and SM CDO Downtown Premier in Cagayan de Oro!
Grab Philippines Country Head Grace Vera Cruz shares:
"The pandemic has discouraged many of our kababayans from fully celebrating and experiencing summer. This 2023, Grab is here as your reliable partner in creating an exciting Summer experience, and as we continue to widen our geographic footprint and expand our available services in cities and communities across the country, Grab will be every Filipino's partner towards bespoke and meaningfully curated seasonal experiences. With our on-demand delivery, fun activities, and convenient mobility service, there is no doubt you can go all out this Summer."
Grab is going all out with its awards for everyday app users this Summer to make it even more thrilling! The top super app is giving away over 1,000 prizes, including exclusive offers, rare products, domestic flights, and even a trip to Europe for four! Visit the Grab app right now to discover more about these rewards!