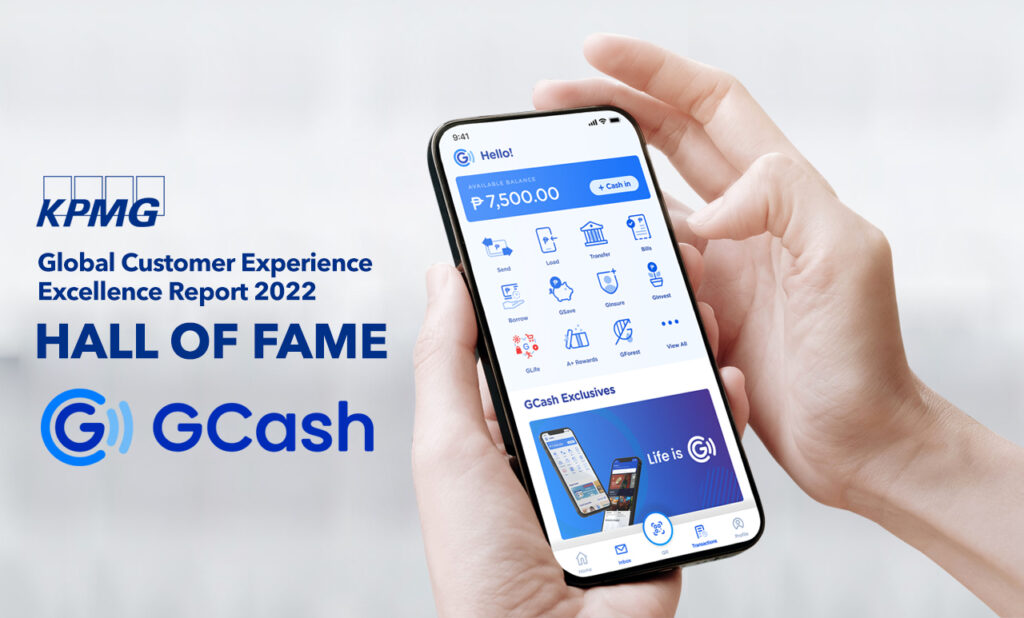 Serving as a lifeline to millions of Filipinos, especially during the pandemic, GCash, the undisputed no.1 mobile wallet in the Philippines, ranked first in the country and is now a Hall of Famer in KPMG's Global Customer Experience Excellence Report 2022 along with top global brands.
This year's Global Customer Experience Excellence research entitled 'Orchestrating the connected customer experience' was conducted virtually covering over 85,000 respondents in 25 countries to determine which organizations are delivering standout customer experiences with the help of technology. For 13 years, KPMG has provided more than 5.5 million individual evaluations across 39 countries, regions, and jurisdictions to support their expertise in customer experience best practices.
"This report is not only a recognition of GCash's world-class digital financial products and services but also a testament to our commitment in making the lives of every Filipino better. GCash, now belonging to the Hall of Fame in KPMG's Global Customer Experience Excellence Report, will be a driving force for us to continuously improve and exceed our efforts," said GCash president and CEO Martha Sazon
GCash made it to the list while also hitting an exponential growth of having 71 million registered users as of September, with four out of five adults in the Philippines having a GCash account.
In line with its mission of spurring accelerating financial inclusion and digitization of financial services in the country, GCash provides real-time digital transactions, as well as safe, secure, and convenient digital financial services such as Pay Bills, GCredit, GLoan, GSave, and GGives, GCash's 'buy now, pay later' product, GInsure, the app's comprehensive insurance platform, and GLife, which is the e-commerce feature on the GCash app.
To cater to the ever-evolving needs of customers, GCash has also been expanding its financial services and products as it prepares to launch several other products that can give its users more investment opportunities.
As part of its relentless effort to improve customer experience, GCash builds the trust of its users by continuously rolling out security features such as MPIN verification, facial recognition, One-Time Password (OTP), and electronic Know Your Customer (eKYC) verification process to safeguard its user's security and data.
With a strong focus on providing better and improved customer experience, GCash continuously invests in state-of-the-art technology and infrastructure that will address the needs of Filipinos – making their lives easier, better, and safer as the economy transitions to the new normal.
For the full KPMG report: https://assets.kpmg/content/dam/kpmg/xx/pdf/2022/10/cee-2022.pdf.