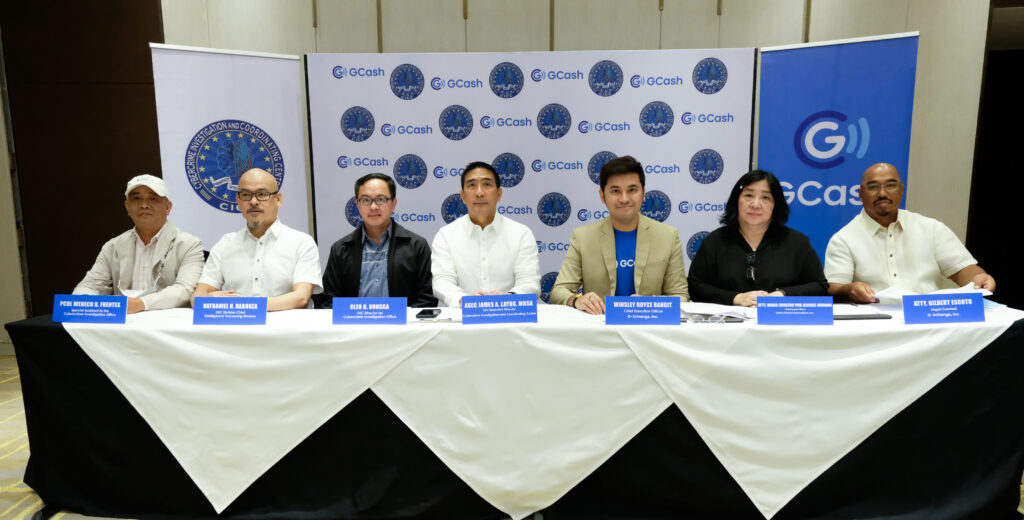 With over 69 million registered users to date, GCash, the country's leading mobile wallet in the country,  has signed a memorandum of agreement with the Cybercrime Investigation and Coordinating Center (CICC) of the Department of Information and Communications Technology (DICT), as part of GCash's relentless campaign against fraudsters and scammers.
During the signing ceremony, GCash chief customer officer Winsley Bangit said this partnership is also in line with GCash's vision of "Finance for All," wherein all Filipinos can benefit from the digital economy and have full confidence and trust that their funds are safe with GCash.
Officials from the CICC also graced the event, namely OIC executive director Asec. James Layug, MNSA, OIC division chief of the intelligence processing division Nathaniel Rabonza, special assistant to the Cybercrime Investigation Office police colonel Weneco Fuentes, and OIC director for Cybercrime Investigation Office Cleo Dongga-as.
"The signing of this agreement couldn't have come at a better time as 69 million or four out of every five Filipino adults are now placing their trust on GCash. We appreciate this immense support, which also serves as a compelling reminder that we must continue improving and innovating to protect our customers from ever-present cyber threats and other types of scams," Bangit said.
Under the agreement, GCash and CICC will strengthen collaboration to go after perpetrators involved in phishing, smishing, online fraud, e-scams, vishing, and other cybercrimes that utilize the GCash app.
With the ever-growing GCash user base, GCash Chief Legal Officer Atty. Maria Corazon PMR Alvarez-Adriano also said that the company now deems it even more necessary to take an even more active role to ensure that its user's data are protected and that they can continue to enjoy GCash and its convenient digital financial services securely and safely.
"Through our joint efforts and commitment, we will be able to achieve more in the prevention, investigation, and prosecution of cybercrimes. I would also like to take this opportunity to assure the CICC that GCash will do whatever it can in order to provide successful implementation of this MOA," Atty. Alvarez-Adriano said.
The agreement will also facilitate cooperation on intelligence, investigation, operations, training, and capacity building in terms of clamping down on various types of scams. Highlighting the importance of educating Filipinos on cybersecurity, GCash and CICC will also jointly promote anti-cybercrime programs, campaigns, and activities. The MOA also aims to enhance coordination and operational assistance with other government agencies and LGUs.
"The CICC shall undertake the realization of these responsibilities with respect to our common values and common vision for a cyber-safe and cyber-resilient Philippines. We thank you (GCash) for your partnership and look forward to the accomplishments we will achieve together. Our actions today to safeguard people in cyberspace will shape the Philippines of tomorrow," Asec. Layug said.
For more information, visit www.gcash.com.ph