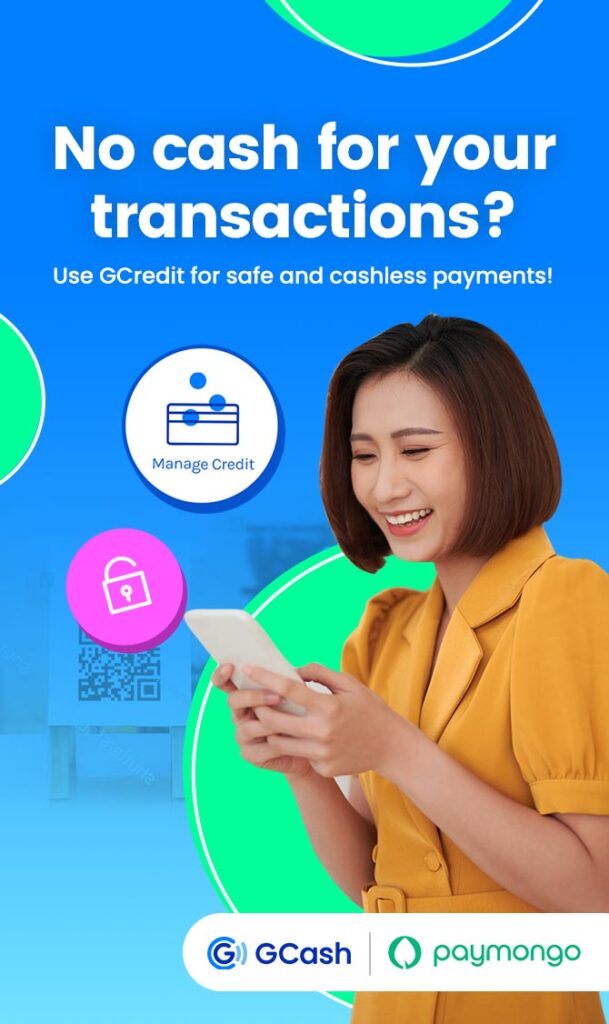 Online shopping has become the new norm for more people – from buying essentials, ordering food, to indulging in good old online retail therapy. GCash, the country's leading mobile wallet, and PayMongo, an online payment processing platform for merchants, have teamed up to let users shop safely and conveniently with just a few taps on their phones!
With the GCash app feature called GCredit, you can now shop and pay later for your orders. This definitely eliminates the stress of checking out your online purchase just to find out that you don't have enough funds, especially if it's an essential item you need right away.
Fully verified GCash users can benefit from this in-app feature powered by CIMB Bank as it provides up to PHP10,000 personal credit line and an interest rate as low as 1%. All you have to do is choose GCash as your payment option when you buy from PayMongo, input your GCash Mobile Number and type your One-Time-Pin or OTP sent to you via SMS and input 4-digit MPIN. Lastly, opt for GCredit as your preferred payment option, wait for the SMS confirmation as proof of transaction, and you're good to go!
Here are just some of the amazing items that you can add to your cart using GCredit on the GCash app or through GCredit via the merchants' online checkouts through PayMongo:
Home dining treats. Treat yourself to delicious pizza from Shakey's or Casa Amici! You can also add some tasty desserts from Bebang Halo-Halo Snack House to satisfy your sweet tooth. For yummy dishes to share with family and friends, there's also plenty of options like Kenny Rogers Roasters and Wildflour Café + Bakery. If you're aiming for a fit body, you can try the various high-protein offerings of The Six Packed Chef, such as Shrimp Tacos and Coconut Pork and Squash Stew.
Fun with hobbies and new OOTDs. Are you into writing and drawing lately? You can do some journaling with VIVIAMO's Quest Journal Collection, or channel that inner artist in you with their Sketchbook Journal. For your workout needs, you can browse through Toby's Sports and Certified Calm's selection of athleisure, yoga mats, tumblers, and more. What's more, for those who want to upgrade their OOTDs for online classes or Zoom meetings, they can shop for fashionable pieces from Harlan+Holden or comfortable and trendy tees from DBTK. To complete your look, check out the latest eyeglasses from Sunnies Studios and stylish footwear from Havaianas on the app. Still can't find what you're looking for? You can also try checking Rustan's – for everything from sleepwear and footwear to skincare products and home décor.
For wellness and self-care. After working for hours, running errands, and completing house chores, you deserve some pampering, too. Maximize your "me time" with beauty and hair products from BeautyMNL and HairMNL for glowing skin and a good hair day. To continue your health and fitness journey during the pandemic – and get your loved ones involved – avail of medical check-ups by experts at Manila Heath-Tek. Feeling anxious and isolated because of the lockdown? You can always call and book an appointment with a Prescription Psychiatrist if you need someone to talk to and share your struggles with during these trying times. Keep in mind that our mental health is as important as our physical health.
With all these merchants and retail brands made available by GCash and PayMongo, you can do your shopping safely and conveniently and pay later by using GCredit.
For more information about GCredit on the GCash app, visit https://www.gcash.com/how-to-use-gcredit.