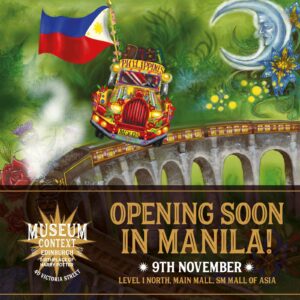 The first Museum Context store in the Philippines, offering an immersive Harry Potter shopping
experience, opens 9th November 2019 at SM Mall of Asia (MOA) in Manila.
The launch marks a new chapter for the Museum Context brand, which cast its spell on avid Harry
Potter fans father-daughter Carlo and Katsie Llave, who first came across the magical retail  experience on a 'Potter Pilgrimage' visit to Scotland's capital Edinburgh.
They were blown away by the immersive Museum Context retail concept when they visited the
flagship store packed with officially licensed Harry Potter merchandise and curiosities at 40 Victoria Street, the cobbled Victorian street in Edinburgh's Old Town which is believed to be the inspiration for Diagon Alley. Katsie Llave's company will be spearheading the project and opening the Manila branch.
The new store is likely to a magnet for Potter fans as well as people with an interest in interiors and the arts. It will stock a range of curated gift and home interiors pieces including official film replicas, stationery and fashion items.
Museum Context founder Andrew McRae said: "A chance meeting in Edinburgh led to this collaborative venture which will spread some of the Museum Context magic in the Philippines. We are very excited to introduce the brand to the region with the support of SM MOA, and to welcome Carlo and Katsie as partners."We look forward to seeing the reaction of visitors to our unique and truly immersive shopping experience which has its origins in the birthplace of Harry Potter, and home of JK Rowling. Our customers love the feeling of discovering special items among our carefully curated gift and home interior items. We stock an extensive range of official Harry Potter merchandise alongside work by top European artists and a whole range of weird and wonderful curiosities to suit all pockets."
Katsie Llave is ecstatic about the project: "When we started our small events company, it was our  dream to create magical moments for fans BY fans. In everything we've ever done, we have always prided ourselves in being able to deliver experiences that we ourselves would like to, experience and  this partnership with Museum Context has given us the perfect opportunity to do just that. Every item in this shop has been selected with genuine excitement and dedication to the brand, and we
are confident that fans will fall in love with this just as much as we have. We are truly looking  forward to celebrating this milestone with our Potter family, and hope that it will continue to grow  because of it. The magic lives on."
Founded in Edinburgh in 2007 and now operating from four outlets across the city, Museum Context's award-winning retail concept launched in Hong Kong in 2011. Since then it has operated from profile locations across Hong Kong Island, Macau and in Tsim Sha Tsui. The brand has established many successful partnerships, working with museums and cultural organisations as well as commercial operators, and has featured heavily in UK and global media. The SM MOA store marks the next stage of expansion across the Asia Pacific and China region.
The SM MOA Museum Context store opens on 9th November 2019
Opening hours are 10.00am to 10.00pm