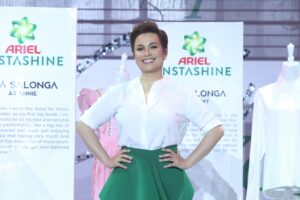 Every piece of clothing has a story, and just like one's memories, each item should be shown importance by keeping them shining anew.
Procter & Gamble's Ariel Instashine, the world's 1st powder detergent with power boosters, launched the first-ever Laundry Musical– "When I Shine With You", starring globally acclaimed artist and Filipino icon, Lea Salonga in the Philippines. This initiative is in line with the company's effort to reimagine creativity to reinvent advertising and constantly develop thought-provoking innovative ideas that will drive change.
In addition, Ariel also produced the video to showcase how one can make each item in their wardrobe renewed, through Ariel Instashine– the first-in-the world detergent that contains power booster beads, which can provide superior cleaning and stain removal in just one wash to help bring life back to one's clothes.
In this shimmering, one-of-a-kind musical, Lea and Ariel Philippines took Filipinos on a journey down memory lane by telling the story behind some of her most treasured clothes in her iconic roles. The video narrates Lea's history of more than four decades in the industry, from her first break at 9 years
old when she played the title role in Annie in 1980, several appearances in theatre productions and television projects, to her role as Kim in the debut production of the musical Miss Saigon in London.
The Renewed Collection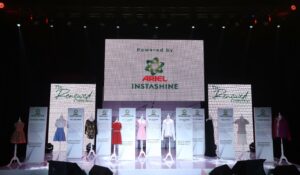 To further highlight the superior cleaning and fabric renewal benefit of the new Ariel Instashine, these iconic clothes were brought back to life and showcased though Ariel Instashine's Renewed Collection on stage. Along with Lea were her mentees from the Philippines' talent show titled The Voice, singers Esang De Torres, Mica Becerro and Leah Patricio – and digital parenting icons Maggie Wilson, Cat Arambulo and Kelly Misa, who also had their own memorable pieces displayed in the collection to attest to the superior cleaning benefits of the new Ariel Instashine.
"We launched the new Ariel Instashine in the PH market in high hopes of addressing 6 out of 10 unmet needs of Filipino laundry consumers – most of which seek superior cleaning and fabric renewal. As with our commitment to transform the laundry detergent industry, we also hope to bring inspiration through keeping clothing pieces valuable and timeless like Lea's iconic pieces from her roles as Annie, Miss Saigon and as a mom," concludes P&G Country Category Manager, Laundry Philippines, Ray Pine.
It's a long ongoing journey for Lea filled with milestones that continue to give pride to the Philippines. Ariel celebrates this true Filipino icon as she shines for all of the Filipinos here and all over the world.
To find out more about When I Shine with You, watch this once in a lifetime video reminiscing Lea's broadway journey: