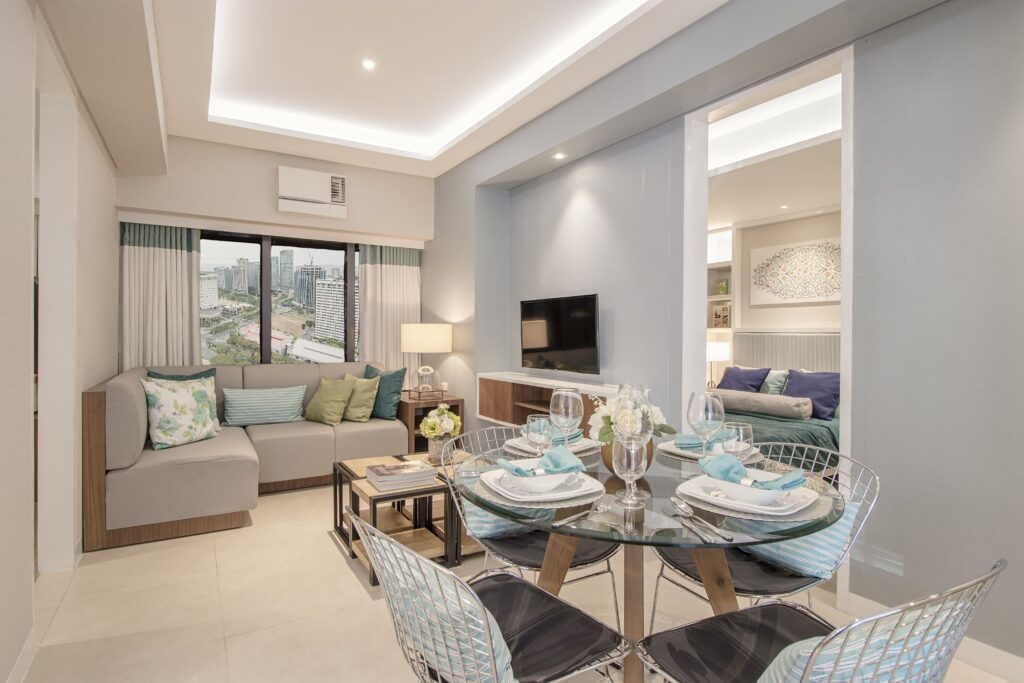 As an investor or entrepreneur, it goes without saying that you would want to go towards a "winning route" where you'll highly likely to enjoy hefty returns. Of course, with the many tempting options to choose from, it's easy to get lost or swayed by the next big investment. But this is the time when you shouldn't be hasty and instead, carefully think things through so you can make a smart choice.
One of the smart options you can consider is real estate. With its ever-resilient nature that's able to withstand downturns like the current pandemic, real estate values are expected to only appreciate over time. And at the forefront of this is Aspire, the high-end real estate brand under Filinvest Land Inc. who continues to experience an upward trajectory as proven by one of its condominium projects, The Levels.
"Filinvest City projects have been one of the consistent choice in real estate investing. One of its key benefits is that it is located in a booming central business district with very competitive pricing. These projects offer everything you need given its perfectly balanced live-work-play environment," noted Daphne Sanchez, First Vice President, Filinvest Alabang Inc.
From its launch base price in 2017, The Levels has increased by 40 percent in comparison to its current base price. This growth can be owed to its strategic location in Filinvest City, Alabang, which has been enjoying exponential increase in land values. Yet, it continues to be affordable vs other very steeply priced CBDs investments. Giving its buyers the prospect of higher investment returns.
The Levels' location allows you to become more self-sufficient as they have maximum accessibility to key establishments, as Daphne explained, "We took to heart the comfort of people in the new normal – that is, to live in a carefully designed home in a master-planned community that will allow them to adopt a healthy lifestyle, while being near essential locations and workplaces. The Levels meets this specific property concept, which, besides providing accessibility to its residents, is an ideal investment for those looking for property values that grow over time."
As such within walking distances away from each other are residential and lifestyle centers such as Festival Mall, Westgate, Commerce Center, and Alabang Town Center. Also found within the city are offices including Filinvest City Business District and Northgate Cyberzone, which houses multinational companies. Close by are established academic and government institutions, and topnotch hospitals.
You can also easily access The Levels through major roads such as SLEX, Daang Hari Road, Alabang-Zapote Road, Skyway, and other key infrastructure. Likewise, its strategic location makes it in close proximity to other central business districts and key provinces, from the South to the North and vice versa.
Moreover, if you're one to enjoy a laidback kind of city living even amid a fast paced business district, The Levels' location perfectly blends both worlds together. Its multi-level structures stand out among its competitors, as it is reminiscent of skylines, while its natural environment, dotted with landscaped gardens, captures the ambience of bountiful parks and outdoor attractions.
The residential condominium is strategically positioned with the four towers intentionally bent to provide optimal views from each unit. Residents can choose from units overlooking the amenity deck or those with expansive views of the South and the dynamic skyline of Filinvest City. The Levels has excellent unobstructed views of lush greens from it surrounding bountiful parks and outdoor attractions.
Burbank Tower, the second of The Levels' iconic structures, provides 32 stories of lifestyle residential units and one level for commercial space. Each unit, ranging from 1-Bedroom Flex, 1-Bedroom, 2-Bedroom, and 3-Bedroom units, are thoughtfully designed with quality finishes and materials to fit the needs of the most discerning market. The units feature picture windows to let natural light in, as well as provide a picturesque view of the Filinvest City skyline. Just below these units are retail and service outlets, which form part of the ground floor with direct access from the street to provide convenience for unit owners.
Complementing these are high-quality amenities that offer a complete package lifestyle to all residents. For those who have an active lifestyle, The Levels offers a fitness gym inside the complex as well as a game room that houses table tennis room, billiards and darts room. For growing families, they can fully enjoy bonding with their loved ones with its resort ambience pool deck with adjoining kiddie pool, outdoor children's playground for recreation, vine-shaded walkways, and indoor kiddie play area. There's also a function room available for intimate events and ground floor boutiques and specialty shops that makes up a well-rounded lifestyle at The Levels.
With Burbank Tower ready for occupancy in the first quarter of 2022, The Levels presents an overall winning investment—apart from the ample investment returns, you will get to enjoy suburban living with quality building features at the heart of a thriving live-work-play community.
For more information, visit https://thelevels.com.ph/