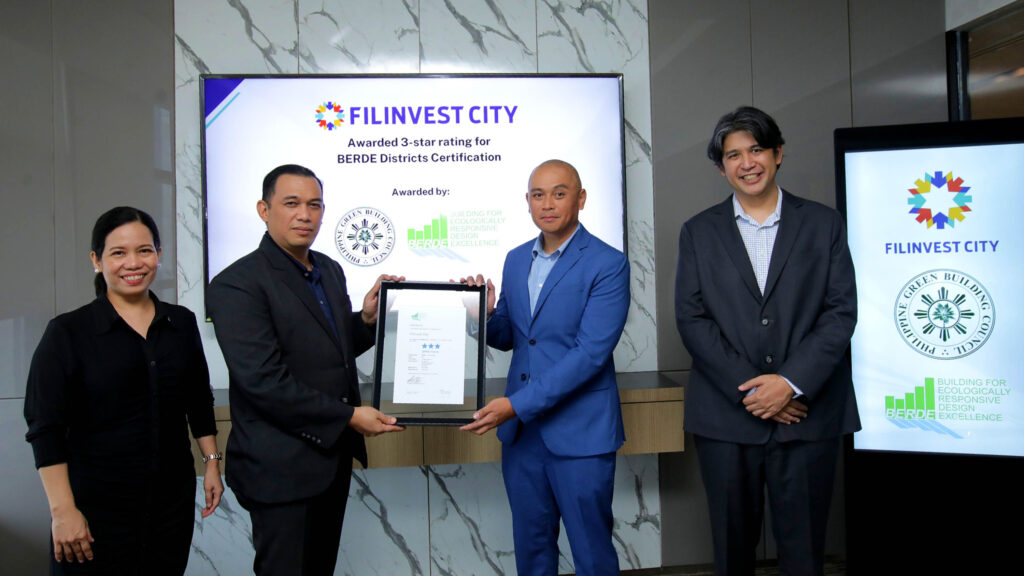 Filinvest City has become the first and only central business district (CBD) in the Philippines to get a three-star rating in the pilot version of Building for Ecologically Responsive Design Excellence (BERDE) Districts.
The award from the prestigious Philippine Green Building Council (PHILGBC) is a testament to the commitment to the sustainability of Filinvest City, the flagship project of Filinvest Alabang, Inc., a subsidiary of Filinvest Development Corporation.
"BERDE Certification affirms Filinvest City's not only to our stakeholders but also to the community at large our commitment to sustainability despite these trying times. We recognize that there are real and tangible benefits to going green and hope to pass on that value to our customers" said Don-Don S. Ubaldo, Filinvest Alabang, Inc.'s first vice president for project development – townships.
Ubaldo received the prestigious award from PHILGBC Chief Executive Officer Christopher C. Dela Cruz. The awarding ceremony was held in Filinvest Axis Tower One, one of the LEED Certified buildings in Filinvest City.
Filinvest City received the United States Green Building Council (USGBC) with a LEED v4 Gold for Neighborhood Development certification in 2020. It was the first CBD in the Philippines and the largest neighborhood development in Southeast Asia to receive recognition from the world's most rigorous green building rating system.
The LEED v4 ND certification is considered the "Gold Standard" for green neighborhood design and is used to measure the sustainability of communities around the world.
The BERDE awarding ceremony was also attended by BERDE Committee Chair  Rowena C. Ramos and FAI Assistant Vice President for Project Development – Filinvest City Paolo B. Ilusorio.
For the Filinvest City team, the BERDE Certification was more than just an award but a culmination of more than a decade of effort to shape the city into what it is today. Ubaldo said, "It is a place where Green and Sustainability are not just buzzwords, but are pillars of development that benefit the community. We will always strive to live up to the promise of Filinvest's vision for the township and continue being a champion for the environment moving forward."
The BERDE Program was developed by PHILGBC in 2009 to address the negative impacts of climate change. It has been recognized by the Philippine government as it freely provides green building rating schemes that promote the use of resource-efficient, economically-viable, and socially responsible design, construction, and operations of projects.
To learn more about Filinvest City, visit their website at filinvestcity.com and their official Facebook Page @FilinvestCityOFFICIAL.