- Advertisement -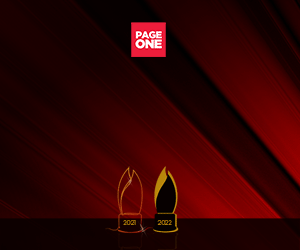 FurryPinas 2019, the premiere Furry Convention in the region is just a few days away. We're listing down everything that you need to know about the 2-day furry con!
For two-days attendees can get to enjoy a beach-themed summer extravaganza with FurryPinas 2019: Fun in the Sun. We have invaded the whole Bayanihan Center from June 8-9, 2019 and have set activities and the overall feel of the event would take you to the beach even though we're in the middle of the metro!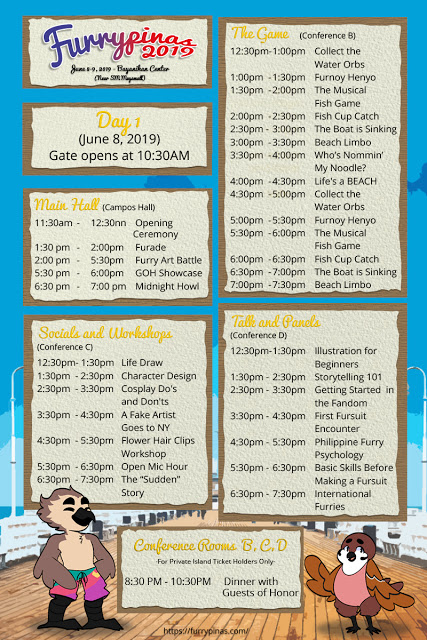 Activities
There will be a mix of fursuit fun, on-site events, seminars and lessons happening all throughout the two days.
Most of the main activities will happen at the Campos Hall while we are also hosting social activities and workshops on conference room C. Meanwhile games on the event itself will be hosted over at conference room B.
And a staple for each Furrypinas convention, is the Talk and Panels that we have set to not just help our Furry Community, but also provide a safe avenue to introduce your friends to the fandom with talks centering on Getting Started on the Fandom (day one) with Danielle Frivola G. Frivaldo. Other talks and panels are scheduled to happen too from day 1 and this is happening at conference room D.
For more schedules, please go to https://www.facebook.com/FurryPinas/posts/2317051808350760 or check out the timetable below.
Other Activity Areas
Furrypinas 2019: Fun in the Sun will also host various activity areas such as the Board Game Lounge with Game Detective where you can test out or play with others with the various board games that will be showcased in the event. There will also be a Video Game Lounge with iAcademy where you can see Furry games in action.
There will also be a Fursuit and Cosplay lounge, and a Creative Lounge that's partnered with Dong-A, Faber-Castel, and Deli. And of course, what would a convention be without food right? So we also have a dedicated Food Lounge on site.
There will also be competitions on the event such as the Furry Art Battle in partnership with iAcademy.
Furrypinas will also launch the Fursuit Intro, a fursuit "fashion show" that will have furries showcase their fursuits on the event itself.
You can register at this link.
What is Furrypinas 2019
Furrypinas is the largest furry convention in Asia serving as the official annual hub for the furry hobby, community, and culture in the Philippines.
Furrypinas' aims to be the home or place for the furry hobby, culture, and community to show their identity locally, making it accessible and relatable to anyone – be it in the form of fursuiting, arts, cosplaying, music, games, toys, anime, movies, shows, literature, and anything people can imagine of!
Tickets and Availability
You can order tickets to Furrypinas 2019 through the Furrypinas website which is located here.
● Slip & Slide Package – 180 php
○ Comes with: 1 day event access
● Pool Party Package – 300 php
○ Comes with: 2 days event access
● Water Park Package – 995 php
○ Comes with: 2 day event access, and Meet and Greet
Online ordered tickets can be paid through 7-Eleven, Cebuana, M Lhuillier, and BDO. Walk-in ticket purchasing is also still available.