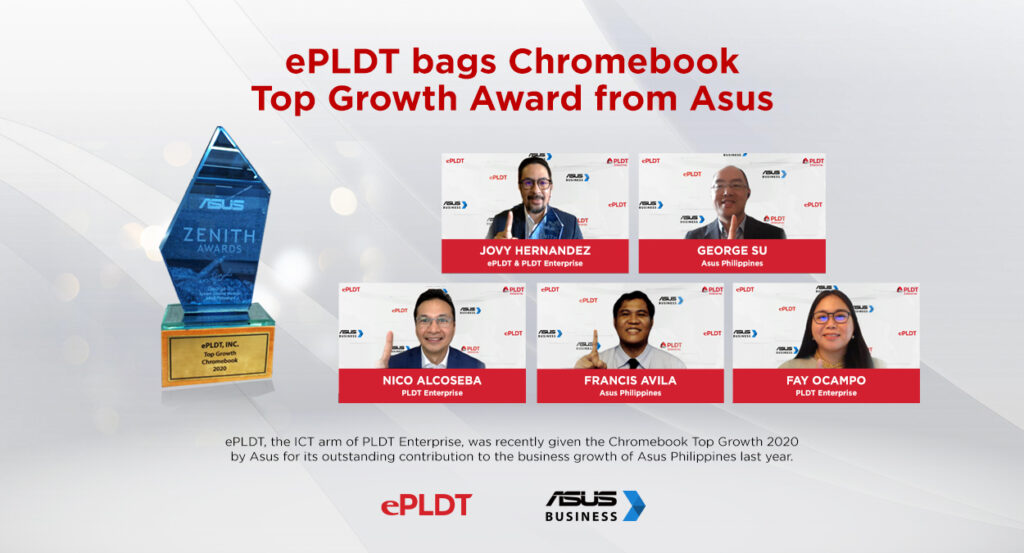 ePLDT, the ICT arm of PLDT Enterprise, was recently given the Chromebook Top Growth 2020 by ASUS Philippines during its virtual ASUS for Business Share 2020: Dealer Gathering Awards ceremony.
The award is in recognition of almost 400% growth of ePLDT in 2020, compared to its performance in the previous year, attributed mostly to fulfilled projects for the BPO and Academe industry clients. This is the biggest growth of ASUS Chromebooks amongst its partnerships in the Philippines. Today, the strategic partnership between PLDT Enterprise and ASUS is continuously strengthened to meet the demands of the Enterprise market.
"We at ePLDT are grateful to receive this honor from ASUS Philippines, which reinforces our continued commitment and support to our customers. This inspires us to strive even harder this year and reach more businesses in different industries with our digital solutions," said Jovy Hernandez, ePLDT President & CEO and SVP & Head for PLDT and Smart Enterprise Business Groups.
Aside from creating bundled solutions and launching industry campaigns, PLDT Enterprise has recently partnered with Philippine Association of Colleges and Universities (PACU) to support its member schools' transition to e-Learning. With this collaboration, PLDT Enterprise will be providing PACU's member schools with curated ICT services for e-Learning and ASUS Chromebook to be distributed in 196 member learning institution.
This partnership supports transition to e-Learning and to keep pace with schools' evolving needs, especially at the onset of the pandemic, where there was the immediate need to strengthen digital learning.
"We would like to congratulate ePLDT for their outstanding contribution for the business growth of ASUS Philippines, and we are looking forward to further collaborating with ePLDT and PLDT Enterprise to deliver more solutions that will help various enterprises especially in this new normal," said George Su, Country Head of ASUS Philippines.