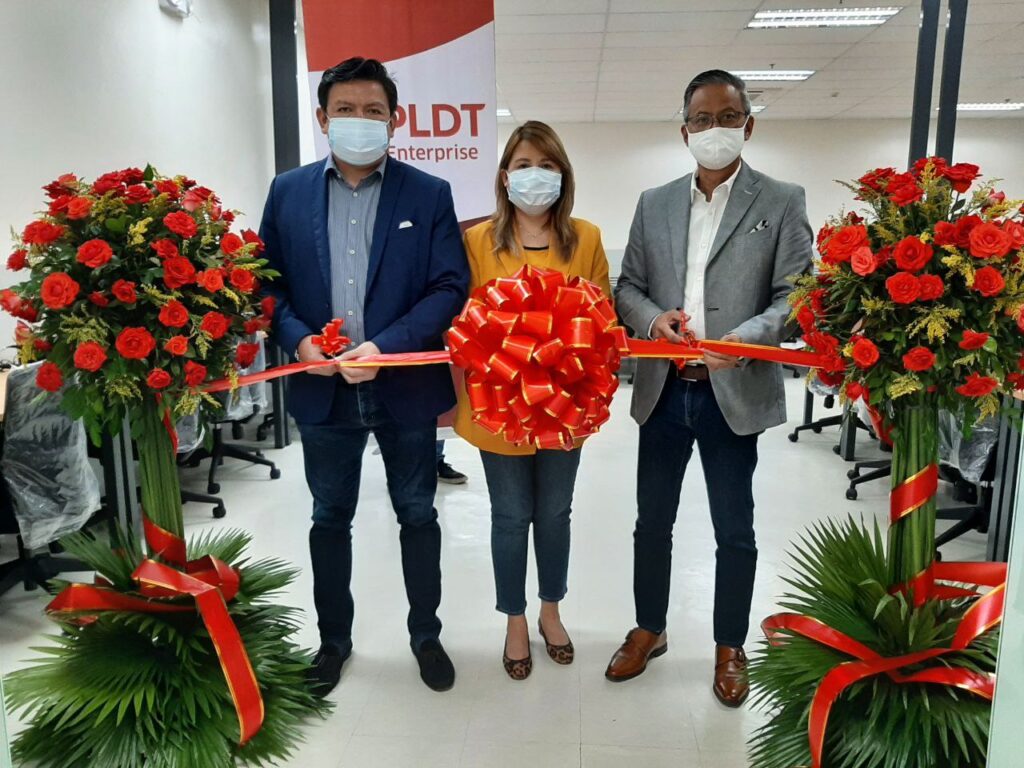 ePLDT, the ICT arm of PLDT Enterprise and the premier provider of end-to-end digital solutions in the Philippines, empowers the disaster resiliency and business continuity of businesses and organizations based in the Visayas region with the official inauguration of its first disaster recovery facility in Cebu.
ePLDT currently has two data centers in Cebu (VITRO Cebu 1, VITRO Cebu 2) that use the most up-to-date and globally competitive technologies to serve businesses requiring colocation, cloud hosting, disaster recovery, managed servers, security and network services. VITRO Cebu 1 has a capacity of 193 data center racks while VITRO Cebu 2—which is the biggest purpose-built commercial data center outside Luzon—offers 796 racks. VITRO Cebu 2 is also the first TIA-942 Rated 3 Facility certified data center in the VisMin region and has Nexcenter, PCIDSS, and ISO Certifications.
Housed in VITRO Cebu 2 in Mandaue City, the new disaster recovery facility will enable Cebu-based enterprises in developing their own Business Continuity Plan (BCP) and becoming compliant with global standards. The facility will serve as a data backup site or alternative office space which companies can use to recover and restore its IT systems or operations in the event of a failure or natural disaster.
Jovy Hernandez, ePLDT President & CEO and SVP & Head for PLDT and Smart Enterprise Business Groups said "Cebu has always been a strategic area not just for the PLDT Group but also for the Philippine economy. That is why we believe that building a Disaster Recovery facility in the region will further boost its booming and diverse business atmosphere."
Cebu is one of the top-of-mind disaster recovery locations for Metro Manila-based enterprises. The fast-growing economy of Visayas and Mindanao requires business continuity services to be in place to ensure the economy will remain strong and open regardless of the circumstance.
In his remarks, Mandaue City Mayor Jonas Cortes said, "this pandemic is an opportune time for enterprises to work on their business continuity plans, as more and more businesses have embraced e-commerce. Mandaue is blessed to have PLDT Enterprise as our partner. Congratulations and thank you for making Mandaue your home. Together, let us move forward."
The disaster recovery site is a crucial component of any company's BCP and part of standards on operational risk management. Highly regulated industries such as banking & financial institutions are required to abide by a clear and complete BCP to keep its services running no matter the circumstance.
Mitch Locsin, PLDT FVP & Enterprise Revenue Group Head, noted that "this backup site assures operational continuity, with round the clock power and operational security and customer support, especially job functions that require critical employee presence in the work site in the event of calamities. PLDT Enterprise and ePLDT will always endeavor to provide digital solutions that will enable businesses in Visayas to become unbreakable. With the support of local government and the business sector associations, we can help industries emerge even stronger and more resilient in the new world business environment."
Local business leaders remain optimistic and are determined to keep striving for industry and enterprise in the region to be bustling and profitable, despite the challenges the global pandemic has brought on the economy. The opening of the DR facility now allows the businesses that compose it to ultimately become disaster-proof.
"On behalf of the Cebu Chamber of Commerce and Industry, I congratulate ePLDT and PLDT Enterprise for this brilliant innovation to help propel the growth of Cebu's economy by ensuring organizations have the confidence to resume their operations with a more comprehensive approach to our business continuity. May this new facility stand as a symbol of prosperity as we work together towards a safe and brighter Cebu," said Felix Taguiam, President of the Cebu Chamber of Commerce and Industry.
Meanwhile, Steven Yu, President of the Mandaue Chamber of Commerce and Industry said "Businesses should have the ability to quickly adapt to disruptions such as disasters to ensure the continuity of business operations, and we commend PLDT Enterprise and ePLDT for this trailblazing facility that will help Cebu-based companies. This initiative shows the vision, foresight and leadership of PLDT, making it always ahead of the game."
The disaster recovery facility features a secure and resilient contingency workspace, with capacity for 100 seats. It is flood-proof at 20 meters above sea level, and is seismic zone 4 compliant. Redundant generator sets also ensure uninterrupted power supply. Moreover, the facility is designed to be carrier-neutral, allowing other telcos both foreign and local to provide network connections according to the customer's preference.
ePLDT recently built an additional 86 racks in VITRO Cebu 2 to further support enterprises' demand for a strong business continuity solution which provides IT infrastructure and workspace backups.