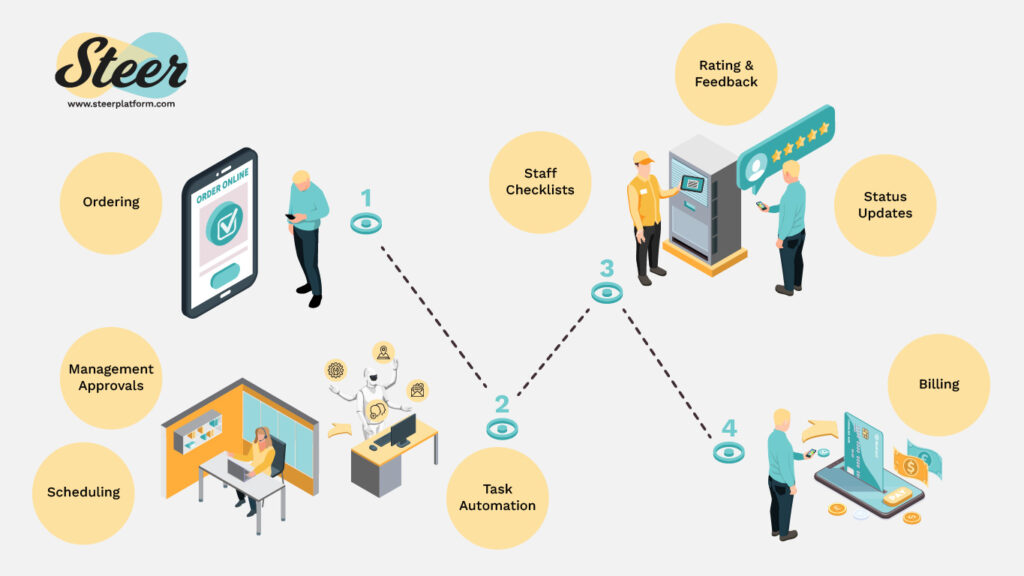 BlastAsia, a leading Philippine software product engineering company, recently announced a powerful new platform called Steer, which enables companies to build apps for customers to order/check status using their smart phones, as well as for internal teams to manage workflows and records using their phones, tablets, or laptops. These apps are fully integrated to back-end processes and systems and are built in a short time – with no coding skills needed.
"We saw a gap between what businesses need and how they can adapt technology to suit those needs," explained Arup Maity, President and CEO of BlastAsia. "Custom software development is not for small and medium enterprises (SMEs)—it takes too long and has a high upfront cost and risk associated with it. Steer is our response and solution to help businesses "uberize" their business model. To uberize, as the Cambridge Dictionary describes it, is to change the market for a service by introducing a different way of buying or using it, especially using mobile technology".
BlastAsia wanted to provide a solution that would cater to the specific needs of SMEs—and so the Steer platform was born. Their research found that 86% of consumers prefer not to talk with customer support and would rather use a self-service app. Yet, only 2% of companies successfully address this issue.  This is why SMEs can lose critical business to larger and more digitally transformed enterprises.
"We wanted to build a software as a service (SaaS) product that is secure and reliable, one that our clients can sign in on their own, set up their apps, and roll out these apps across their organization without even the need to talk to us," explains Maity. "We envisioned Steer to become a powerful go-to platform for any business that relies on its customers placing a phone call to get a service to go digital."
Using the cloud to power platforms and empower SMEs
 o bring their vision to life, BlastAsia knew it needed a powerful cloud service to support its users. The software company turned to Microsoft Azure, building from its experience as a Microsoft Gold Partner for Application Development and Cloud Platform. It initially used the free version of Microsoft Azure to understand how to take advantage of Microsoft cloud technologies.
"Azure is one of the easiest cloud technologies that we've come across," says Roy Saberon, IT Head at BlastAsia. "It's also one of the most comprehensive in terms of all the different products that you can find in one place." Maity agrees and adds, "In building Steer, we used different tools and services such as Service Bus, Cosmos DB, and Cognitive Services. Azure allowed us to choose from a range of the latest technologies for Steer."
It took three years to build Steer into a dynamic, flexible and user-friendly tool that allows businesses to digitize their operations. Throughout the development process, BlastAsia worked closely with Microsoft.
Microsoft provided full support and with the depth of knowledge on Microsoft products and use, BlastAsia launched Steer at the right time—right before COVID-19. Today, Steer is helping businesses go digital and adapt to work-style changes triggered by the health crisis.
"The help we received from Microsoft in building Steer was instrumental. They are very responsive," says Saberon.
A world where everyone can build digital solutions
BlastAsia hopes to democratize digitization across businesses both big and small. It designed Steer to let non-programmers easily build customer self-service apps without paying high costs and investing too much time.
"The best thing is that you can build an unlimited number of apps under the same license," Maity explains. "We are hoping that this will encourage our clients to not just stop building one or two apps, but continuously build more solutions and go completely digital."
BlastAsia is confident that they will be able to help a larger number of companies with Steer. "Moving forward, our goal is to help about 2,000 companies to go digital by the end of next year. Not only in the Philippines, but all over the world."
In the next three months, the BlastAsia team will be making Steer even more efficient and easy—to the point that its clients won't even need to call the company for help when setting up. BlastAsia wants to continue transforming businesses, one do-it-yourself (DIY) cloud solution at a time.