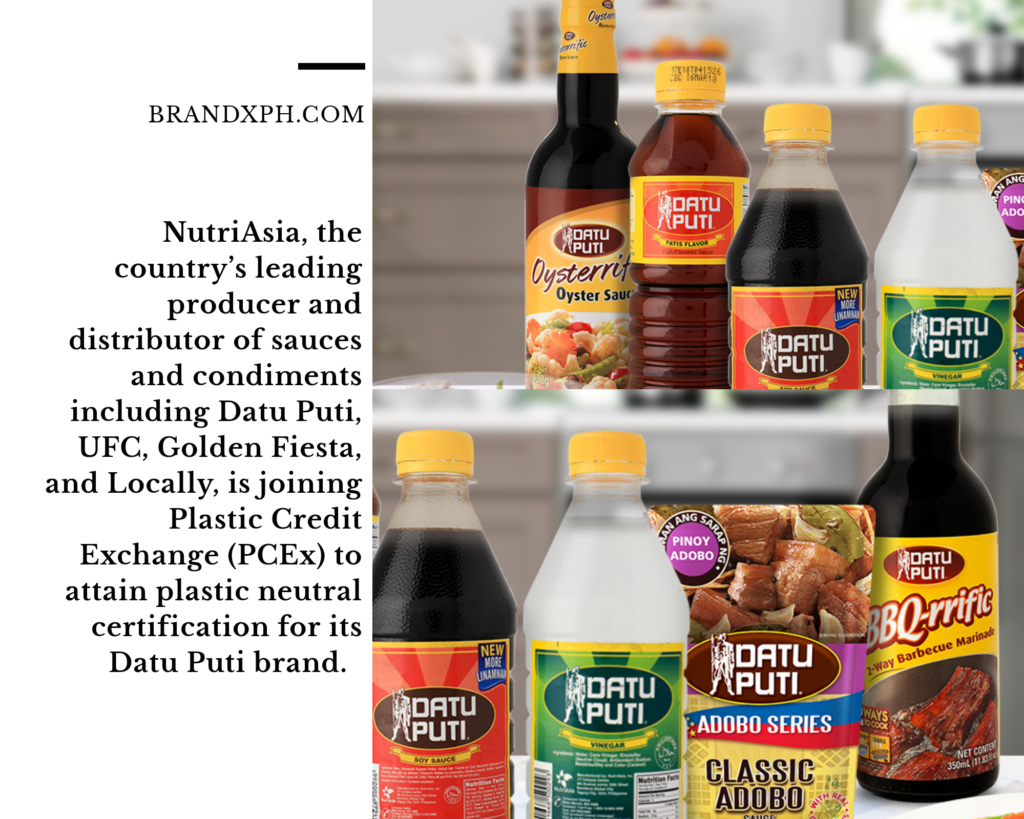 NutriAsia, the country's leading producer and distributor of sauces and condiments including Datu Puti, UFC, Golden Fiesta, and Locally, is joining Plastic Credit Exchange (PCEx) to attain plastic neutral certification for its Datu Puti brand.
A step toward the company's climate change goals, NutriAsia has pledged to make the entire Datu Puti product portfolio plastic neutral, which entails offsetting 100% of its plastic footprint over the last year and for the future. This means calculating the plastic usage in Datu Puti's bottles, bottle caps, cap seals, and stand-up pouches, then through PCEx, diverting the equivalent amount of post-consumer plastic from nature. Datu Puti commits to achieving a net-zero plastic footprint by 2021.
Since 2014, NutriAsia has been taking part in the movement towards a zero-waste community through projects like Datu Puti's Jumbohalang Tambalan, BYOB (Bring Your Own Bote) DENR-EMB's Refill Revolution, as well as through the launch of Locally, a socially responsible brand for the "local good". A stepping stone to sustainability, these projects raised awareness on responsible plastic use.
Through their engagement with PCEx, NutriAsia activates a key piece of their sustainability plan. Angie Flaminiano, President at NutriAsia, said, "With our brands being an integral part of every Filipino household, NutriAsia takes its role in nation-building with much fervor. We strive to live by our commitment to our consumers of making their lives Masarap (good), Masaya (happy). This partnership with Plastic Credit Exchange is part of fulfilling that promise. NutriAsia through plastic neutrality is intensifying its drive for sustainability. We are one with the nation in ensuring quality lives for our countrymen by protecting our environment, now and in the future."
"We welcome NutriAsia to our global movement of changemakers," said Nanette Medved-Po, Founder and Chairwoman at PCEx. "By choosing to undergo the boldest action to help put an end to plastic waste, NutriAsia underscores its ongoing commitment to minimizing the environmental impact of their brands like Datu Puti."